By Kimberly Johnson Ragan, OD, of Madison, Mississippi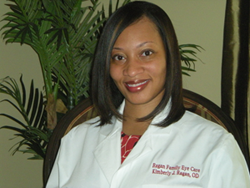 It's important to make patients feel comfortable in your practice. Not only does it affect their patient experience on the day of their exam, but it also can influence their decision to continue to come to you for their eye care needs. Many patients will return routinely year after year. Some will go other places—but they will come back. There are a few ways to encourage patient retention, which have been the secret to our success.
Keep staffing consistent. My two full-time staff members have been with me for six years. Patients like that when they come back, they see familiar face. I'm here and the staff is here. There is consistency because we know their family and will be smiling when they walk in the door.
Decorate to reflect your desired atmosphere. I personalized my office with pictures and furniture. We keep the office smelling nice, and stock activities for kids. Patients say that they love the homey atmosphere we can provide, even in a practice located inside Walmart.
Be friendly, and treat patients with respect and professionalism. I lead to set an example, because the staff models what the doctor does. I can't tell my staff to be friendly if I meet the patient and act ugly. We try to be professional and respect patients' time, such as when we are a few minutes behind on the schedule. Patients like it when we acknowledge their time and patience. We also offer discounts to law enforcement workers and teachers to show our appreciation.
Review the experience. We listen to what patients have to say and consider their feedback for our patient experience. If we receive submissions to our patient satisfaction survey, I discuss the comments with the staff. We regularly assess our performance to ensure we are on target: making patients feel comfortable and providing thorough care.