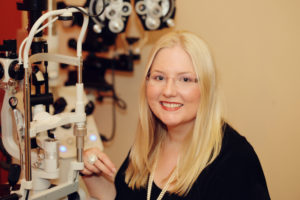 Kristina Jordan, OD, is a veteran in the field, having more than 15 years of experience. After graduating from the Illinois College of Optometry, she opened her private practice The Eye Site in Mishawaka, Indiana. With a 5.0 rating out of 87 reviews, The Eye Site is the place to get the perfect pair of eyewear.
The high patient satisfaction is due to her collaboration with ABB Labs, which she has used for more than a decade. "I've worked with ABB for 15 years, and it has always been a reliable source of high-quality products and fast communication," she says.
ABB Labs is a one-stop hub that addresses her patients' visual needs while freeing time for Dr. Jordan and her team.
"One of the greatest appeals of ABB Labs is its wide range of selections. I can find everything I need for my patients, from AR coatings to polarized mirror lenses. If a certain product isn't in stock, they always alert me about the restock date and recommend other products that have similar fit and quality," she says. In addition to blue light protection lenses, ABB Labs fabricates a wide selection of brand-name digital lens designs, including SEIKO, Shamir and Unity lens products, as well as proprietary brands.
"I'm getting a lot of value from these lenses. It's the best price point of any lab that I've worked with," she says. The simple billing process is also a huge plus for Dr. Jordan, who used to have to deal with multiple statements. "The consolidated monthly statement has done wonders. It's such a relief to create one expense report and be finished. It's helped save a lot of time," she says.
IT'S ALREADY HERE?
A fast turnaround creates a happy patient and a satisfied doctor. Patients are thrilled to receive their frames in a short time frame, and they are even more impressed that quality has not been compromised. "They're happy with their fit. I haven't heard any complaints about quality, even antireflective remake issues," Dr. Jordan says.
24/7 SUPPORT
Another strong advantage of ABB Labs is the customer service, Dr. Jordan says. Whenever an issue arose, often her ABB Labs account manager would both contact her through a phone call and email. Account managers or the customer service team "don't forget to let me know where the issue is standing and whether there is a solution. Customer service is a lifesaver, answering questions to the best of their ability and reaching out to me even during after-hours. I come back to my office with voicemails and emails relaying the problem has been solved," she says.
ABB Labs has elevated her experience during the COVID-19 pandemic, where many ECPs experienced supply shortages and shipping delays. Luckily, it was not an issue Dr. Jordan experienced.
ABB Labs constantly updates its supply lists online, allowing Dr. Jordan to view which lenses are available and which are on back stock. "With ABB Labs, we were able to change the type of lens and coatings so patients could get their products sooner," she says.
LARGER ABB CONNECTION
In addition to ABB Labs, Dr. Jordan uses ABB Contact Lens, which similarly gives her access to a wide range of selections in one billing statement. "It's nice having access to multiple manufacturers, and the direct shipping to our office and patients helped save time," she says. Dr. Jordan's staff especially enjoys the extra time on their hands, which helps them focus on in-office patients.
"ABB is a longtime partner that I've worked with throughout my career, and its products and customer service never let me down. I can't wait for the years to come," Dr. Jordan says.