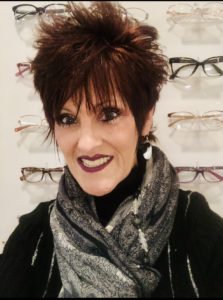 When optician Patti Morgan first heard about ABB Optical Group's new Unlimited lens from her ABB Labs account manager David Singer, she was a bit skeptical. "I've never worn a progressive lens design that delivers clear vision at all distances without compromising peripheral vision, intermediate and/or near widths," she says. But the Unlimited lenses provided her with the clearest vision she's ever had, she says.
When introducing the new Unlimited lens to patients at Optics Fashion Eyewear located at the Lakeshore Eye Care clinics with branches in Hamburg and Irving, New York, Morgan describes vision as very smooth and natural, adding that this is the first progressive add lens, in her entire career, that there was no adaptation time; it was instantaneous, she says.
As an early presbyope in her early 20s and working in her family's optical business, "I've had the opportunity to wear a multitude of different PALs over the past 30 years," she says. "In comparison to overall clarity, the Unlimited surpassed other lens designs that I've worn in the past."
ABB introduced the Unlimited lenses in single vision and progressive add designs in 2022. Among the features of the Unlimited PAL is a stability control to reduce swim and sway effect caused by lateral image distortion. The result is a personalized free-form progressive that adapts to every lifestyle and provides a wide viewing range at any distance throughout the entire lens.

These are ideal candidates for Unlimited PAL lenses:
Those patients and customers who want the best visual quality and the most innovative solutions
Wearers wanting maximum visual comfort
Digitally connected wearers with all types of prescription and addition powers
Active wearers with demanding visual tasks
In addition to being perfect for indoor tasks and outdoor activities, including using digital devices, these lenses provide precise and comfortable focusing for all working distances in any direction of gaze. The design has eliminated most or all of the peripheral blur and provides superior visual quality when using digital devices.
The Unlimited single vision lens allows eye care professionals to offer a personalized free-form single vision lenses designed for modern lifestyles, with flawless visual quality, clarity and comfort. These lenses are ideal for patients who seek the most innovative solutions, active wearers with demanding visual tasks and digitally connected wearers.
SEEING IS BELEVING
Morgan says that experiencing the lens was the most convincing. "I was amazed and quite surprised with my experience looking through the Unlimited lenses. My initial reaction was as if my eyes are seeing in 'pre-presbyopia mode.' My vision with the Unlimited is so unbelievably clear and natural, I actually forget I am wearing glasses," she says.
Having that impressive experience herself makes it easy to share with patients and customers. They hear her praise of the lens and are eager to try it. And the feedback from these patients is just as enthusiastic as her own. "Since I've been dispensing the Unlimited lens to both new and previous progressive wearers, I've been told by many satisfied patients they felt very confident in choosing the Unlimited lens over other choices."
She recommends that eye care professionals who work with presbyopes or digitally connected patients try the Unlimited PAL or Unlimited SV designs for themselves. Her personal testimony and experience are key factors in how well this lens is performing. Working closely with an account manager like David Singer is an added benefit to stay up to date on new products and services from ABB Labs.
Two Technology Breakthroughs
The Unlimited digital lenses include revolutionary personalization technologies featuring new Digital Light Tracing (DLT) and Stability Balance Control (SBC).
DLT incorporates the wearer's natural eye rotations to accommodate functionality in the final lens calculations. It works in collaboration with the human eye to refine the optimization of personalized lenses throughout the lens-viewing zone. The revolutionary DLT technology reduces oblique aberrations for personalized compensated free-form lenses.
SBC provides another technological breakthrough in free-form lenses through a strict control of mean power resulting in progressive lenses with unparalleled levels of wearer satisfaction. This design provides a high level of image stability for reduced swim and sway effect and an improved peripheral visual acuity in the distance zone.