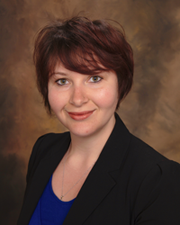 By Tamara Petrosyan, OD, of New York, New York
There's no such thing as too many eyeshadows – unless they are expired, have harmful ingredients or are mishandled. According to the U.S. Census Bureau, more than $106 billion is spent on cosmetics, beauty products and perfume annually; false eyelashes alone are expected to bring in approximately $2 billion by the end of 2024. Yet, behind the beauty and fun, eye makeup often escalates or is the root cause of eye irritation and dryness due to neglect or lack of knowledge on usage and hygiene. 
More than 50 percent of makeup wearers do not check instructions on how long makeup should be left on, and 90 percent of wearers use cosmetics beyond the expiration date. Of those 90 percent, 20 percent shared that they do not know that cosmetics have an expiration date. Your patients should know the type of makeup they are using to prevent damage to their eyes, one of the most delicate organs of the body. 
Here are some tips to share to practice healthier makeup use.
APPLICATION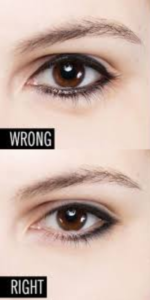 Apply eye makeup outside the lash line. Try to avoid waterlining the lower lash line and tightlining the upper lash line as these actions block meibomian glands and introduce bacteria directly onto the eye.

Apply mascara from the tips rather than from the roots, preferably the top lashes only.
REMOVAL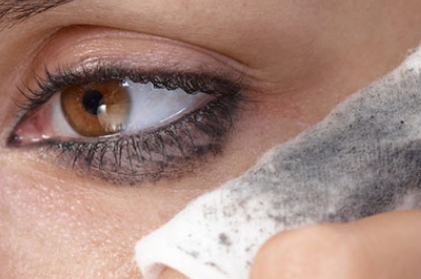 After a long day at work, it is easy to think, "Let me remove my makeup in the morning; what harm can one day do?" Yet, it's important to remove makeup before bed to decrease the chances of clogging meibomian glands or having an eye infection.

Remove contact lenses before removing cosmetics because the makeup remover can adhere to contact lenses.

Avoid getting makeup remover in direct contact with the eye due to increased tear evaporation and decreased tear stability. A gentle lid scrub after using a makeup remover can help remove excess makeup, the makeup remover itself, and unclog meibomian glands.

Use gel-based products that are oil- and paraben-free and avoid irritants like mineral oil, sodium lauryl sulfate and diazolidinyl urea.
HYGIENE
Wash hands before and after applying makeup, and do not use saliva to assist in makeup application.

courtesy of Dr. Petrosyan

As important as it is to remove makeup, it is also important to clean makeup applicators consistently. Either wash brushes and use a cover or use new applicators to lessen the chance of facilitating microbial growth from sebum, dead skin cells, moisture and waste debris from the skin.

Sharpen eyebrow, eyeliner and lip pencils before application to remove bacteria formed from previous use. Do not use the same pencil on different parts of the face.

Avoid sharing makeup. Bacterial and fungal contamination is much higher in shared cosmetics vs. a single user. 

Avoid using makeup past its expiration date. It's recommended to dispose of makeup products after three to six months. With countless products released daily, it's easy to lose track of the age of the products, so keep a marker in the makeup kit to note the date opened.

Remind patients that when they have an eye infection, they should NOT apply makeup, and they should throw away all products used during the time the eye was infected.
MAKEUP TYPES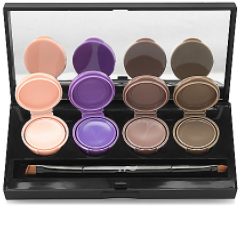 Makeup hues may have the perfect cosmetic appeal, but look beyond the color. Glitter and powder-based shadows and foundations have tiny particles that can get into and aggravate the eyes and cause infection. Instead, use cream shadows, eyeshadow sticks, highlighters and foundations with a pigment in an emollient. Hypoallergenic eyeshadow brands usually avoid excess irritants.
Eye shadows that include the following irritants should be avoided:
Mica/talc – bulking agents

Emollients – petrolatum, lanolin, cocoa butter

Pigments – iron oxide, titanium dioxide, carmine, chrome oxide, copper, aluminum, iron blue, bismuth oxychloride, manganese violet

Arsenic, beryllium, cadmium, carmine, lead, nickel, selenium and thallium
There are three types of mascara:
Classic: Oil in water emulsion. It has waxes, resins and pigments that dry quickly on the lashes.

Waterproof: Wax and solvent system with resins added to decrease smudging.

Fiber lashes: A two-step application process with nylon fibers in the base coat, which can fall into the eyes.
The elements added to mascara to improve their staying power and ease of use are also potential irritants. Waterproofing often uses the irritant dimethicone and emollients including isoparaffin and petroleum distillate. Smudge-minimizers are often polyvinylpyrrolidone resins, and emulsifiers include stearic acid. The high water content in liquid makeup makes it prone to bacterial and fungal contamination and requires more preservatives that can cause further irritation.
LIQUID v. PENCIL EYELINER 
Pencil eyeliner increases the phase transition temperature of meibum by 4 degrees celsius, making it harder for the meibum to liquify and express, and leading to meibomian gland dysfunction. 
The following lists additives and irritants to avoid when purchasing makeup: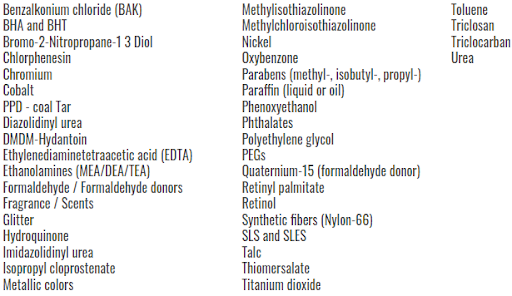 EYELASH EXTENSIONS AND FALSE EYELASHES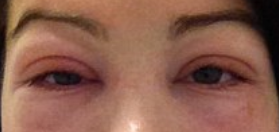 False eyelashes are made of real or synthetic hair and applied at the lid margin above the existing lashes with glue or tape strips, including formaldehyde. The glue or lashes can enter the tear film or ocular surface, which can cause abrasions and bacterial infections. In addition, patients can have allergic reactions to or contact dermatitis from the glue. The removal process can cause lid abrasions and inflammation. And even wearing the lashes can create their own issues; extra-long lashes act as a wind tunnel, forcing air (and particles) directly into the eye making them drier and dirtier.
With magnetic false lashes, a waterproof magnetic eyeliner is applied to the lid so that lashes can magnetically attach. This eyeliner can cause an allergic reaction because it contains ultra-fine magnetic particles (iron oxide) and pigment deposition to the lid. Wearers risk abrasions in putting on or removing these lashes. And the weight of these false lashes can cause existing real eyelashes to fall out. 
For patients who insist on wearing false lashes, here are some tips.
Use glue with no latex or formaldehyde.

Attach a shorter length, approximately ⅓ width of the eye.

Conduct an allergy patch test on the wrist to test for reactions.

Reserve using these for special occasions, and use new lashes for each application.

Clean frequently with an eyelid foaming cleanser.

Use lid hygiene/scrubs with hypochlorous acid, which will not dissolve the glue.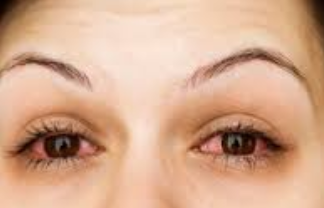 Your patients may also be using glues and chemicals to perm or keep lashes in a circular position or serums to promote growth. These can cause iris color change, eyelid drooping, itchy eyes, lid discoloration, thinning and loss of eyelashes/loss of eyelash hair, eye sensitivity, eye infections and vision impairment. And remind patients that excellent hygiene is essential to preventing demodex mites. 
Three-fourths of all primary eye care visits are seen by optometry offices, and yet 85 percent of eye care professionals do not ask about makeup usage. We must be aware of the products out in the market and how they affect the ocular surface, especially if they are used incorrectly.
Read how other ODs are bringing beauty conversations into their practices.