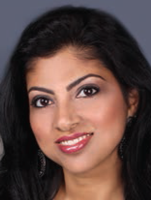 Leena Adhikari, OD, purchased Crystal Vision Optometry in Rancho Cucamonga, Calif., about 18 months ago. The 1,000-square-foot, seven-year-old practice needed a little sprucing up, so she painted and updated the furnishings and added a little children's area. She also hung chandeliers in the front reception area—bringing the crystal right into Crystal Vision—and making the dispensary seem more boutique-like.
Dr. Adhikari says that she feels lucky because the practice already had a great reputation, so she has been working to enhance it, especially with school nurses and parents. She is building the pediatric component of the practice. "I have a 9-year-old, so I've visited his elementary school, and there are three elementary schools on my street here. I've introduced myself to those nurses, and my name is on the district list of practitioners to whom the schools refer," she says.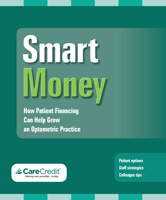 A number of these young patients are excellent candidates for orthokeratology, she says. But the treatment option is not within financial reach for all of her patients. That's when she or her staff will suggest the option of paying with the Care Credit credit card, a service that the former owner brought into the practice. Dr. Adhikari has taken it to a higher level, actively promoting it.
"As a new practice owner, maximizing patient revenue is important to the business. But it's also important that patients are able to get what they want and need."
Her young orthokeratology patients are an example of that. "Parents want to be able to do this for their children. There are many advantages, especially for active kids. But the $1,000+ fee can be daunting," she says. "I'm a doctor who likes to give patient a lot of options. I explain what they can do with orthokeratology, contact lenses, eyeglasses or second pairs. And often, when I tell them that the staff can help them fill out an application that may provide an interest-free financing option, their eyes light up."
It's more convenient for the patients, she says, if they can make their purchases at one time, too. "Everyone is so busy these days. I tell patients, 'You're here now. Sure, we can write down what frame you want, but I can't guarantee that we'll still have it in stock in a few months. If you qualify, special financing options are available. Would you like more information about that?'"
That's often when Barbara Figueroa, office manager, takes over. "If the doctor hasn't already brought it up in the exam room, we do it. In fact, we often ask patients when they come in if they'd like to fill out the application while they're waiting so that it can help them cover any balance due today," says Figueroa.
As a result, the practice staff processes a Care Credit card transaction every day. "We tell patients that they can use this card with the local veterinarian or dentist, too. Figueroa recalls how grateful a young woman was recently. "She works part time at a restaurant and didn't know if she could afford eyeglasses and contact lenses. But she was approved and was thrilled. She bought an annual supply of contact lenses, eyeglasses and sunglasses." Because she earned some in-office discounts, she got an even bigger bang for her buck.
Sponsored by CareCredit