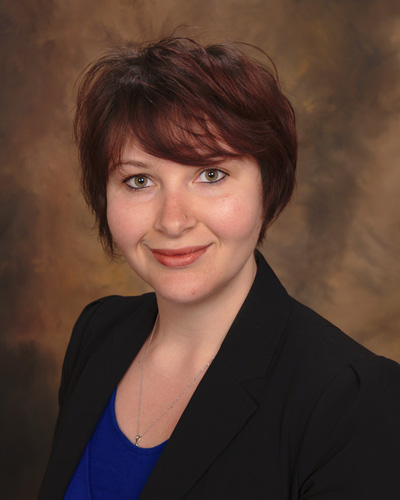 By Tamara Petrosyan, OD, of New York, New York
Dry eyes are becoming a part of people's lives more and more frequently. It is estimated that one in every eight adults, or 33 million people, suffer from dry eye disease (DED) in the United States. For some, the irritation is fleeting and depends on things like season, time of day and diet. For others, it is a constant and chronic part of their day. Patients suffering from DED will report discomfort, eye pain, feeling of something in the eye, eye fatigue, red eyes, itchy eyes, excessive tearing, light sensitivity, swollen eyes and a change in their vision. If dry eye is left untreated, the damage can range anywhere from a simple nuisance to the patient to possible corneal damage and vision loss in very severe cases.
According to the U.S. Census Bureau, we spend around $10 billion a year on cosmetics, beauty supplies, and perfume in America. Seventy five percent of women use cosmetics to improve their confidence and 80 percent of women have used face and eye cosmetics in the last year in the UK. Up to 90 percent of females use cosmetics beyond the expiration date and some chronic conditions such as blepharitis may be caused by contaminated cosmetics. While busy trying to look our best, we sometimes forget that some of these products can lead to harm. Our eyes are one of the most delicate and sensitive organs of the body and protecting them from harmful external factors is important. Eye makeup is one thing that can cause or aggravate an already dry eye, and is something that most women wear, if not every day then on occasion. Eye cosmetics can migrate on the ocular surface and into the tear film. One of the main causes of makeup related dry eye is that makeup thins out the outermost oily layer of the tear film allowing a much faster evaporation of the natural tears.
A study published by scientists at the University of Waterloo was first to officially show that makeup migration happened quicker and was greater when eyeliner was put on the inner lid margin. They found that within five minutes, 15-30 percent more particles moved into the eye's tear film when subjects applied eyeliner to the inside of the lash line, compared to outside it. The makeup also moved more quickly into the eye when eyeliner was applied inside the lash line.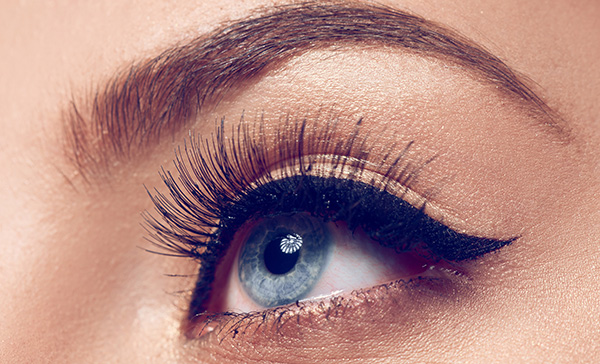 A recent study titled 'Impact of Eye Cosmetics on the Eye, Adnexa, and Ocular Surface' reviews the potential ocular complications of ocular cosmetics:
Increased risk of infection
• Sources for potential contamination may arise during manufacturing or during use of the product with Pseudomonas aeruginosa, Staphylococcus aureus and Candida albicans being the main potential pathogens.
• Use of eye cosmetics by multiple users versus one user can inoculate the product with high levels of bacteria. The bacterial presence is proportional to the amount of use and age especially as effectiveness of the preservatives decreases with time. After three months of use, microbes are present in over 30 percent of tested mascaras with a single user.
• Buildup of moisture, sebum, and dead skin cells as well as Demodex mites accumulate on the makeup applicator over time and can contaminate the product.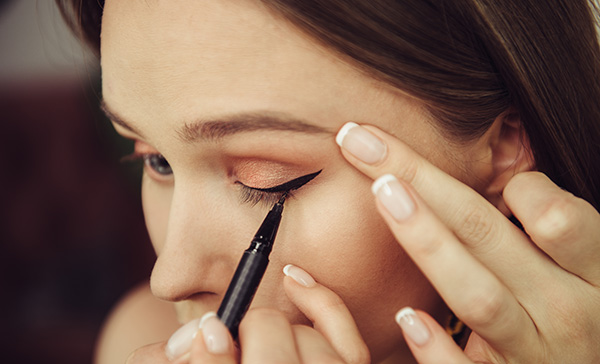 Risk of mechanical trauma
• Corneal trauma with a mascara wand or other products gives microbes such as P. aeruginosa an immediate entry route into the cornea.
Toxicity
• Cadmium, a heavy metal found in eyeliner, causes corneal endothelial cell damage and mitochondrial degeneration leading to disruption of endothelial pump.
Allergy
• Allergens include preservatives, antioxidants, resins, pearlescent additives, emollients, fragrances and nickel in cosmetics as well as surfactants in waterproof makeup remover.
• Eyelash cosmetics tend to cause a band of dermatitis along the lash line versus eyelid cosmetics which tend to affect the whole eyelid.
Change in pigmentation of skin and conjunctiva
• Conjunctival pigmentation can occur due to punctate deposits in the conjunctival fornices and cul de sac.
Masses in lacrimal system
• Heavy or prolonged mascara use can cause obstruction within the lacrimal drainage system.
Change in lipid layer of tear film
• The lipid layer of the tear film can be destabilized by cosmetics and preservatives such as BAK.
Change in tear stability
• Eye cosmetic remover applied to closed eyes still affects tear film stability due to migration into the eye.
• Cosmetics which find their way into the eye increase tear evaporation and decrease tear stability.
• Eyeliner increases the phase transition temperature of meibum by 4*c thus changing the viscosity of meibum which affects tear stability.
Changes in ocular comfort and contact lens wear
• Cosmetics are prone to binding to surface of contact lenses
The following are some tips to share with your patients for makeup use. They can help keep eye makeup from contributing to a dry eye problem, especially for those already suffering from dry and irritated eyes.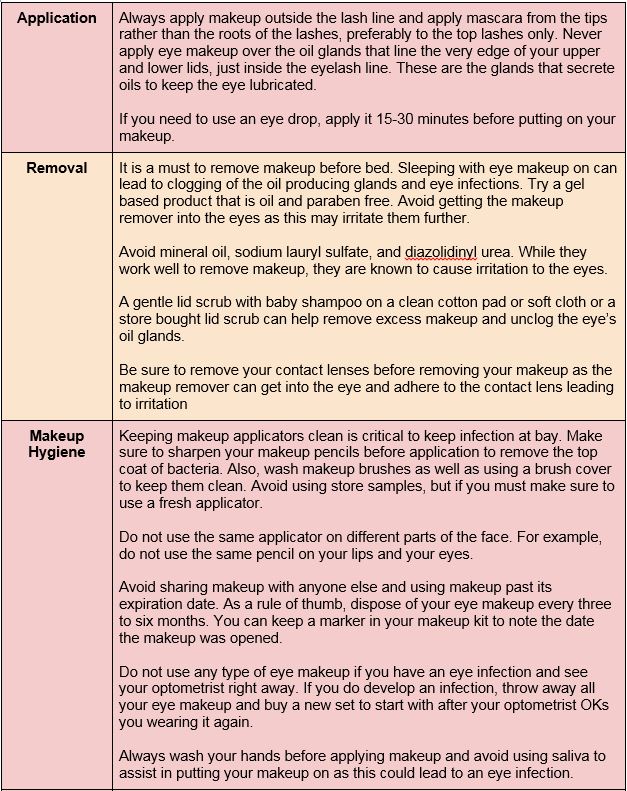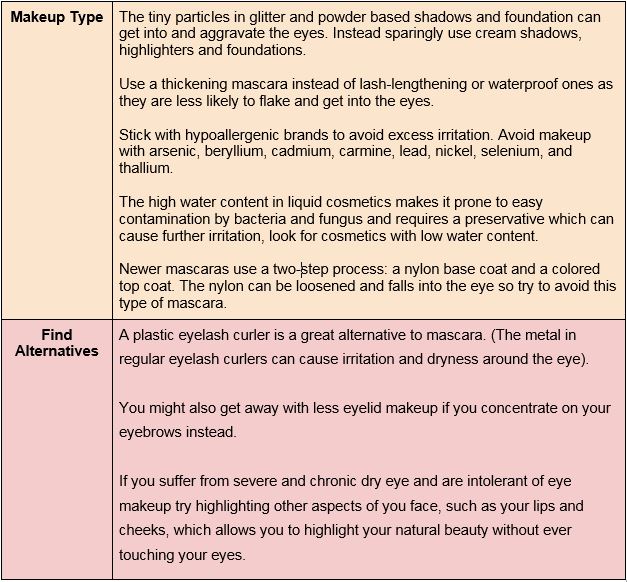 Doctors of optometry perform more than 75 percent of all primary eye care visits in the country. We must be aware of these products, their effects on the ocular surface and adnexa, and be able to offer insight on their use, especially in patients suffering from dry eye disease. A 'patient friendly' version of the above guidelines has been published on eyecare.org. It is a resource you can direct your patients to if they have questions about the topic.