It is important to adapt quickly to the rapidly changing digital landscape to maintain a competitive edge and provide an optimal patient experience. Jennifer Lesslie, OD, is the practice owner of Lesslie Vision Care in North Charleston, South Carolina, a member of three optometric associations and a mother of three teenage children. Despite juggling numerous responsibilities, she is able to focus on her personal time and lifestyle, in part because she has offloaded some of the website and social media management to EyeCarePro.
MONTHLY CHECK INS
Dr. Lesslie has been using EyeCarePro's website management services and support for the practice's Facebook page for approximately eight years. As search engine optimization became complex and increasingly important to patients finding her, she has seen a boost in patient traffic due to the help that the EyeCarePro team provides. "EyeCarePro does a lot to stay on top of viewer trends. At each monthly meeting, my account manager will present different examples to add to the website based on research and address what areas need improvement and where the attention needs to be shifted," she says.
LEVERAGING THE SEARCH ENGINE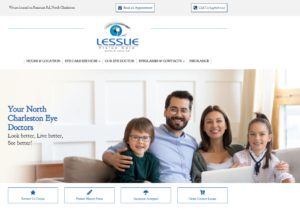 Integrating Google reviews has created a bump for her in terms of patient acquisition. "It was a feature that EyeCarePro really emphasized and one that set off our business," Dr. Lesslie says. Positive reviews are the new word-of-mouth recommendations, and they influence patients to choose a certain practice over another. "Many of my new patients book their appointments saying that they found my practice through Google," she says. EyeCarePro also has an app called GetSetReview, which sends a text message to patients and asks them to follow the link to the practice's Google listing and leave a review. The resource turns online searches into new patient appointments.
PREAPPOINTMENT RESOURCES
EyeCarePro transformed the practice website into a one-stop hub that allows patients to get a sense of the practice's specialty and services. The website has a section for reviews, patient history form, insurance Q&As and an online contact lens store. There is also a separate section dedicated to dry eye disease, which is Dr. Lesslie's specialty. "Patients are able to get a good idea of what eye care services I offer and that we prioritize our patients' experience and ocular health. It's not merely an in-and-out car wash," says Dr. Lesslie.
FACEBOOK HELP
A lively Facebook presence also helps her reach out to more patients. While she and the office staff can add timely posts, the team at EyeCarePro uses Facebook's recommendations and reviews to raise engagement. Potential patients can view reviews from most helpful to most recent and add comments or questions. It is also a great way for Dr. Lesslie and her staff to track their performance and follow up with patients after their appointments.
GAINING PERSONAL TIME
ODs are not generally taught the details of marketing, so taking on that element of business ownership can be a distraction to her primary role in patient care. With EyeCarePro, owners can kill two birds with one stone. "It's really beneficial that I have someone designing my website and maximizing patient acquisition, so I can focus on patient care and leave my after-work hours for my family and personal time," Dr. Lesslie says.