In May, 13 Luxottica Retail-affiliated ODs and 25 optometry school students were part of a one-week clinic in Tanzania with OneSight. The clinic represented a new partnership between Luxottica Retail, the American Optometric Student Association (AOSA) and OneSight. This special opportunity enabled students to perform comprehensive eye exams under the supervision of practicing ODs while gaining a deeper appreciation for their developing skills in the context of global eye care.
The collective group examined more than 3,500 patients in the Dar Es Salaam region, while manufacturing more than 1,000 pairs of eyeglasses so that each recipient in need could receive the highest quality eyewear possible. The days were personally and professionally meaningful, the participants say.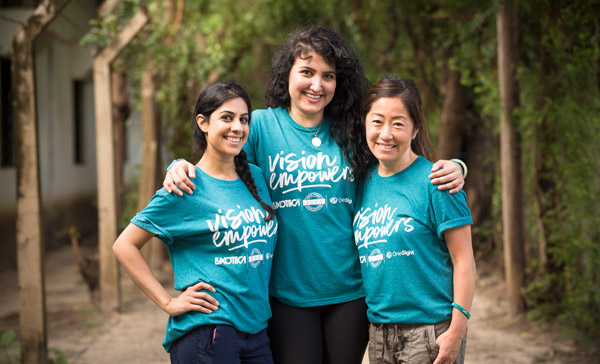 "This experience has helped me appreciate the importance and opportunities available for ODs working for a company like Luxottica, a company passionate about domestic and global vision care for others," says Sarah Krietlow, OD, a Pearle Vision Licensed Owner from Chaska, Minnesota.
Mahsa Shekari, OD, an independent, subleasing optometrist affiliated with Target Optical, of Bergen County, New Jersey, adds that it "made me feel proud to work for Luxottica and really made me feel as if we were one big family."
The days were long and challenging, as hundreds of patients were often waiting as the team arrived at 7:30 in the morning. "This experience has impacted the way I practice on a daily basis by expanding my empathy and understanding for every patient I interact with," says Nishi Mehdiratta, OD, an independent, subleasing optometrist with LensCrafters, of Houston, Texas. "We have treated patients on this clinic going through incredible hardships, so it is crucial in patient care to remember this with every patient we see. I like to talk about my experiences on this clinic with patients back home, as it really brings things full circle."
The week was filled with amazing moments, the doctors say. "There were so many moments during this mission in which I witnessed someone being empowered by sight. The first time was when I had a -6.50D, 15-year-old boy who had never had eyeglasses; he was
so thrilled with the experience he came back at the end to thank me and tell me how he wanted to be a part of helping people see," says Dr. Shekari. "The second was when I was working together with one of the student doctors and we had a young boy under 10, with epilepsy and nystagmus, who would not focus on anything. I was holding a Minions gummy pack and a ball in my hand to grab his attention but he didn't even realize it. Once we trial framed him with a -12.00D, he reached down and grabbed them, and his whole face lit up while playing with them. At that moment we all were moved."
Dr. Mehdiratta says, "My favorite memory on the clinic has been seeing the pure joy on patients' faces when they are given the ability to see. It is truly life-changing for both the patients and the doctors. I am so grateful to have the opportunity to experience these reactions and empower the people of Tanzania."
Dr. Krietlow says that the experience will resonate when she sees patients in Minnesota. "The lesson I've learned, or had reinforced, is the importance of what I do each and every day. Every individual matters, and what we do is special in that it impacts a person's daily life. I am blessed to be able to help others and practice genuine eye care according to my beliefs; it's all about the patient."
This trip represents the first time Luxottica Retail, the AOSA and OneSight have partnered. "Optometry students are an incredibly passionate group, particularly when it comes to social good and patient care. This passion lines up well with our corporate mission and Luxottica's nearly 30-year history with OneSight," says Luxottica's Chief Medical Officer Jason Singh, OD. "I could not be more proud or more impressed with the 25 students who attended this clinic. They inspired all of the doctors on the clinic and gave us incredible confidence about the future of our profession. Given the success of this clinic, in terms of patients served and the students' experience, we expect to expand this program in partnership with the AOSA next year. The three organizations share a passion for high-quality patient care and eyewear, and our shared impact will only increase."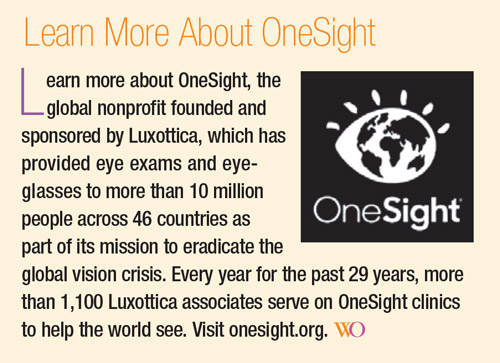 Click here to read more about this trip.