Named in honor of the late Jenny Lynn McGee — a beauty pageant queen, flight attendant, businesswoman, mother and a mission volunteer — this new collection is a way for her husband, Wayne McGee, owner and CEO of The McGee Group, as well as the couple's sons Matthew McGee and Weston McGee to pay tribute to her vibrant life. Jenny Lynn Eyewear features a full offering of high-quality, beautiful eyewear designed for women and to empower women.  
 "Jenny Lynn constantly shared her knowledge with women and knew how to draw out their natural beauty by considering their undertones and color palette," says Wayne McGee.  
The collection was designed to provide the same services and address the specific needs of the mature customer. For instance, the loss of pigmentation can be overcome by using statement glasses — adorned with embellishments or bright colors — to highlight the eyes and bring color back to the wearer's complexion, says Laura Khligh, designer of the frame line.  
Jenny Lynn Eyewear targets and predicates the needs of mature women and has the characteristics and attributes of Jenny Lynn, such as grace and ambition, Khligh says. The brand personifies each trait by creating a design suitable to its name. For example, Bold has a cat-eye frame outline and eye-catching endpieces featuring pearl and stone detailing, while Dazzling has dramatic stone detailing and a semi-rimless frame to play with light and reflections. Each frame has at least two color variations, and they were inspired by his mother's daily color palette, says Matthew McGee. The colors range from classic to vibrant, so everyone can find their comfort zone.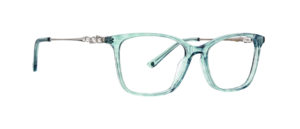 The collection also features various embellishments such as pearls, stones and crystals to create a unique statement look that is offered at an affordable, competitive price while maintaining its high quality. One of the most important features of the collection is the addition of rimless frames, Khligh notes. Rimless frames were developed with the consumer in mind, creating a statement piece in a sophisticated yet simple way to yield an effortless look. She adds that great attention has gone into creating frames in a wide size range — from petite to extended sizing — to ensure all women enjoy a comfortable fit.  
BEAUTY AND KINDNESS 
Just as many of The McGee Group brands support a philanthropic effort, Jenny Lynn Eyewear supports its namesake's mission — to help people, especially women and young girls. The eyewear brand will donate five percent of the net profit of its sales to the Jenny Lynn Foundation, which then donates the money to charitable organizations around the world seeking to make a difference and help women in need, Matthew McGee says. The foundation exists to "help on the ground" and provide financial backing for these organizations, he says. 
The eyewear brand's goal is to fill the space for high-quality frames for mature women so they can feel comfortable in their skin while also contributing to women's causes. Her family and friends say they are excited to see her name and legacy become a brand that recognizes Jenny Lynn's efforts and continues fulfilling her missions.