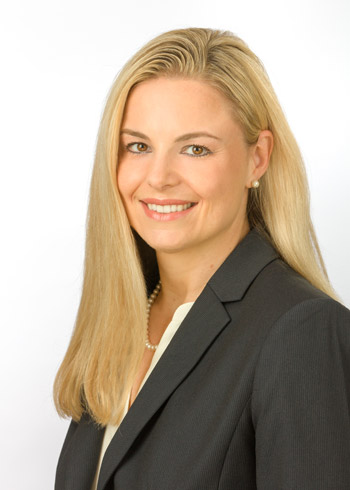 Pamela Riedy, OD, MBA, loves to hear the questions that optometry students ask her. "They're very honest about their impressions of corporate optometry," she says. As a regional director for the southeast for National Vision, Inc., Dr. Riedy
has a great perspective to share.
"Many students don't understand the benefits that come with corporate positions. They haven't studied the tax implications of being employed versus being an independent contractor or a business owner," she says. Having discussions with groups of third- and
fourth-year optometry students as she travels her region lets her tell the story of her career with National Vision; she began working as an OD for America's Best Contacts & Eyeglasses in St. Louis, Missouri, after graduating from Nova Southeastern University
College of Optometry in 2007.
Dr. Riedy served as a member of National Vision's clinical advisory panel; from there she became an area doctor, where she helped onboard and mentor ODs in her area, and a member of the company's university ambassador team. In 2016, Dr. Riedy stepped into her current role, where she is responsible for recruiting optometrists and representing the company at national meetings and optometry school events.
Dr. Riedy can empathize with students. "When I was in optometry school, I never thought about working for a corporation. I was
focused on the thought of running my own business. I completed my MBA and a master's degree in health services management prior
to entering optometry school. I can share why my mindset changed and how I realized corporate was the path for me," she says.
"Most recruiters for optometry practices are not ODs themselves," she says. But she feels that her experience has been an
advantage because she can address the benefits of joining the network and share her personal experiences of what it's like to practice in an America's Best office.
Changing perceptions
National Vision also has recently begun hosting events for faculty. "When I presented a session at my alma mater, faculty members whom I've been looking up to my whole career stopped by to tell me that they were proud of what I'm doing. Most of them have never had experience in a corporate setting," she says. During these sessions, a panel of optometrists currently affiliated with National Vision—graduates of the school—answers questions. "We want people to understand that we care about our doctors. We are changing the perception of corporate optometry," she says.
Ongoing relationships
Helping new hires become acclimated is the aspect of her area doctor role that Dr. Riedy found hardest to leave behind. She's delighted when she receives email updates from a doctor she has recruited. "It's an opportunity to review firsthand the job aspects and new hire likes and dislikes," she says.
Newly hired ODs are brought to National Vision's Retail Support Center outside of Atlanta, Georgia, for sessions that provide them
with a chance to meet company leaders, ask questions and develop an appreciation for their support network. "It's a great feeling to
see the doctors I've connected with grow and succeed in the same place I practiced," she says. She also looks for her recruits during
the annual CE meeting that National Vision holds for its affiliated doctors. Dr. Riedy says, "Through constant communication and
feedback, we can continually make improvements for our doctors. At National Vision, we are a team that shapes its members into stronger, smarter people through thoughtful communication between all levels of the organizational chain."