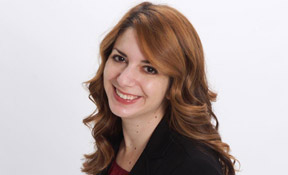 When Lauren Peluso, OD, first graduated from Salus University—at the time Pennsylvania College of Optometry—in 2005, she didn't anticipate a career in a corporate optometry setting. But she was offered a job as a float doctor with National Vision Inc., working in several America's Best Contacts & Eyeglasses locations. "It was full-time work with benefits," she says, noting that the initial draw was a practical one.
Then the benefits blossomed even more when America's Best opened a store in Pittsburgh, Pennsylvania, closer to where she lived and where she was seriously dating the man she'd marry. She began to realize that the stability was what she wanted. "National Vision has been good to me. As my life changed, the company offered ways to let me continue to work," she says. After her daughter was born, she took 12 weeks of leave. "It was nice to take time off knowing I would have a job to come back to," she says. "I like the balance National Vision provides. I come home and take care of our daughter, without having to worry about work."
Other doctors tell her that they appreciate the benefits, too. She's had doctors from Pittsburgh move to other America's Best locations, while other National Vision doctors from other states have come to work in Pittsburgh. "You keep your vacation time and accrued benefits. It's not like you're starting over as the new person with every move; having options that fit your needs within the same company is huge."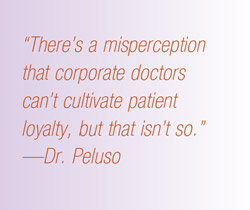 In the 11 years that she has been with National Vision, Dr. Peluso has taken on roles beyond patient care. She holds a leadership role as an Area Doctor, providing support and guidance to doctors in her area as well as being a sort of liaison between them and the corporate support team. She typically works in her primary location, but as an Area Doctor, she is in regular contact with the other Pittsburgh ODs. "We have a good group of optometrists; we're not just colleagues, we're friends, and this feels like home," she says.
Dr. Peluso also assists in the company's onboarding and mentorship program for new doctors. She appreciates National Vision's approach to introducing new doctors to the company's culture. "When we have doctors start, we encourage them to spend a few days getting acclimated by working alongside another OD. It's not that the work is different here, but the pace is different and it helps to see how another OD manages that," she says. New doctors are also brought in small groups to the company's retail support center for a more formalized mentorship program. She travels a few times a year to participate in these three-day sessions. During that time, the
doctors learn more about the company's mission and vision, share best practices, network with peers and meet with the company's leaders. "It's designed to provide new ODs with resources so they don't feel like they're out there all alone." She enjoys the process, too, because it allows her to meet ODs with a variety of backgrounds, such as new graduates, those who are making mid-career
transitions and those who want to finish out their careers in this setting. "I've met a lot of doctors from a lot of different states, and some of us keep in touch via email. I always tell them that if they need another opinion or even if they want to vent, they can call me."
The idea that National Vision doctors cultivate a network of colleagues is a surprise to some people, she says. But there are several
other elements of her career that she says might be unexpected.
"We see more disease than people would imagine. Patients come here because we're easy to reach and affordable. As a result of this, many times we're the only doctor they've seen," she says.
To Dr. Peluso, working at America's Best means that she's filling a strong need among underserved patients. "I can't tell you how
many patients I see who have serious financial challenges. I recently had a grandmother in who was trying to decide which was more important to getting her grandchildren around safely: new tires or new eyeglasses. She felt like she couldn't afford both."
She spends time connecting these patients with community services that help them get where they need to be—whether that's with an agency, volunteer group or other medical providers.
Dr. Peluso has developed a loyal patient following over the years. "I've had patients who have followed me from other locations to continue to see me and whose families I've gotten to know over the years," she says. "There's a misperception that corporate doctors can't cultivate patient loyalty, but that isn't so."