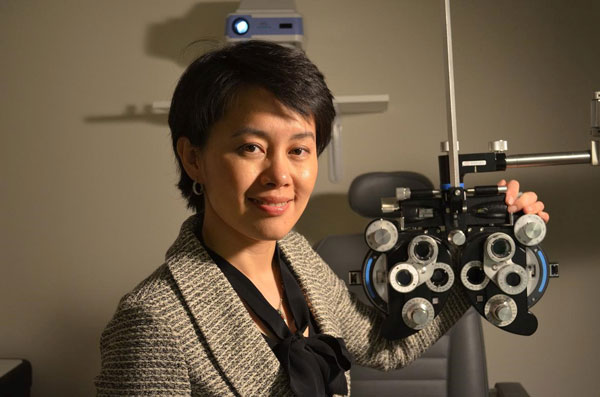 Besides offering comprehensive eye care, Xiaoyin Sun, OD, a member in the Orthokeratology Academy of America, has something else that her patients value.
"I'm originally from China, and my Asian patient base is big since myopia prevalence is high in the Asian community, at between 79.3
percent and 92 percent, according to multiple studies," she says, noting that ethnicity, occupation, environment and even genetic
makeup are factors. "People are looking for Mandarin-speaking doctors to express their concerns of eye health," she says. Her practice,
Dr. Sun Eye Care, is in Plainsboro, New Jersey, right next to Princeton University. About half of the town's 23,000 residents are Asian.
Natural Ophthalmics products are a key part of how she helps patients take care of their eyes. "We have a big population of
orthokeratology candidates," she says, "who are facing the challenge with progressing myopia. I introduce the Ortho-K formulation eye
drops from Natural Ophthalmics to help lubricate and to prevent corneal damage." She recommends using the drops two to six times a
day, depending on each patient's condition.
As part of the treatment, "the first day we introduce them to the Ortho-K Thick Eye Drops, because the new lens wearer will feel more comfortable." After the patient has time to adjust, she'll introduce the Thin Eye Drops. Many patients use both—at different times of day.
In myopia progression, prevention is the key; the sooner therapy begins, the sooner therapeutic and refractive goals will be
reached. Her youngest ortho-K patient was 5-1/2 years old. "Natural Ophthalmics products are really helpful because they're all natural
with no adverse side effects," she says. When she can make patients comfortable with the ortho-K treatment, they are more likely to
be compliant, she adds.
She also suggests Natural Ophthalmics products for treating dry eye syndrome. For a variety of reasons, it's a frequent complaint
among patients of all age groups. "I talk about dry eye every time a patient visits, making sure he or she understands the cause and result. Dry eye is often a worsening condition because of the patient's age, higher use of electronics and the changing of the tear structure," she says. "I visit a senior care center every month, where all the residents complain about dry eye discomfort."
She always stocks a supply of products. "It's good to give patients the convenience of getting it right away, and patients always trust a doctor's supply with a fresh date and exchange warranty," she says. "I love having the Natural Ophthalmics products in my practice and ready for all patients who need them."
Dr. Sun was first introduced to Natural Ophthalmics around 2011, when she began her practice. She attended an orthokeratology conference and met Linda Axelrod, who was there representing Natural Ophthalmics. "I talked to Linda and to some of my colleagues who use the products and definitely liked them," she says. "So I started to use it for myself and my family."
Dr. Sun graduated from the New England College of Optometry in 2010. She's originally from Harbin, a city of more than 10
million people in northern China. Before optometry school, she graduated from Harbin Medical University after completing an internship
and residency with the School of Ophthalmology in the Harbin First Affiliated University Hospital. She also received a master's degree in
clinical science of ophthalmology from Singapore National University School of Medicine.
During her time studying ophthalmology, she says, "everybody's focus was learning and doing surgery, so dry eye was a minor
illness that less educational effort was put on." Now she finds satisfaction in helping patients with this common condition. "When I
switched to optometry, I realized I would have more time to talk to my patients to understand their concerns and answer questions.
That's what I like to do to contribute to improving people's vision and eye health every day."