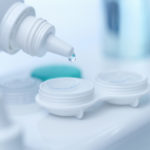 The American Optometric Association (AOA) has released a survey to assess the true impact and burden the Federal Trade Commission's (FTC) Contact Lens Rule has on practicing doctors of optometry.
In 2020, the FTC changed the Contact Lens Rule to require doctors to obtain patient confirmation that the patient received their contact lens prescription following the contact lens fitting. Following the update, the FTC requested data to understand the burden this rule places on doctors' practices.
In 2022, then-AOA President Robert C. Layman, O.D., sent a letter to Samuel Levine, director of the FTC's Bureau of Consumer Protection, seeking clarification on patient agent requests. The letter cited AOA member experiences with contact lens retailer waiting several months after patient authorization before reaching out to the physician on behalf of the patient. The AOA recommended that the FTC establish a rule whereby the authorization to act on behalf of the patient remains valid for no longer than 90 days. While feedback was never received, the AOA has continued to advocate for common-sense policies that put patients over profits.
The survey represents the AOA's continued commitment to providing members with opportunities to share their experiences and help shape the organization's mission as well as the future of optometry. To further support members, the AOA has created a compliance toolkit for the rule and resources to advocate for patient safety.
To access the survey, click here.
Credit contact lens photo: Getty Images