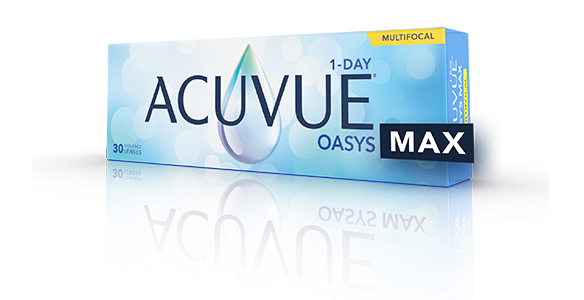 Johnson & Johnson Vision presented data on the ACUVUE® OASYS MAX 1-Day Brand Family of lenses and research on myopia progression, along with learning opportunities and support of Sight for Kids ® at the Academy 2023 New Orleans meeting. Studies being presented showed that 90% of eye care professionals agreed that ACUVUE OASYS MAX 1-Day contact lenses provide unprecedented levels of comfort † and 99% agreed that ACUVUE® OASYS MAX 1-Day MULTIFOCAL contact lenses provided patients all-day comfort.†
"We are driven by the opportunity that exists to make vision possible for patients at every stage of life," said Lori Tierney, President of Americas, Johnson & Johnson Vision. ‡ "At the American Academy of Optometry annual meeting, we're putting a spotlight on our industry-leading innovations that help pediatric and adult patients see better, while also shining a spotlight on the importance of prioritizing diversity in the optometry community and enabling access to eye care for all."
SESSIONS PRESENTED
A Large-Scale in Practice Evaluation of a Novel Daily Disposable Spherical Contact Lens
Kurt Moody, OD: An in-practice survey was conducted among 81 eye care professionals to evaluate the clinical performance of more than 1,200 patients that were fitted with ACUVUE OASYS MAX 1-Day contact lenses. Findings showed that 90% of eye care professionals agreed that ACUVUE OASYS MAX 1-Day contact lenses provide unprecedented levels of comfort, † 96% agreed that these lenses deliver on the needs of patients with intense digital device usage † and 91% also agreed that these lenses are their first choice for upgrading patients. †
A Large-Scale in Practice Evaluation of a Novel Daily Disposable Multifocal Contact Lens
Ed Wygonik, OD: The in-practice survey among 81 eye care professionals also examined the clinical performance of ACUVUE ® OASYS MAX 1-Day MULTIFOCAL contact lenses and included more than 870 patients that were fitted with these lenses. The findings showed 95% of eye care professionals agreed that MAX MULTIFOCAL lenses meet the needs of their
presbyopic patients † and 99% agreed it provided patients all-day comfort. † Among the 390 patient surveys received, 3 out of 4 agreed that these lenses provided clear vision at night and crisp, † clear vision in all lighting conditions. †
Can we really distinguish 'non-responders' to myopia control interventions? Alex Nixon, OD:  A sub-analysis of the Low-concentration Atropine for Myopia Progression (LAMP) study, a robustly designed, placebo-controlled trial with children aged 4 to 12 years, was conducted to calculate the efficacy for each intervention by subject age and overall myopia progression. The results showed that, within each intervention group, faster progressors
achieved a similar absolute reduction in axial elongation and myopia progression as the slower progressors, and that use of the terms 'responders' and 'non-responders' is inappropriate.
PP2023AVOM4701
Important Safety Information:
ACUVUE ® Brand Contact Lenses are indicated for vision correction. As with any contact lens, eye problems, including corneal ulcers, can develop. Some wearers may experience mild irritation, itching or discomfort. Lenses should not be prescribed if patients have any eye infection, or experience eye discomfort, excessive tearing, vision changes, redness or
other eye problems. Consult the package insert for complete information. Complete information is also available from Johnson & Johnson Vision Care, Inc. by calling 1-800-843-2020, or by visiting JNJVISIONPRO.com.
† JJV Data from the ACUVUE ® OASYS MAX 1-Day In-Practice Assessment, with 81 participating Optometrists and 605 spherical and 390 multifocal patients in the US from July to October 2022
Read more news updates from AAO here.