For as long as Jobson Optical Research has been conducting its ECPulse survey of issues affecting eye care professionals, ECPs have been challenged with staffing their practices. In the most recent ECPulse from 1Q 2023, fully 56% of respondents said that they are having difficulty staffing their practices.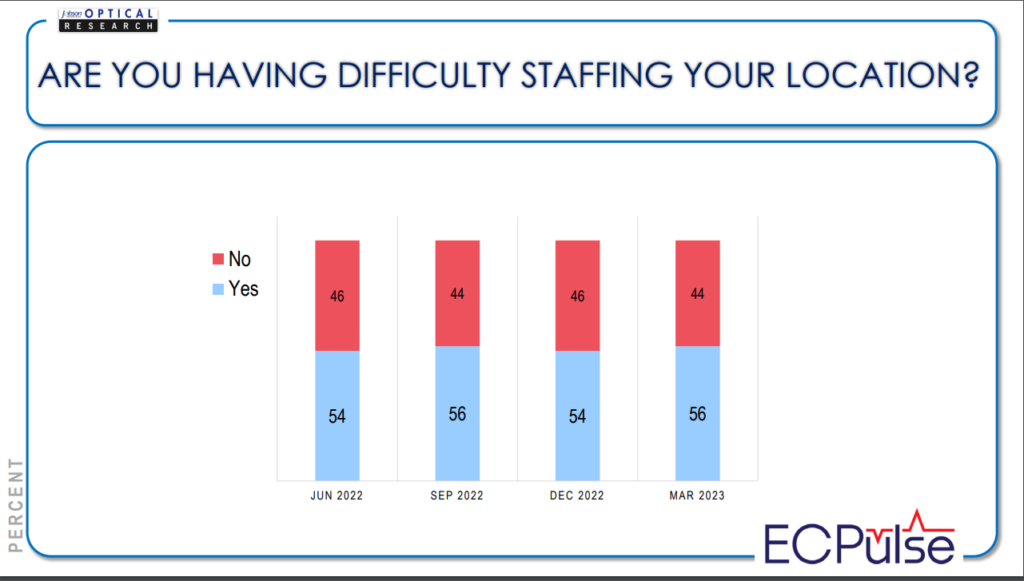 PRESERVING THE BOTTOM LINE
Many respondents also noted that they have started the year with price increases. Thirty-four percent said that they have increased prices across the board, while 47% said that they have increased prices in some areas. Increases in lens prices and frame prices were reported by largest numbers since the ECPulse surveys began.
Thirty-eight percent of respondents said that they have cut costs this year. Nearly half, 45%, said they've done so by reducing current product inventory. 
Although practices may be looking for ways to increase revenue or cut costs, late fees for patients remain relatively unpopular. Only 18% said that their practice charges a late fee for no-shows or late cancellations. 
REVENUE SOURCES
Overall, the revenue that comes into practices from services has not changed much over the year that these surveys have been conducted. In 1Q, 49% of average gross revenue comes through comprehensive routine exams and related sales, respondents said. Twenty-eight percent comes through medical carrier reimbursements and co-pays of medical services. Less than a quarter (23%) comes from services that are not covered by managed vision care or a patient's medical insurance. 
So far, 1Q 2023 seems to be slightly overperforming 1Q 2022. Key metrics such as profitability per patient, the number of patients per day, revenue, optical sales and capture rate are all slightly above where they were during the same period in 2022. 
HOW DOES YOUR PRACTICE COMPARE? 
New to this 1Q survey is a question asking respondents to categorize their patient demographics. Note than on average, practices are reporting that more than 50% of their patients are 45 and older.
SIGNS OF OPTIMISM
In March 2023, respondents reported they saw greater opportunities for some expansions than they did in December 2022. For example, 48% of respondents say they have plans to hire more doctors and staff, and 31% say they have plans to purchase new diagnostic equipment. Both of those numbers are higher than the averages reported in December.
In general, respondents to the March survey felt that the economic situation currently is impacting their practice less than it was late last year. This past December, 38% of respondents said that their practice had been impacted "greatly" by the state of the economy. That number dropped to 25% in March of 2023. In the same way, 68% said that their practice is only slightly impacted by the economy in March, while three months earlier, that number was 58%. Indeed 7% said that their practice is not impacted by the state of the economy.
In this survey, respondents showed slightly higher optimism for the year ahead. More than half, 51%, said that they believe 2023 revenues will be higher than 2022. Only 19% anticipate numbers being down from the year before. The greatest increases are anticipated in optical sales (34%) and dry eye (28%).
Read the full report here.