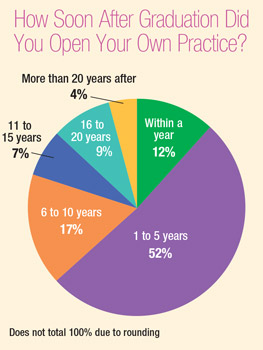 More than 40 percent of women ODs are in at least their fourth professional optometry-related job, according to an online survey conducted by Women In Optometry (WO). Another 21 percent each are either in their second job or third job, and only 17 percent are still in the original or first job for which they were hired.
Among currently working women ODs, 89 percent anticipated working full time after graduation; however, only 70 percent said that
they ended up in a full-time position as their first professional role. Today, 27 percent of responding women ODs said that they work in
more than one practice setting. This does not include working in more than one location for the same practice or employer. These are different employers, for example, a private practice as well as a corporate-affiliated practice or academic setting.
Among the respondents, 45.5 percent said that they are currently an owner or co-owner of their own practice, with the vast majority (81 percent) being the solo owner. Nearly all the rest said that they are one of two co-owners. The majority of respondents, 52 percent, said that they opened their own practice between one year and five years after graduation. Twenty-eight percent of women ODs who do not currently own a practice anticipate owning one within the next five years.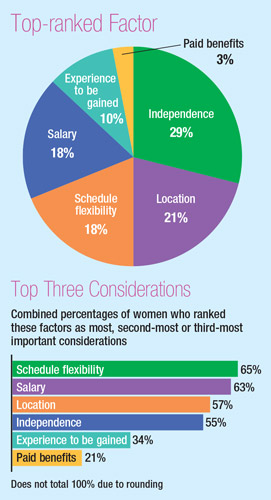 Independence, location and schedule flexibility topped salary considerations as major factors in women ODs' decisions to accept
their current professional position. Women ODs were asked to rank their most important, second-most important and third-most important factors when deciding to accept their current position.
Even though schedule flexibility and salary ranked third and fourth as top-ranked considerations, these two factors ranked highest
overall as an important factor, with 27 percent of respondents saying scheduling flexibility was the second-most important factor and 18
percent saying it was the third-most important. Twenty-three percent of respondents said salary was the second-most important factor, and 21 percent said it was the third-most important factor.
WO will be revisiting this survey topic periodically to determine how the expectations of optometry students and working professionals differ and change over time. In upcoming issues, there will be more focus on student data, as well as responses from ODs in hiring positions.