Nine women ODs were honored during the fourth annual Theia Awards of Excellence from Women In Optometry magazine. The Theia awards ceremony celebrates individual achievement, certainly, but it also acknowledges the collective impact that women ODs have made on the profession. As has become the tradition with Theia ceremonies, previous winners presented to the 2019 awardees. Glenda Secor, OD, the 2018 Leadership winner, said in her introduction: "There's an African proverb that says, 'If you want to go fast, go alone. If you want to go far, go together.' We have gone far, together."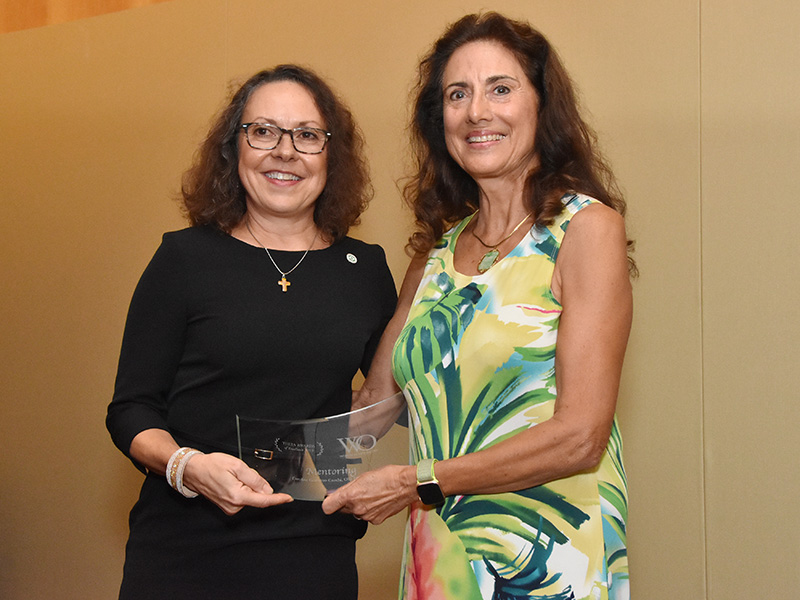 Caroline Guerrero Cauchi, OD, FAIOMC, of La Mesa, California, the mentorship Theia award winner, said, "No one ever rises to the top without the help of somebody. In the intervening years, I gave back, serving as a role model," she says, helping young Latina women especially and also optometrists seeking fellowship in the International and/or American Academy of Orthokeratology and Myopia Control.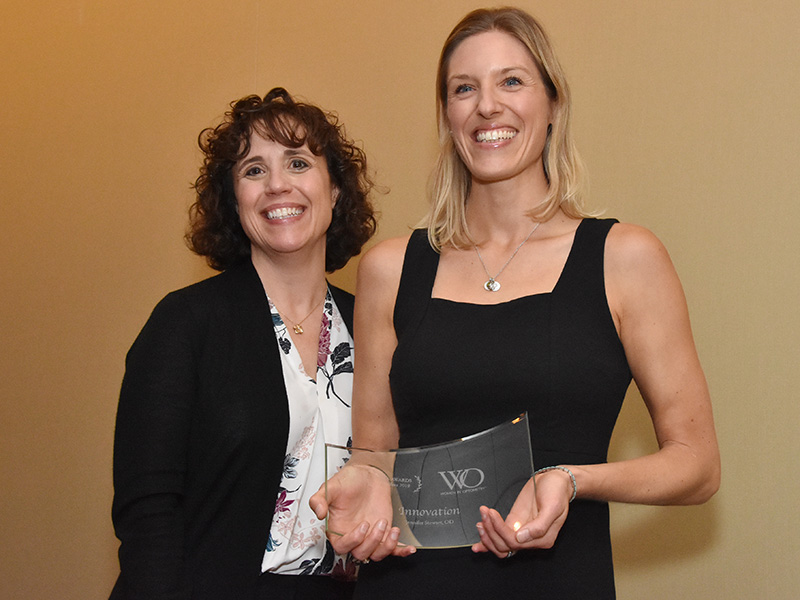 Many of the awardees also noted the importance that mentors and the community of ODs have played in their career. In addition to being a private practice co-owner, Jennifer Stewart, OD, of Norwalk, Connecticut, innovation winner, has opened a sports and performance training center and was one of several ODs who acknowledged the mentors and supporters in the room. "As I look in this room, I see so many people who have influenced my career," especially former professors from New England College of Optometry.
Nicole Quinn, OD, of New England College of Optometry, education winner, said, "The reality here is that every day an optometric education is an adventure. It's almost always a great adventure. When I see the people surrounding me in this room, I'm thankful for every moment I've had."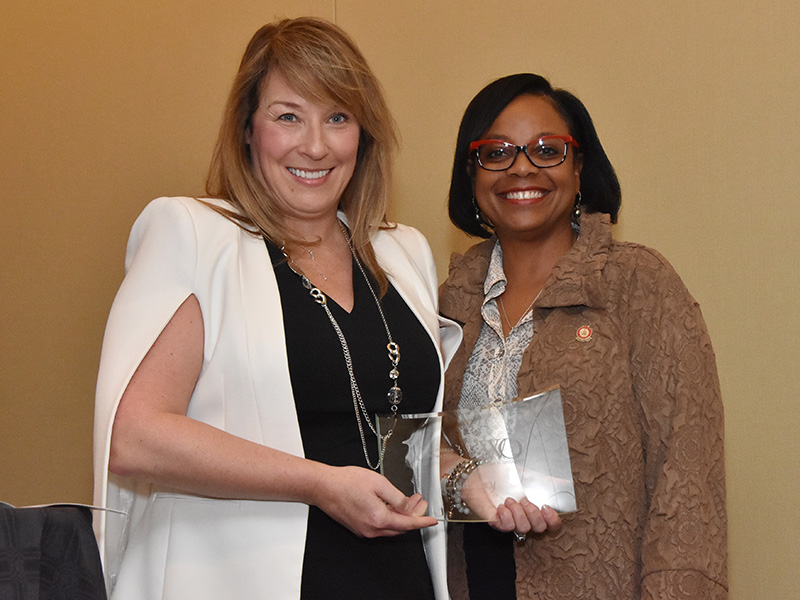 Leadership was also a strong theme for the evening. Michele Andrews, OD, of CooperVision, who won the industry award, said, "Leadership starts with you finding yourself good at something, and there you are, teaching someone else. You go from teaching your little brother how to read to being an advocate with your peers on Capitol Hill."
Indeed, the number and breadth of leadership nominations was so impressive that the voting ended in a three-way tie, reflecting how leadership takes different forms in 2019. As Naheed Ahmad, OD, of Roswell, Georgia, president of the American Association of Corporate Optometrists, said, "We don't do it for the recognition, but we do it because it's the right thing to do."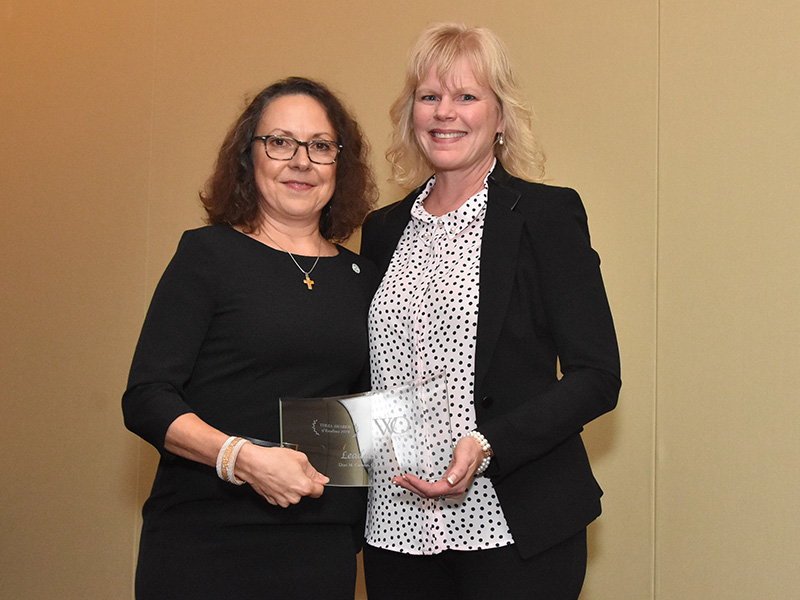 Another leadership award went to Dori M. Carlson, OD, FAAO, of Park River, North Dakota, first female president of the American Optometric Association, for leadership. She noted that she shared a kindred spirit with D. Elva Cooper, for whom the leadership award is named. Cooper presided over a meeting of the American Optical Association exactly 100 years before Dr. Carlson became the AOA president.
Jennifer Smith Zolman, OD, FCOVD, of Charleston, South Carolina, former president of the South Carolina Optometric Physicians Association, was the third leadership winner. She said, "Influence is about the legacy that people have with the people they serve and the people that they mentor." She called out her mentors and hoped that she would be as influential in the lives and careers of others as they had been in hers.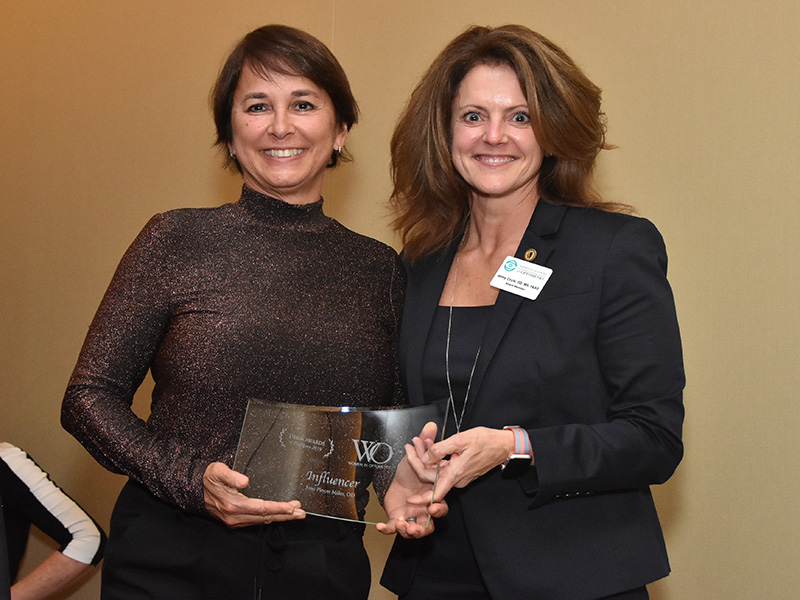 Joan Ploem Miller, OD, of Hillsboro, Oregon, and creator of OD Divas, a Facebook community for women ODs, was honored as a social media influencer, a new award category this year. She recalled the growth of the group and how inclusive the group is. "It's a friendly place, and I'm always inspired. It's a privilege to give back and be part of this community. It's about helping each other, doing what I did on a small scale and bringing it to this very large scale."
Jessilin Quint, OD, FAAO, of Augusta and Bangor, Maine, was honored as young OD. She noted the impact of women on as a young optometrist. "I feel a sincere sense of gratitude to be in this profession in this time when we have had such amazing trailblazers."
In recognition of the idea that the pursuit of excellence creates its own momentum, Dr. Carlson charged the attendees of this year's Theia event: "Leave optometry better than you found it. I challenge you all to do that."
Click here for more photos from the event.
Women In Optometry will open nominations for the 2020 Theia Awards in mid-summer.