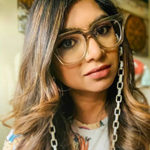 Optician and buyer Preet Kalra founded Artistic Eyepieces to share her love of eyewear, eye-related accessories and art with others.
She designs her canvas wall artwork, clothes and mugs, and some of the jewelry pieces are hand-sewn and handmade in India.
Be sure to browse Kalra's complete collection of offerings, which includes these eye-catching options shown below.
CONNECT WITH ARTISTIC EYEPIECES.
SHOP. | INSTAGRAM.