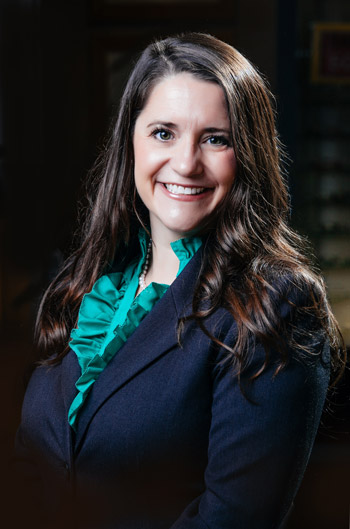 Just a few weeks after the birth of her third child, Jennie Zolman, OD, FCOVD; her husband Mike Zolman, OD; and their family made the trip from Charleston, South Carolina, to Davie, Florida. Dr. Jennie Zolman received Nova Southeastern College of Optometry's (NSCO) 2017 Distinguished Alumni Award, and the accolades are well-deserved after a year full of great achievement and excitement. Dr. Zolman recently completed her term as president of the South Carolina Optometric Physicians Association (SCOPA), purchased the remainder of her practice where she had been a partner since 2008 and added a little boy to the family.
Dr. Zolman joined Neil Draisin, OD, in his Charleston practice after graduating from NSCO in 2006 and became an owner and partner in 2008. "This practice was a great match for me because it allows me to focus on my passions in optometry: children's vision care and ocular disease," she says. About a third of the patient base comes to the practice for vision therapy (VT), and Dr. Zolman also runs the dry eye and glaucoma clinic.
This past July, Dr. Zolman became sole owner of the business. Dr. Draisin continues to work there, as does an associate doctor. Dr. Zolman is an adjunct professor at five optometry schools, and the office is now a residency site for VT and hosts rotating doctors who are completing their residencies. One of her first goals in full ownership is completing a mini-makeover in the space later this year or in early 2018, including putting in new flooring, adding new furniture and opening up some walls in the front half of the office. In her five-year plan, Dr. Zolman says that she would love to open a separate office dedicated specifically to VT.
Career insurance
The legislative arena of the profession has been important to Dr. Zolman since she was a student. As soon as she graduated, she joined her local societies as well as SCOPA. "I tell the students whom I work with that this is your career insurance, just as you have health or home insurance," Dr. Zolman says. "This is a legislative profession, and just as quickly as we get permissions, they can be taken away."
One of Dr. Zolman's most time-consuming responsibilities throughout her presidency was preparing to go to trial against Opternative, the online eye exam startup. Opternative had sued the state late in 2016 after it was banned from providing prescriptions there. The trial is underway, and Dr. Zolman says that she hopes that her state's experience can serve as protection for optometry as a national profession, as well. "The outcome could affect the whole way we look at online technologies," she says.
Threats and opportunities
Two other initiatives of her presidency were focused on the future of the profession. Dr. Zolman held a weekend retreat focused on SCOPA Vision 2020, where SCOPA members developed a strategic plan through the year 2020. She also created a leadership institute with newer ODs. Eight young optometrists were selected as part of this program, and they met three times over the course of Dr. Zolman's presidency. "The engagement and enthusiasm from those doctors is pretty exciting," she says, and the program will continue either on a yearly or biennial basis.
Nothing less than the sun itself powered the state's biggest marketing campaign. The August 2017 eclipse tracked a path straight across South Carolina, and the public relations department of SCOPA made connections with many local news channels to spread awareness.
Dr. Mike Zolman will become president of SCOPA next year, and Dr. Jennie Zolman looks forward to her continual involvement with her state, even after her board term ends. "One of the reasons our board was so successful was because everyone was so engaged," she says. She cites a Ronald Reagan quote that has guided her: "There is no limit to what a man can do or where he can go if he does not mind who gets the credit." Dr. Jennie Zolman says, "I was not worried about the fame, glory or my legacy. With a cohesive board, you can really get a lot done."