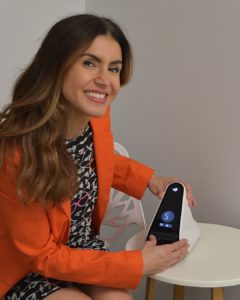 Ocular wellness and nutrition are two words that many don't see as connected. But Neda Gioia, OD, FOWNS, CNS, of Shrewsbury, New Jersey, offers a different patient experience by integrating nutrition and supplementation into each patient conversation.
BACKGROUND
Dr. Gioia had a health concern that led her to explore her own nutritional path, where she was introduced to the Ocular Wellness and Nutrition Society, which focuses on nutrition for ocular health. She says the society was a "match made in heaven," and she attained her fellowship status with the society while being in practice.
ADDING NUTRITIONAL SERVICE
Dr. Gioia created an add-on nutritional service because she wanted to give an opportunity for her patients to explain their nutrition background in-depth. She says that it strays from a traditional eye exam and encourages patients to talk about their supplements and nutritional choices. Many, she says, have been "brainwashed by society" not to discuss their lifestyle and supplements during appointments.
She began to wonder: What if I want to get a little deeper about vitamins? What if I want to get a little deeper into your dietary choices? So her updated intake form asks patients to list the names of brands and dosage amounts of all medications and supplements. Patients can opt for a special dietary consult visit with her. She supports her add-on service through various technologies, such as S3 Scanner®, which provides a quick reading of the carotenoid antioxidant levels in a patient's skin after a palm scan, OmegaQuant®, omega-3 blood test, lab tests and the OCT Maestro2®, which provides her with an ocular wellness report.
PATIENT RESPONSE
When asked if patients were surprised this conversation is happening in an optometric office, Dr. Gioia says the opposite happened. Patients welcomed the discussions because they're missing from the typical provider-patient conversations. In fact, it's so popular that "there are more patients who want [the service] than there are practitioners that are able or capable to recommend and actually provide the services." Incorporating wellness and nutrition into the patient conversation makes the patient more open to check in annually and more involved in the decision-making, she says.
GOALS
Dr. Gioia's goal is to increase awareness of the Ocular Wellness and Nutrition Society and show practitioners that there is a path to connect ocular wellness and nutrition. She encourages ODs to visit ocularnutritionsociety.org to learn about membership and the fellowship program. She has recently taken her education even further by becoming a certified nutrition specialist and integrating these services into a primary care optometry practice.
Listen to Dr. Gioia detail the way practitioners can incorporate nutrition into their patient conversation here.
Read more stories on how doctors incorporate health and wellness into their lives and practices.