A Dodrio, a three-headed ostrichy kind of beast, has been spotted at Visionary Eye Care in Sugar Land, Texas. Over in Valdosta, Georgia, a cartoon rat-creature named Raticate and an odd little bird named Pidgey have been captured inside North Oaks Family Eyecare & Optical. There's a Nidoran in the exam room at Drs. Phillip & Lynne Roy & Associates in Brookfield, Wisconsin.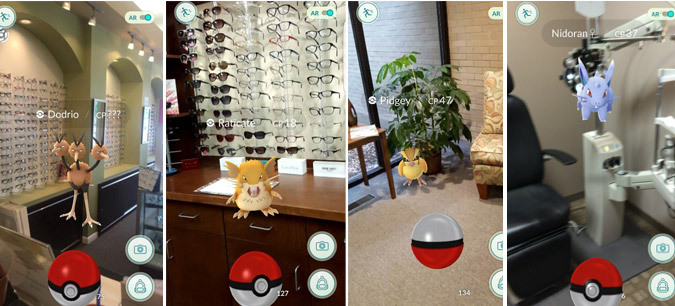 These four and others like them are the goals in Pokémon Go, the seismically successful mobile app launched by Niantic a few weeks ago. Users can download the app on their smartphones and go in search of elusive Pokémon, which either spawn, apparently somewhat randomly either around a player or in certain geographic areas, or hang about Pokestops, designated spots, such as a landmark, small business, memorial, historical monument, building on a college or university campus or anywhere that players can go (physically go—hence the Pokémon Go name) to collect items that will help them catch more Pokémon.
The ODs at Visionary Eye Care, North Oaks Family Eyecare & Optical and Drs. Phillip & Lynne Roy & Associates—Alinah Ali, OD; Deborah F. McDonald, OD; and Lynne Roy, OD, respectively—have said that their Pokémon visitors showed up uninvited but certainly welcome. Dr Ali said that she had begun to do the research to see how she could lure Pokémon into her office or buy a sponsored Pokestop. She even emailed the company, but apparently it was too busy managing the crazed launch days to respond. She downloaded the app and found that she had several in her office anyway. "It's been really busy here with our back-to-school crowds," she says. "We tell patients and their parents that there are several Pokémon in our office, and many of them open the apps and start looking. It's fun to see a kid come out of the exam room and say, 'Mom, I caught two Pokémon.'"
Dr. Roy says that Pokémon have appeared all throughout her office, as well. "A few of our staff were playing Pokémon Go during their breaks, and I asked one of them to capture a screen shot of a character if they ever saw one in our office," Dr. Roy says. Patients have been finding characters, as well. "We have all had fun with it."
Dr. Ali says that there are several other independent optometric practices in town, but as far as she knows, none have been identified as Pokémon stomping grounds. Or otherwise, those practices aren't advertising that fact on their practice websites. Dr. Ali says that she doubts that the Pokémon in the building are bringing her new patients, but they have been a great diversion for the patients who come in, and they've supplied her with new and engaging Facebook content.
Dr. McDonald, who is not a Pokémon Go player herself, says that it's an interesting feature that creates a little extra buzz and social media attention.
* * * * * * * * * * * * * * * * * * * * * * * * * * * * * * * * * * * * * * * * * * * * * * * * * * * * * * *
Do you have Pokémon in your practice? Did they simply spawn or are you doing something to attract them? Share your Pokestory with us.