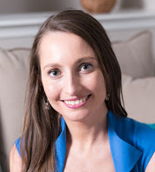 A series of transitions are underway at Scituate Harbor Vision Source® in Scituate Harbor, Massachusetts. As one of the associate doctors leaves the practice and a new OD joins the team, Jessica Crooker, OD, is in the process of purchasing 50 percent of the business with the expectation to buy the remaining half in three years.
Dr. Crooker says that she didn't think the opportunity to become a partner would present itself so quickly. She joined the practice three years ago as an associate OD, having previously worked in the practice during optometry school. She had discussed the possibility with practice owner Gordon Price, OD, but she says that she had imagined a longer timeline.
As she and Dr. Price proceed through this change in ownership, Dr. Crooker says that she wants to learn as much as she can from his expertise. "I am confident with the clinical side, but I don't know everything about the administrative side of running a practice," she says. "While Dr. Price is still here, he can lead the way." Dr. Crooker has already taken on some administrative responsibilities, such as payroll, running weekly staff meetings and monitoring practice benchmarks with the office's LIMBS software.
Dr. Crooker can see trends among each doctor and staff member and look at the practice's financial data, filtering by frames or contact lens sales. "This information identifies what we can work on and what we're doing well," she says. The practice continues to increase its number of annual supplies sold, and the team is targeting opportunities to prescribe progressive lenses.
Dr. Crooker says that she's finding balance by creating some separation between her clinical and administrative responsibilities. "I'm here every day seeing patients, and then I like to have some time to myself to focus when everybody leaves." The time at the end of the day allows her to "slow down for the day and reel everything back in." She also adds that it helped to find a lawyer who knew the ins and outs of optometry and the right strategy to take.
She's already brainstorming ways she can expand the business to serve its patient base better. "We're rolling out a whole line of products to target the areas that we have heard patients talking about," Dr. Crooker says. "They can come to the office and get a pair of eyeglasses but also talk about their wrinkles or eyelashes. I like to listen to what my patients say beyond their vision issues." In June, she developed a sunglasses awareness campaign with practice manager Denise Price. "Sunglasses can be fun and functional, and we had a different theme each day for women, men, kids and the elderly."
From her first experience in the practice as a patient to working in the office during optometry school, Dr. Crooker says that she developed high expectations and standards for a practice where she would work. "Dr. Price invests in the latest and greatest technology for everything in the office, and patients comment that they have never been in an office that is so progressive," Dr. Crooker says. "My goal was always to work here." Her new leadership position will allow her to impact the community even further.