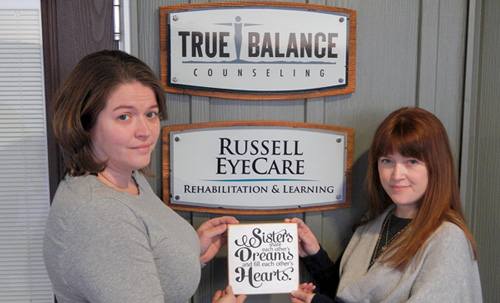 In conversations, Christie Russell-Villnow, OD, heard from her neuropsychologist sister, Leslie Russell-Martin, MS, PhD, that she was noticing visual processing issues in some of her patients in her mental health clinics. Dr. Russell-Martin encouraged Dr. Russell-Villnow to study more about traumatic brain injury (TBI), concussion and visual processing so that she could offer these services in her primary optometry clinic, Russell EyeCare and Associates in St. Joseph, Minnesota. She also asked Dr. Russell-Villnow to bring these services to her clinic, True Balance Counseling, 45 minutes away in Little Falls, Minnesota. "We had this huge patient population that needed this visual processing aspect, and these services weren't being offered at in the area," says Dr. Russell-Villnow.
In December 2016, the two opened up a shared clinic in Cold Spring. "She has half of the space for her clinic, and I offer vision therapy and vision rehabilitation in my half," Dr. Russell-Villnow says. She sees patients for evaluations in her main office, but once the therapy plan has been developed, therapists can also meet patients at one of the other two locations closer to their homes. Dr. Russell-Martin has a short list of ODs who provide rehabilitative therapy, but patients seem to appreciate the feeling of collaborative care when they can get their services from sisters. "We communicate well," she says.
Dr. Russell-Villnow spends one day a week in the Cold Spring location and at her sister's clinic, where therapies include play therapy and working with horses and dogs. "She does a lot of evaluations for school systems in the area," Dr. Russell-Villnow says.
The timing to open this collaborative practice was perfect. "My main clinic was running out of space. We did an expansion last year, but we were going to have to move the vision therapy to a different location. There's not a lot of commercial real estate available in town," she says. Now her two therapists have so much more room to work with patients.
Dr. Russell-Villnow says it's a bit of a surprise that it took her so long to incorporate these services. "When I was in college, I had convergence insufficiency, and vision therapy really helped me. So I always wanted to do it, but we were so busy establishing the primary care clinic when we opened in 2009, and the service wasn't readily recognized as valuable in Minnesota. But when my
sister began asking if I could offer these services, and after I took the extra education needed, then I was glad to be able to
offer it," she says.
She has one referral source already convinced, and she's been reaching out to parents and other health care providers to explain the benefits. "The diagnosis between learning disabilities and visual processing is closely aligned. The child needs to be able to see so that a health care provider knows that the testing results are true," she says. She has a few representations that replicate how a child might see with various vision problems that help parents relate to their child's testing results. She is also able to offer visual rehabilitation following TBI, which is a growing concern within the medical profession. Recently, she added telehealth services to her therapy clinics, and it is going well.
As word spreads and the practice grows, Dr. Russell-Villnow is glad she had her sister to give her a little push.