Fifty-eight percent of participants of a recent Women In Optometry Pop-up Poll said that their office team rely on its own sense of style and understanding of their market when it comes to making frame purchases. Many respondents said that their office does have a plan in place for these processes: 39 percent used a subjective system, and 33 percent used an objective system. Twenty-six percent lean on frame representatives for guidance. Participants were able to select all that applied to their office.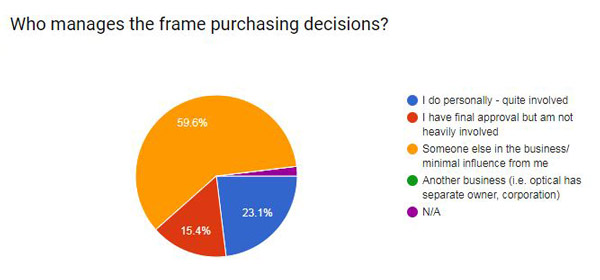 Sixty percent of respondents said that someone else in the business makes frame purchasing decisions and that they give minimal influence towards these choices. Another 15 percent said that they have final approval but are not heavily involved. Twenty-three percent said that they personally make frame purchasing decisions.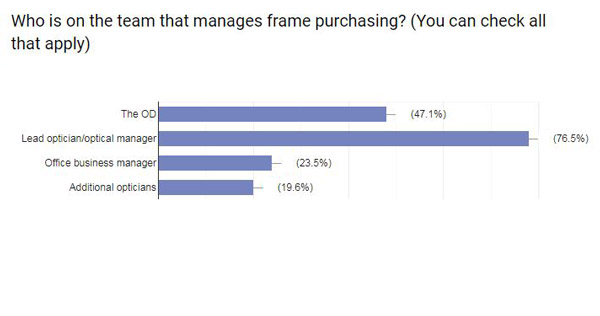 When asked to identify who in their office manages frame purchasing, 77 percent said it's the lead optician/optical manager; 47 percent said the OD; 24 percent said office manager; and 20 percent said opticians.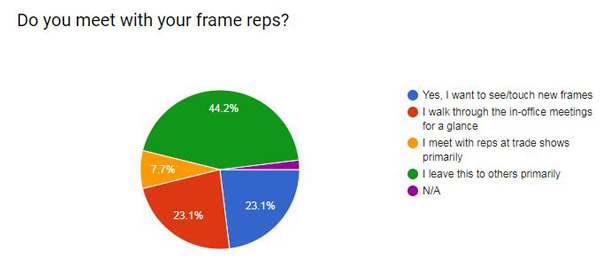 Many participants (44 percent) delegate meetings with frame reps to others, while 23 percent do take advantage of the opportunity to touch and feel new frames and another 23 percent like to drop in during in-office visits. Eight percent designate time at trade shows to meet with frame representatives.
On a scale from 1-3 with 1 being least important, 44 percent rated the importance of frame board management to their personal work as a 3. Forty-two percent rated a 2, and just 14 percent selected 1.