A Women In Optometry Pop-up Poll that was launched prior to the availability of any COVID-19 vaccines and stayed open through New Year's Day shows that a majority of respondents were planning on (or had already gotten) a COVID-19 vaccine.
When asked if they were planning on getting the vaccine when it became available, the largest cohort was anxious to do so, with 41 percent saying "absolutely" and that they were already in conversations about it (and some later respondents even saying that they had received it or scheduled theirs already.)
Another 22 percent said that they did want the vaccine but had not been following the developments as carefully. Just more than 14 percent said they were still unsure, but leaning toward yes.
However, more than one-in-five respondents expressed that they were not planning on getting the vaccine, with just more than 14 percent saying no and eight percent saying maybe but leaning toward no.
REASONS FOR NOT GETTING THE VACCINE
The most common reason for not getting the vaccine, according to those who said they were not getting or leaning toward no was that they didn't trust this particular vaccine process (55 percent), followed by 42 percent who said they were in a low-risk category. Another 26 percent listed other, but didn't necessarily specify what the reasoning was. Some noted they were taking a wait-and-see approach and probably "won't be the first in line."
BEHIND THE EFFORT
More than 79 percent of respondents in this poll said they will encourage all staff members to be immunized. Others also plan other efforts to become more involved with immunizations efforts:
Post information on vaccine access/availability on the practice/business website: 43 percent
Allow  vaccination clinics on site: 20 percent
Determine whether the practitioner can offer vaccines: 20 percent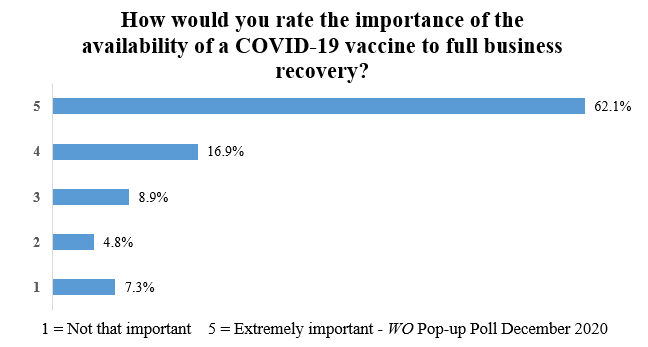 Overall, a majority of respondents felt that the widespread availability of a COVID-19 vaccine will be extremely important to business recovery.
Read related stories: 
Wave 18 (Dec. 2020) results from Jobson Optical Research ongoing surveys ECP coronavirus attitudes and experiences
COVID-19 Vaccines: All Hands on Deck
Pregnant? ACOG Says COVID-19 Vaccine "Should Not Be Withheld"