Note: This story has been updated to final results as of March 24, 2021.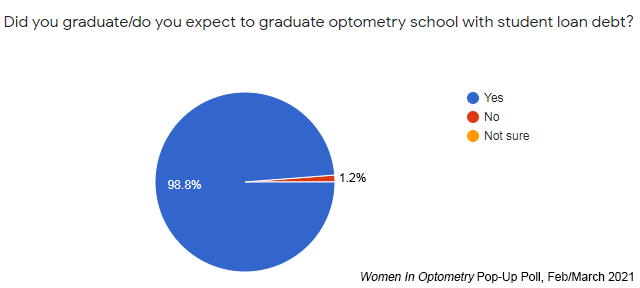 Nearly every respondent (99 percent) of a recent Women In Optometry (WO) Pop-Up Poll said that they did graduate or expected to graduate with student loan debt. When they graduated or expected to graduate, the totals tallied up high with 63 percent of respondents saying that they had between $150,000 and $300,000 in student loan debt.
Thirty-three percent now still owe between $150,000 and $300,000, while another seven percent owe more than $300,000.
WO broke down the results to look at how the student debt load has changed over time. Take a closer look.
Overall, 27 percent of respondents said that they expect it will take more than 20 years to pay it all off.
Respondents cited that their student loan debt has kept them from
Buying a first or larger house: 41 percent
Buying/starting a practice: 31 percent
Upgrading car: 31 percent
Starting/adding to their family: 26 percent
Others stated that student loan debt impacted their ability to save for retirement or their children's college education, take vacations and to have peace of mind.
Want to hear more of what your colleagues had to say? We're sharing their responses.