About 78 percent of eye care practitioners responding to a recent Women In Optometry Pop-up Poll said that their offices do collect donations of cash or good for local, regional or national organizations. Half said that they do so for organizations that are not eye care-related, such as food banks, Toys for Tots or animal shelters. About 21 percent said they so do for eye-related groups, such as Optometry Giving Sight or the Lions Club International. Seven percent said that they are considering some kind of collection drive for the future.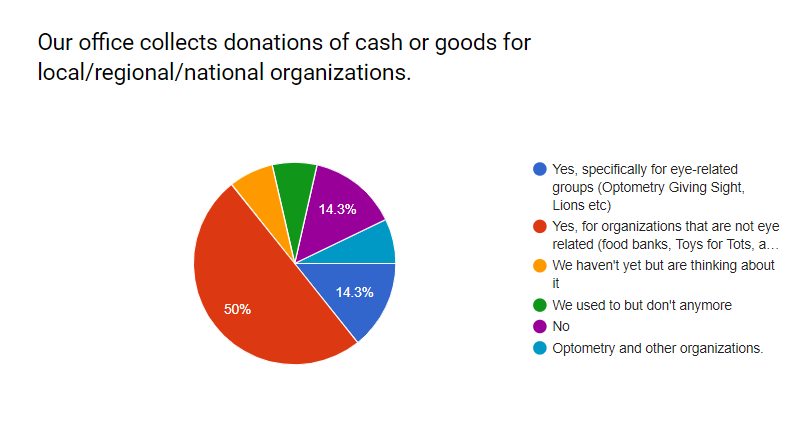 Most of these drives are done with the local community in mind, with 69 percent of the respondents saying the donations stay local, and 23 percent saying they select local as well as national or international causes.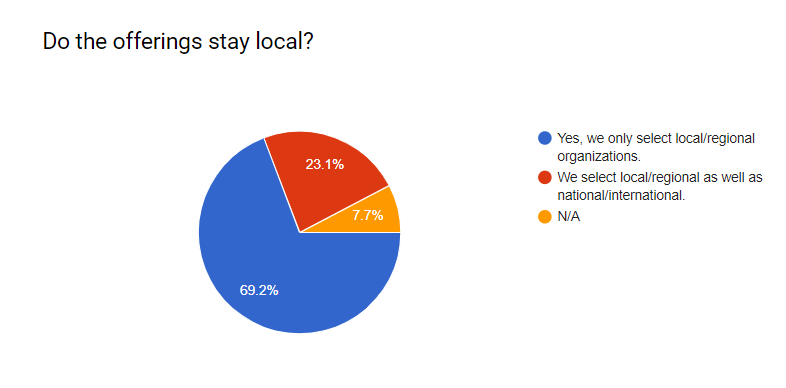 The practice owners have the greatest say in the decision, with 46 percent of respondents noting that the owner selects the organizations, and another 15 percent said that it has become a tradition to support the same organizations each year. Another 15 percent said that the office staff votes after getting input on worthy organizations from staff and patients.
Most of the practices noted that they focus on this time of year, with 42 percent saying that they start with the drive right after Halloween and 17 percent noting it runs through December only. However, one-third of the respondents said that donations drives or collections can be held at various points throughout the year.
Eighty-five percent of the respondents were women ODs. Here are some comments:
"We pick a different charity every quarter to donate to. We wear jeans on last Friday of the month and pay $5, which gets donated. We promote this the whole month."
"Charity is important personally and for business! It boosts employee morale, helps create business relationships with other companies/organizations and plays a secondary role in marketing. Choosing a charity that is relevant to your business is also a great idea. Many will sometimes select a company based on its charitable donations. Plus, personally, it can significantly impact a family, child or organization in need. [We consider food, educational items, toiletries for shelters, donating glasses or contacts for victims of natural disasters and more as a win/win overall!"
"It's just the right thing to do."
"I feel a sense of obligation to give something back."
"It is always good to help when you are able to and for a reason that you are passionate about."