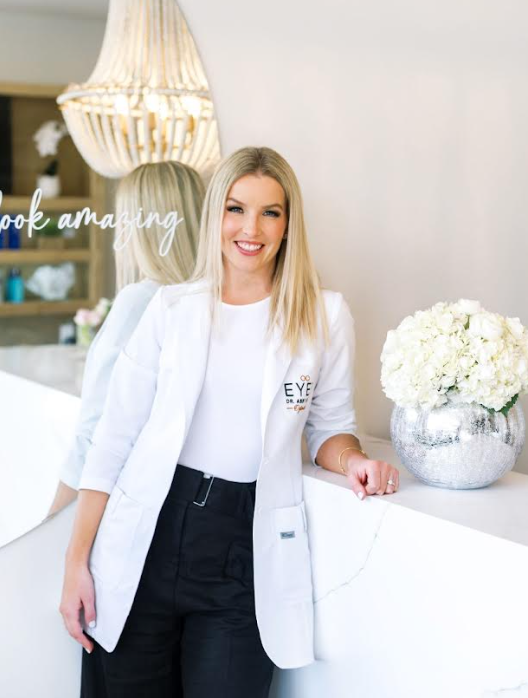 Abby Jakob, OD, has always had a goal to be the best she could be. She worked hard to expand her network during her time in optometry school, including taking on a mentor. And two years after graduation, while driving through her hometown, she noticed a beautiful historic building for sale and was reminded of advice from mentor Richard Kattouf, OD: "If you can own the building you work in, you're golden."
Without hesitation, Dr. Jakob bought the 3,000 sq. ft. space just seven minutes from her home. The almost 100-year-old building was the town's first fire hall, which had been split into two commercial units with two more residential units upstairs. The historical site sits on a main street with lots of foot traffic. In 2017, six months after a complete gut and revamp with help from her contractor husband and her father-in-law, EYES by Dr. Abby Jakob opened.
The aging red brick was painted bright white, and her husband hand-crafted the planter boxes out front, which Dr. Jakob's mom and aunt update seasonally. Large windows are often decorated from the inside and let in lots of natural light. Two apartments upstairs are rented out to help cover overhead (literally).
Inside the practice, luxury vinyl floors complement the barn wood behind the front desk. Two exam lanes are fully equipped for patient care, and a third is ready to use when needed.
"I wanted the practice to have clean white paint and lots of sparkles," Dr. Jakob says. That sparkle came in the form of three stunning chandeliers above the optical and the bright white frame displays that reflect sunshine to make the eyeglasses shine.
BUILDING A BUSINESS
In 2022, Dr. Jakob realized she needed more space, as she had developed a special interest in dry eye disease that had led into a new passion for aesthetics. Her husband came in handy again as she expanded her business into the additional space next door. She opened BRIGHT Eye Spa + Medical Aesthetics in February 2023.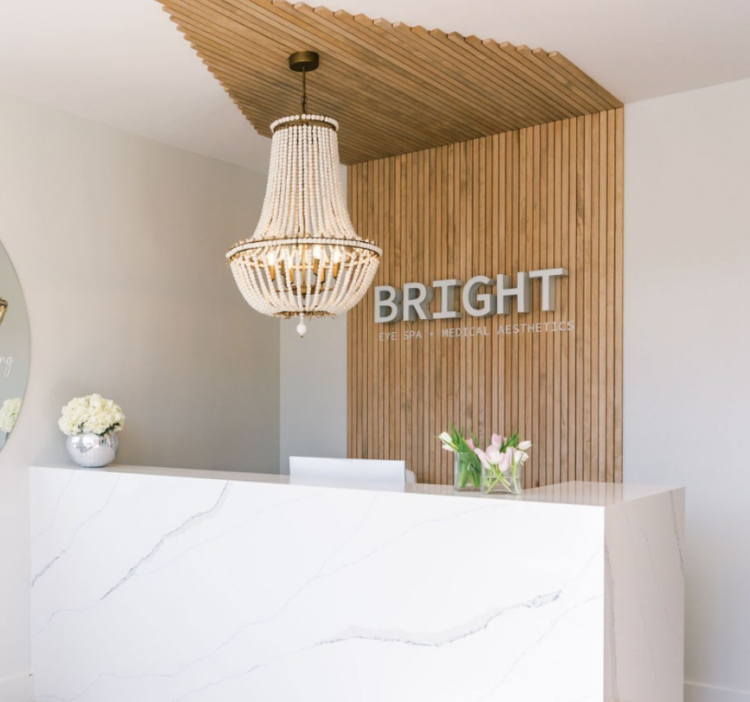 She hired a medical director and two medical estheticians after realizing a growing need for an expansion of services offered. They now offer various dry eye treatments and aesthetic services, including LipiFlow, VISIA Skin Analysis, microneedling, neurotoxins and dermal fillers, laser hair removal, intense pulsed light (IPL) treatments, chemical peels, dermaplaning, lymphatic massages and more.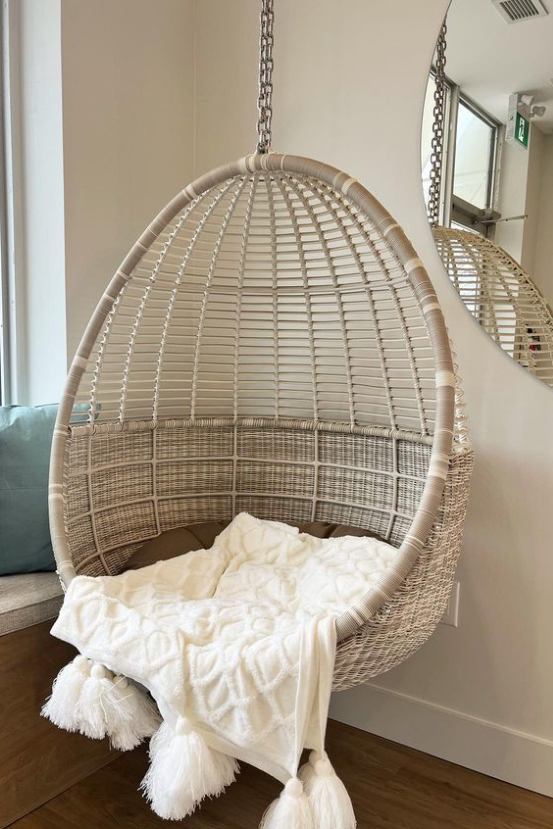 "BRIGHT feels like Mykonos" Dr. Jakob says, with inspiration taken from her honeymoon destination. The "high-class beachy vibes" are complete with earthy tones and "California surfer" inspired photos. Just like at EYES, Dr. Jakob stresses the importance of "being warm and welcoming to all guests at BRIGHT. The goal is to provide our patients with an experience unlike any other," she says.
"I was happy so happy with the support I received with my optometric practice," Dr. Jakob says. "The response to the dry eye medspa has been overwhelming." Now, with two young, bustling kids and businesses, she's got a bright future ahead.
To view other practice inspiration stories from WO, click here. 
Follow Dr. Abby Jakob and her practice socials:
EYES Instagram: @abbyjakobeyes
EYES website: abbyjakobeyes.com
BRIGHT Instagram: @bright.medspa
BRIGHT website: brightmedspa.com
Read more stories about how doctors incorporate beauty and beauty services into their practices.