Christie Jackson, OD, purchased a practice in Truckee, California, just one year after she graduated. "I had always known that I wanted to own my own practice, but I didn't think it would happen that quickly," she says. She and her husband wanted to settle near North Lake Tahoe, where they had met and lived before optometry school. "I knew the local doctor would be retiring at some point, so during optometry school I kept popping in to leave my card or a note that asked him to contact me if he ever wanted to sell."
Shortly after her graduation, the doctor called. She began working for him on a "very part-time basis" as the two doctors developed a transition plan, and soon enough, it was hers. She rebranded as Truckee Family Eyecare Optometry to separate herself from the previous owner's name. "I wanted 'family' in there to let people know that we were kid-friendly," she says.
She also completely remodeled. The outside of the building was fabulous—a sort of modern ski lodge, but the inside was all beige walls and rose laminate. She recreated it with a much younger, brighter feel. The practice is in a complex with a high-end brewery, some restaurants, a pediatric dentist and an adventure outfitter. "We incorporated corrugated metal, reclaimed wood and bright teal for the walls. The pretesting room looks like a shed with a sliding barn door, and the front desk area is reclaimed wood from an old dairy farm," she says.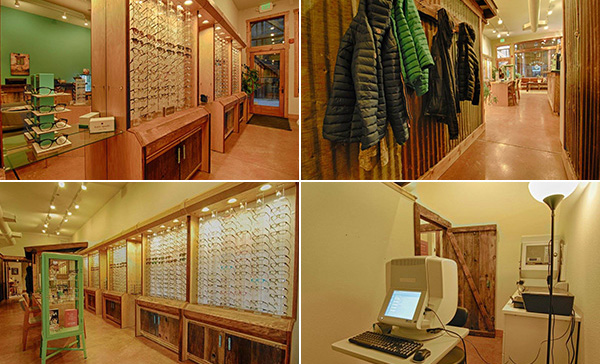 She didn't precisely have a style in mind, but one day, she walked past a nearby shop where a craftsman was hanging a mirror framed in reclaimed wood. "I said, 'Wow, that would look great in my space.' We started talking, and he came to look at the space and said, 'This is like a blank canvas.' He started giving all kinds of ideas about the space," she says.
The current frame boards are the same ones that the former owner had, but look totally different after incorporating different wood stains and replacing the underneath cabinetry with reclaimed wood. A friend created her logo, which is an evolution of an astigmatism chart manipulated to evoke the idea of mountains and a lake. The design was done on a budget but the fixtures truly reflect the outdoorsy community, she says.
In the three years that she's owned the practice, it has grown significantly. Her revenue per patient has increased considerably because she updated the instrumentation so that she can offer more services and also upgraded the frame selection. "I didn't anticipate this, but we've become a high-end optical. Since I was just out of optometry school, my focus was on the medical side, and I didn't realize the impact that the optical would have," she says. She has brought in boutique frame lines and athletic eye wear options, such as custom ski goggles and bicycling eyewear.
She's currently facing two challenges. First, is figuring out how the current single-exam room office can be changed to allow for a second exam room. Second, she is actively looking to add another doctor who will cover for her when her second baby arrives this fall—and beyond. She is hopeful the community, environment and lifestyle in Truckee will appeal to another doctor, as well.