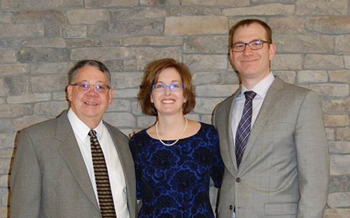 For most of its 41-year-old history, the practice now known as Sisson-Boyer Eyecare was in an office in the home of W. Reynolds Sisson, OD, FAAO, in Newport, Pennsylvania. Recently, the practice moved into a much larger, multispecialty medical facility, which include offices and imaging services managed by a local hospital system, a cardiology practice and four primary care physicians. Sisson-Boyer is on the second level, but there's a ground level entrance in the back. "Short of a coffee shop, we have everything we need right here," says Kimberly Frantz Boyer, OD, laughing.
There were obvious advantages to moving out of Dr. Sisson's home-based office. "We were at the end of a cul de sac, so parking and plowing snowy roads were an issue. Patients were worried about walking up the stairs or ramp. We never had window shoppers, not one. And it was crowded." The former space was 2,200 square feet, but that included an edging lab in the basement. The new space has 4,500 square feet, and it includes such staff luxuries as individual workstations, a locker bay and a staff lounge. Sliding doors and wide entrances easily accommodate patients who use walkers or wheelchairs.
Even so, the rent in Dr. Sisson's house couldn't be beat. "Now we have a big mortgage, but at the end of 20 years, when I'm ready to slow down, and Dr. Sisson is retired, this building will be worth something," she says, noting that the investment in the real estate made the decision easier than renting a larger facility somewhere. "With rent, you pay the same and get nothing." Drs. Sisson and Boyer took out three loans: one a major commercial loan for a 20 year mortgage that covered the construction costs of their portion of the building. "That's about 70 percent of our loan expense." The second was a 10-year business loan that covered the costs for contents of the building. And the third is a $30,000 line of credit. "There are always expenses that we haven't budgeted for. Our credit has helped us upgrade our outdoor signage. I'm sensitive to signs that are not readable, so I'm very proud of our signage," which is huge and includes the Vision Source® brand. Having the revolving line of credit means she doesn't have to worry as much if an unexpected expense arises.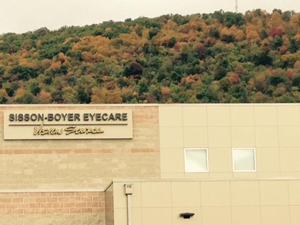 In budgeting for the new office, Dr. Sisson says that everyone was on the same page: spend the money up front where patients can see it. So the displays in the reception area are beautiful, set off by a stacked stone wall and a lot of windows, visible from the atrium downstairs. There's a wooden floating ceiling above the reception area, giving the office a warm and inviting look. "We want people to feel like they can bring their friends in and have an unhurried shopping experience."
The old practice had two fully equipped exam lanes, which were brought over, but Drs. Sisson and Boyer also purchased a brand new exam lane, installing the Marco TRS 510 autorefraction system and making one lane fully handicap accessible. There are three doctors, but only two work at the same time.
Dr. Sisson continues to work 1.5 days a week. Dr. Boyer and associate, Jeffrey Walter, OD, both work about four days per week, giving provider coverage from Monday morning until Saturday noon. The practice also installed RevolutionEHR, but still moved its paper charts to be scanned in as patients return for visits. The furniture from the previous reception area now serves as staff lounge furniture, and floor and wall treatments in areas that patients don't see were selected as lower-priced alternatives.
Dr. Boyer, the daughter of an architect, says it's well worth the investment to work with an architect. "Every change order is expensive, so it's smart to have very detailed plans before you start," she says. Her niece, an interior designer, helped find displays and unique office décor, including one of the old signs for the old office, which now hangs in an exam room.
In this rural community, where there are no eye surgeons and no Walmart stores, and only two other ODs in the entire county, "we're thriving. It's still tough with vision plan reimbursements being stagnant, but we have been able to expand into more services," Dr. Boyer says. Being in the same building as other medical professionals, she's seeing more referrals for patients with ocular infections or those who have diabetes. "We're contemplating being able to drop some of a lower-reimbursing vision plan," she adds.
There have been immediate benefits from the move, Dr. Boyer says. The staff is happier being less crowded. Employees dress a little nicer, a shift that happened quickly as they moved into the more updated space with newer furnishings and upgraded product offerings. "Per patient revenue is increasing. We're attracting more patients with more disposable income. And we've been able to hire an office manager, a position for which we just didn't have the physical space before. I was filling that role, but I'm good at being an eye doctor. She can take the time studying the numbers, seeing trends and making sure there's follow through on ideas. We hit our first-ever $1 million year just before Thanksgiving this year."