After Casey Smith, OD, decided to cold start a practice, everything moved quickly. She made the decision in January of 2020 and by the end of that July, Sight Vision Care in Springfield, Ohio, was open for business.
Her timing wasn't ideal, but for Dr. Smith, this isn't the first time she's had to roll with the punches. When she was a junior in college, she was told she needed to pick her major. While she had originally planned on physical therapy, she had a realization.
"I woke up and decided that was not what I wanted to do for the rest of my life," she says. Her time in the physical therapy program was not for naught, though. "Working on the physical therapy patient floor at the hospital made me realize people were falling because of their vision, not necessarily mobility issues," she says. "It sparked my interest."
She graduated with a B.S. in kinesiology, but she also deferred her graduation for a year so she could stick around and complete her optometry prerequisites. She successfully obtained admission into The Ohio State University College of Optometry—her number one optometry school choice—and graduated in 2018. She bought a house in Springfield, where her parents had retired and got to work making moves to open her own practice.
LEARNING HOW NOT TO DO THINGS
One thing Dr. Smith learned from working at other practices was what she did not want to do. "In the other practice I was working for, I was scheduled every 15 minutes—hustling in and out all the time," she says. "When I opened my practice, I scheduled one patient per hour. I spend a lot of time with them to get to know their needs." She also strives to make her optical a place rich with options for lenses and eyeglasses. "There is a range of things we can do in optometry," she says. "I love the eyeglasses and optical portion." Dr. Smith is not an OD who shies away from the optical. In fact, she is happy to give patients her input and recommendations. "Patients appreciate that I take the time myself."
SHARING HER VISION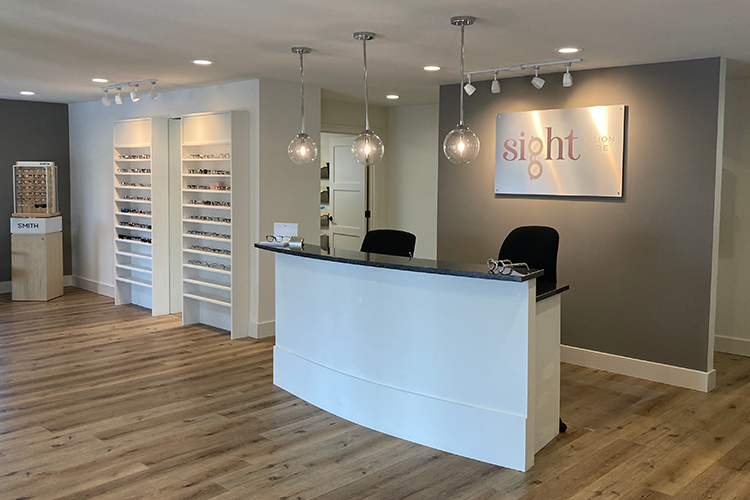 Tap into your network as you're making plans, she advises. "In January 2020, I sat down with my parents talking about what I wanted to do," she says. "I definitely wanted to open my own practice." As fate would have it, Dr. Smith's dentist built herself a brand new building in March of that year. "Her old location across the street was sitting empty, and I asked if she was selling her building," she says, not anticipating a pandemic would strike weeks after she bought the building. She found her contractor, who came in the day she got the keys and rebuilt it in six weeks.
"I wanted a huge parking lot," she says, noting she wanted her new building to be wheelchair accessible. On the inside, her goal was a clean, simple and modern look. She went with white walls and some gray accents, hardwood floors to accomplish her vision. "I'm a very clean person… I don't like clutter. I wanted it open where people can walk around in the optical and also sit down at the desk and talk with the optician," she says. "I wanted an inviting, clean space for patients." Dr. Smith picked out all the decor and design choices herself. The renovation did require some major changes, including walls getting demolished to make space for the optical lab. She now has four exam lanes, with two furnished and two ready for use if she expands.
Dr. Smith and her single staff member are open part time, for now, while she continues to build up her patient base and referral relationship. "I sent postcards and have gone to doctors' offices to introduce myself and get referrals." The doctors she has made connections with range from pediatricians to endocrinologists. While she has spent this time making community connections, she finds that word-of-mouth is the greatest referral system of all, so far. "Most people mention they heard about me from a friend,"
she says.
TIME = EDUCATION
Her patients seem to revel in the hour-long exams, remarking they have never had such a thorough exam before. "When I do fundus photos or OCT, I show them and go over it," she says. Her office is decked out with high-tech equipment, including an autorefraction system and digital acuity charts in the exam lanes and an iFusion, which combines her OCT and fundus camera capabilities.
While some colleagues tried to discourage Dr. Smith from purchasing the OCT and fundus camera, recommending that she keep her startup costs low, she has no regrets about making the investment from the start. "The equipment I have lets me offer patients a wellness exam for a very low out-of-pocket fee," she says. "I would say 70 percent go for it, and we still dilate, too." She doesn't look back when it comes to the choices to buy the equipment. "It's the best investment," she says.