Kelly Bugg, OD, purchased a 50-year-old practice in Mayfield, Kentucky, in 2011, but it wasn't until she moved her office last year that people really started to notice Mayfield Family Eyecare. "I was downtown for three years with a sign outside, and patients had no idea that I was the other optometrist in town," Dr. Bugg says. "The downtown office was huge but narrow." The space just wasn't working for office flow, and Dr. Bugg had to complete pretesting in a hallway. "The efficiency was really poor with people walking by you, and you could hear everything going on in the front of the office." Plus, her patients were inconvenienced by the lack of parking.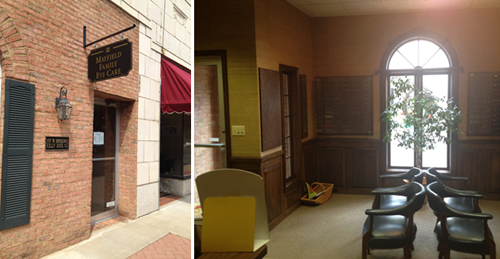 Dr. Bugg was driving around town when she saw a nearby building being renovated, and she stopped in to investigate right away. "It was a wonderful location—one that you will see when you drive down the road in either direction," she says. The only dilemma was that, at 1,000 square feet, it was smaller than her downtown office. She decided it would provide a better workflow, however. Dr. Bugg and her husband, Wes, scoured the Internet for design ideas, made hundreds of drawings on grid paper and talked with the builder about their plans for every inch of the space to make sure it would be a cohesive match.
They hired a contractor to complete their buildout. Dr. Bugg and her husband created the stonework in the back of her dispensary. "It turned out gorgeous, but it was extremely time-consuming," she says, adding that she will turn to a professional if she ever plans design work like that that again. "We wanted it to feel cozy and not like a doctor's office," Dr. Bugg says. The walls are a bright, olive-green color and much more inviting than the burlap walls in her former location.
The new office is about half the size of the downtown office, but almost a perfect square compared to the long rectangular shape she worked in before. "People come and say, 'You have so much more space in here,' and 'It's really bright,'" Dr. Bugg says. The old office had one window at the front of the long space and didn't let in as much light.
The new office includes a pretesting room that is much more private, as well as two fully equipped exam rooms. In the downtown space, she had two exam rooms but because of one's awkward location, she used it for storage. And even though she downsized, Dr. Bugg was still able to add more instrumentation to her new office.
Dr. Bugg encourages colleagues not to overlook a new space just because its square footage is smaller. "I think location, visibility and efficiency are so much more important than the space," Dr. Bugg says, adding that having a parking lot that is bigger than the office has been a huge advantage. "We have had really good feedback from patients." The visibility has drawn in several walk-in patients a week, and she fits them in the schedule whenever she can or they will make an appointment, if necessary. "I could count the number of walk-ins we ever had in the other office on one hand," she says, laughing.
The new location also offers potential for growth. Her building is connected to another building, and the property owner has already discussed expansion possibilities with Dr. Bugg for the future.