Lien Griffin, OD, of Ft. Worth, Texas, knows about patience, persistence and finding community. Her private practice, Griffin Eye Care, just celebrated its grand opening in December after a soft-open in September. "A lot of my previous patients from the old corporate office came to show me support. I feel very blessed," says Dr. Griffin.
After graduating from Northeastern State University Oklahoma College of Optometry in 2000, she found a passion in ocular diseases and took a job at a two-location ophthalmology practice in Texas. She split her time between two locations for four year, but when the ophthalmologist chose to sell one, she knew it was time to move on.
Since she was starting her family, it was a priority to have a more flexible schedule. She took a part-time job with an optometrist at a corporate practice. Eventually, Dr. Griffin took over the practice's sublease as an owner and remained in that position for 10 years until the sublease began to feel less like the right fit. "I began to think, 'What can I do differently?'"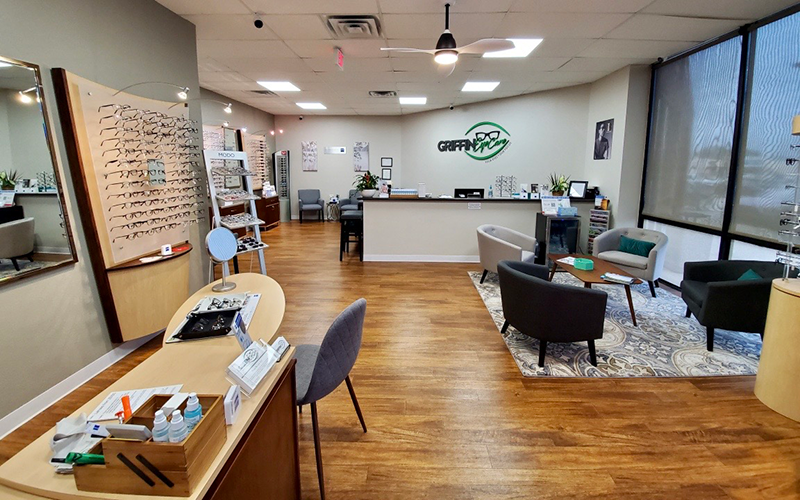 Dr. Griffin renovated this space, which was formerly leased by a glaucoma specialist.
When she started to look into private practice ownership, she began having conversations with major optometry franchises and different optical alliances. While many people said she was in an oversaturated area, she wanted to stay close to her current patients. Her patients are the reason she loves being an optometrist. "The journey to finding a right location and obtaining financing was met with many obstacles. The process was very stressful," she says. "The obstacles were blessings in disguise. Anyone who goes on this journey needs to have a lot of faith and a good support system."
Making her own luck
Fortuitously, while having lunch at a restaurant nearby her old subleased practice, she saw a sign for lease. The location was just minute away from her old practice; Dr. Griffin knew she had to seize the opportunity. Her sublease was expiring in five days. After a successful meeting with the landlord, she found the space was originally occupied by a glaucoma specialist. "I have to keep pinching myself; I can't believe how lucky I am."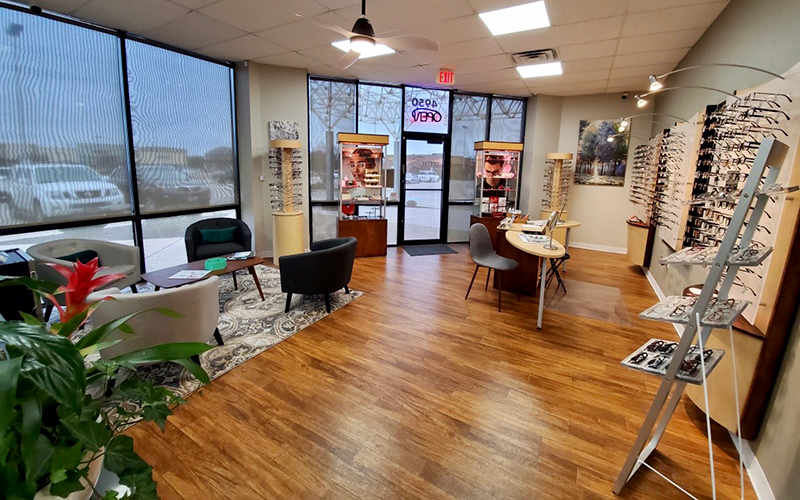 When she moved into the space, she got to work on renovating. Her first mission was to build out the optical section and refinish the waiting room and diagnostic areas.
However, bold changes call for bold choices. With the new location, Dr. Griffin decided to drop all vision insurances except Spectera and VSP. "I lost half my previous patients who were on Davis Vision, but I decided I wanted patients who wanted to support me."
What Dr. Griffin has found is that within the world of private practice, she has been given the chance to help people on a personalized level. "In private practice, I can offer my patients so much more. I can offer the best ophthalmic lenses and contact lenses. I'm going to bring in lens technology that helps headaches. And I'm going to focus on treating ocular surface diseases." She has also found a great support system in her staff. "I have a great team."
Doing it her way
When it came to making design choices for her new space, Dr. Griffin knew exactly what she didn't want. "I've been to a lot of offices, and they feel kind of sterile. They have narrow hallways, and the optical looks like a retail shop." Working from that knowledge, Dr. Griffin moved towards a word familiar to many ODs' vision: homey. "When you come in, it feels like home," says Dr. Griffin. "Patients come in and feel a warm welcome."
After choosing grays and emerald greens to adorn the walls and decor, Griffin Eye Care also sports upholstered chairs, a coffee table and a mini fridge. Lavender- and vanilla-scented products help create an all-around relaxing experience. "The first thing my patients say is that it's a beautiful office."
Beyond the relaxing interior, Dr. Griffin has made the space her own with personal touches on patient care. "I schedule appointments 30 minutes apart so patients aren't rushed or stressed. People say it feels like visiting a friend." She maintains, "It's neither a medical office nor a retail office."
She's very happy, she adds. "So far it has been a wonderful experience. There are so many pieces of the puzzle to create a private practice, but it all came together."