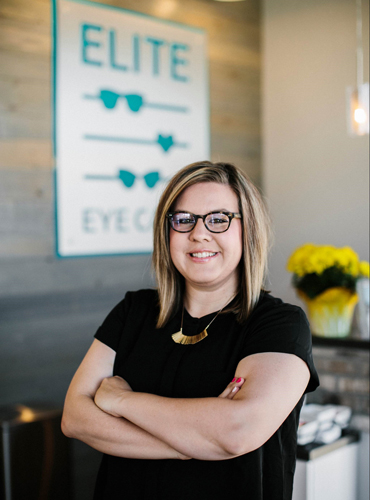 Jessica Keller, OD, and her husband Mike Keller had been looking for a way to get closer to their hometown of Bismarck, North Dakota. Since her 2013 graduation from Pacific University College of Optometry, she had been practicing in Dickinson, North Dakota, an hour west of where they wanted to be. When the couple had their second daughter a year ago, Dr. Keller knew she was ready to settle down and start a practice.
Until she found a place, she began to make plans. "I want to come up with a name, a brand and theme. The other clinics in the area are named for the town or the locality, and I wanted something different. Elite Eye Care popped out. I liked the brevity and the message that we would provide excellent quality care," she says.
The couple found an ideal building—a shell in retail strip mall with four businesses on each side. A dentist, family physician and an orthodontist are all nearby. Her brother-in-law has a building company, so he helped her design the space. "I knew I wanted to do an open ceiling in the optical and incorporate an industrial look but also bring in the some of the Midwest history." For example, the new drywall on the walls is purposely removed in areas to expose brick—which was placed there just for the purpose. Similar bits of brick serve as a display stand for some frames.
Even though the space has four large windows on each of the door, Dr. Keller knew how important lighting is. There's an unusual chandelier hanging from the exposed steel beam ceiling, gooseneck barn sconces and some track lighting.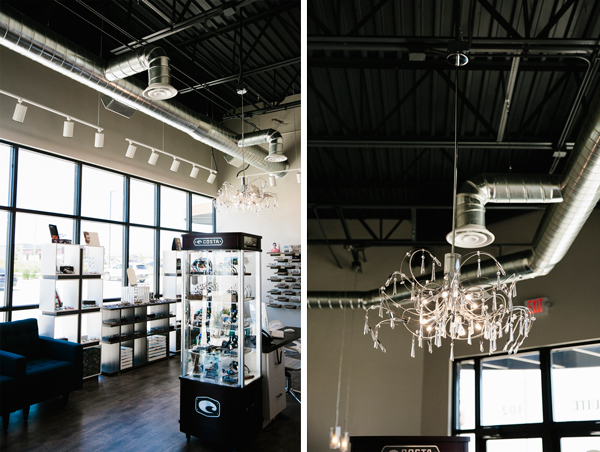 She also created a small area for children to play, since she knew families with young children would be among her patients. She found a cute table and chairs and repurposed wooden spice racks to hang on the wall to hold children's books.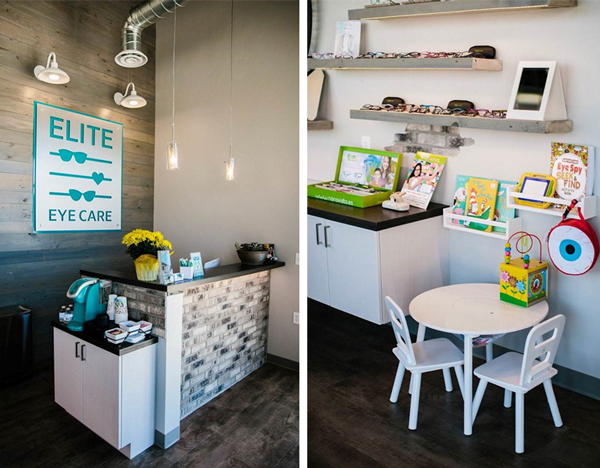 She found an online service that helped her with the logo design, which is prominent above the front door and also inside the location. The dispensary carries about 400 frames, all with styles that are not commonly found elsewhere in town. She's just added a display area for sunglasses. "My brother-in-law created the unfinished wood shelving units with lighting underneath to display some of the eyewear," she says. Her husband, an industrial maintenance technician, still travels to his job in Dickinson but continues to be extremely helpful as both a handyman and in sharing ideas, she says.
Dr. Keller has one employee to start, a receptionist/optician. The practice has room for two exam lanes, but for now, one is finished. It's a 1,500-square-foot space—and it's literally square, not rectangular. She says that has helped her create a hallway that moves people through the office in a circular pattern while maximizing the space for the exam rooms, a pretesting room, a contact lens area, her own office and a staff office and a lab/storage area where she can do eyewear repairs.
"I've had the vision in my mind to start small. We're open Monday-Friday, with evening hours on Wednesday, and I can slot longer exams or spend time with patients in the optical," she says. That, her frame offerings and the practice design have been differentiators in a town where there are at least eight other clinics. "Patients recognize that it's different from the logo and looking in the front windows," she says.
Dr. Keller says that she expects business to pick up after the 4th of July. "I used the slower time during our first two months to get our systems in place and train my employee, who had technician experience but not optical experience. Now I feel like we're ready when the pace picks up."