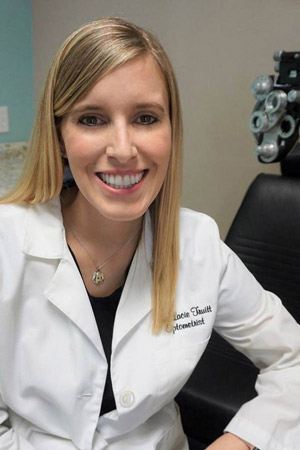 When Lacie Truitt, OD, moved to Texas in April 2015 for her husband's new job, she began looking for some fill-in optometry work. A doctor she met the next month needed some time off, and Dr. Truitt told him to take as much time as he needed. "A few weeks turned into months, and he decided he might not be in the position to come back," she says. So in December of 2015, about a month before her second child was born, Dr. Truitt found herself as the owner of Katy Vision Center, in Katy, Texas.
Dr. Truitt knew the practice needed an update. "But I've lived through enough home remodels to know that I did not want to work through a remodeling," she says.
The storefront at the end of the strip mall location, just three doors down, became available. As the endcap space, it had great light from two walls of windows and an open space that she could design from scratch. The work started while she was home for six weeks on maternity leave, and she and her husband oversaw almost all of the work themselves.
"I wanted the space to be an extension of my persona: professional but homey, clean and relaxed," she says. The comfortable furnishings are grouped in living room style to encourage conversation. "The patient feedback has been awesome. They're here for the service and to buy their eyewear but they appreciate that they're getting an entire experience."
Staying so close to her former location made it easy to oversee the remodeling, but it also is easy for patients. "I wanted to retain as many of the former patients as I could. I didn't want to give them any reason not to come here; this practice has been here for 30 years, so they're used to it," she says. Remarkably, a number of patients haven't even realized that the practice has moved. They simply walk in and say how much nicer it looks, she says. The Sherwin Williams Perfect Greige color is a real eye-catcher, causing many patients to ask her specifically what color it is. An accent wall of serene blue adds a pop of color.
While the new office is only marginally larger at 2,400 square feet, the design is very different. Dr. Truitt dedicated 1,600 square feet of space to the reception area and optical, leaving the remainder for four exam lanes and other staff-related space. "We were able to double our number of frames with the new layout. In the old office, there were eight long dispensing tables; here we have just two."
"My husband built the frame boards from cabinets that he built in our home workshop," she says. They closed one office and move to the next over a weekend. "We saw double-digit growth in the year we've been here. Some of that is due to having added more medical services and newer technology such as the Optos Daytona Plus, to which we upgraded earlier this year."