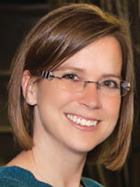 Kelly Riley, OD, opened her optometry practice cold in 2010 in Brownfield, Texas, a town of 10,000 residents. She leased a charming home built in the 1940s in an area that had flipped from residential to commercial prior to her arrival. "It was cute; it had a lot of charm," she says. Local legend says—and some ghost hunters confirmed—that it was haunted, too, by the spirit of a little girl. "Two unrelated patients had lived in this house at different times in the past, and they asked if we had ever seen the little girl at the top of the stairs," which are directly opposite the main entrance, Dr. Riley says. And one 4-year-old patient kept asking her during her exam what was upstairs and what was going on up there. It was just storage space since it wasn't readily accessible to patients. After her exam, the young patient returned to find Dr. Riley to ask who the little girl was who peeking around the hallways upstairs.
Dr. Riley, who says she was undisturbed by any ghostly presence or the idea of one, does admit to a little sadness in leaving the lore behind when she opened her new practice earlier this year. But now that she and her staff have been in the new building for about two months, there are no haunting regrets. The new building, at 4,000 square feet on one level, is right on the town's courthouse square. The location is much more centralized, even though it's only one mile away from her previous office. Being in such a prominent spot also meant that there was great curiosity when the building was under construction. "My contractor, Jennifer Moore, said people would walk in regularly to see the progress," Dr. Riley says.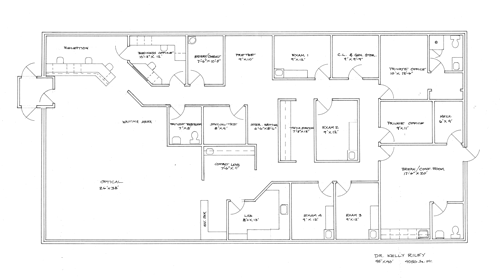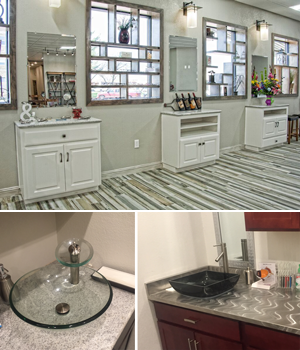 There was a lot to see. The building—long and narrow—is designed like a skinny horseshoe, she says, with a large and open optical and reception area. The square windows on the front of the building have geometric display cases built right into them, causing people to stop and look at the displays in each window as they pass. The visual interest continues inside the optical, which has angled custom cabinetry and distressed, white wood floors. Dr. Riley says she wouldn't describe the interior as any particular style. "Patients all use their own adjectives to describe the feeling in here," she says. But it's not typical. The lines and angles, unusual lighting fixtures and even features such as a glass bowl sink and a stainless steel countertop provide much to look at as patients work their way through the pretesting area to exam room.
While there is much more space in this building, the openness has also created an illusion. "Our optical dispensary is four times as large, and we are going to expand the product line, but we haven't done so yet," she says. "However, patients continually tell me how much they love the larger selection of eyewear." Because the collections are spread out and showcased differently, patients notice the frames much more.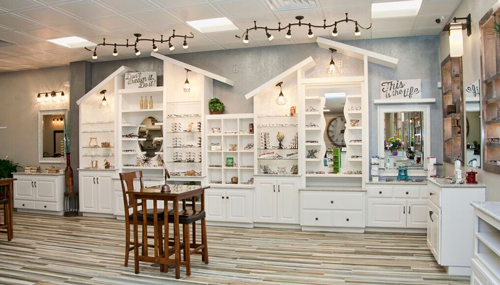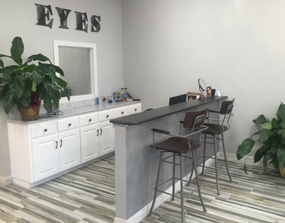 In her old office, Dr. Riley had just one exam lane. Now she has space for four, and two are fully equipped.
"When I opened five years ago, it was just me with one exam room. Now I operate out of two, and I hope that in another eight years or so, the practice will be large enough so that we can service the community with another OD," she says. There's no competitor in town, and while Lubbock is about 35 miles away, the towns surrounding her in other directions are all small, and Brownfield is the more frequent destination for residents. "For people in some of these towns, Lubbock is at least an hour's drive." Dr. Riley hopes that puts her squarely in the middle of sustained growth.