A SERENE SCENE
Kimberly Phillips-Stewart, OD, had all of the details picked out for her future practice before she and husband Chris Stewart, OD, even found the Ovieda, Florida, space where they would open their practice in 2017. A contractor built out the 2,000-square-foot empty shell. Dr. Phillips-Stewart chose a modern style that is carried throughout the entire space. "The office is very serene, welcoming and light," she says. Read her story.

BIG SKY, SMALL SPACE
In just a 560-square-foot space, Erica Perlman, OD, has created an awesome practice in Big Sky, Montana, which reflects the surrounding Gallatin Mountain range. It helps that the tiny space is surrounded by the big outdoors. "The gigantic windows open up the space. I can have a patient in the back, and it doesn't feel too crowded if someone is in the homey reception area." Read her story.

A NATURAL LOOK AND APPROACH
Mila Ioussifova, OD, opened South Waterfront Eye Care in Portland, Oregon, in 2013. In her practice, she has found two main passions: dry eye and nutrition. "When we examine our patients, we shouldn't just be treating their eyeballs; we should be treating a whole person. Chronic conditions, which include dry eye disease and rosacea, should have a holistic approach where nutrition, lifestyle and evidence-based functional medicine are all part of the management plan," she says. Read her story.
A MOUNTAIN PARADISE
Christie Jackson, OD, was going for a "mountain chic" look when she purchased a practice in Truckee, California, from a retiring OD. The outside of the building was fabulous—a sort of modern ski lodge—but the inside was all beige walls and rose laminate. She remodeled, creating a much younger, brighter feel. "We incorporated corrugated metal, reclaimed wood and bright teal for the walls. The pretesting room looks like a shed with a sliding barn door, and the front desk area is reclaimed wood from an old dairy farm," she says. Read her story.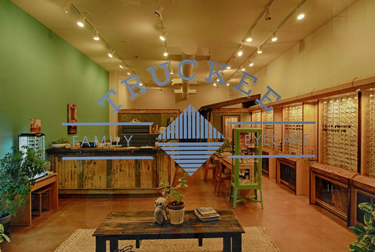 FRESH LOOK FOR A HISTORIC SPACE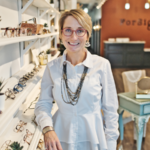 Erika Morrow, OD, MS, found a space in historic Savannah, Georgia, to open ForSight Unique Eye Care & Eye Wear. The building that houses the practice was built in 1914, and it has more than 60,000 square feet. Her office takes up about 2,100 square feet. When she first saw the space, it didn't even have floors, but it had a great tin ceiling and an unusual staircase. She had the vision to turn it into a unique blend of old and new. A little over a year since she first saw it, she was able to open the doors in August 2019. Read her story.
OPEN AND AIRY
There's a wall full of windows at Johnson EyeCare, and the light grays and whites that Sarah Johnson, OD, chose complements the bright feeling brought in by the natural light. She's placed nautical decor in between the sets of windows, which pay homage to Costa Rican roots and her close proximity to the beach. Read her story.