Rasika Whitesell, OD, found an opening as an associate OD with a MyEyeDr in her hometown of Wilmington, North Carolina, about a year after her 2013 graduation from University of Alabama at Birmingham School of Optometry. It was a great spot for gaining experience and starting her family during those early years. She was brainstorming about the future of her career when the pandemic hit in 2020. "I had a 3- and 1-year old, and I was home more and had time to think about my next step," she recalls.
She left her position there in the fall of 2020 with a two-year non-compete agreement, and she started working an hour away in Jacksonville, North Carolina, to ride out the time. Late in 2021, as she reached the midway point of her non-compete, she started discussing purchasing an existing practice with a 40-year history in the Wilmington community. Yet even with multiple negotiations over several months, the deal fell through at the last minute.
Dr. Whitesell was back to the drawing board, considering the plan for a cold-start office, when she heard about an opportunity for a sublease inside a local Walmart store. "I can say that everything happened for a reason," Dr. Whitesell says, adding that she ended up hearing a great deal of negative feedback about the office she almost purchased. In addition, this sublease venture wouldn't require a bank loan and she would be able to get started with equipment already in the space.
MAKING HER OWN MARK ON HER HOMETOWN
Dr. Whitesell signed her lease in October 2022, and she opened the doors to Port City Optometry in November. She decorated the office with her family, adding a personal touch to the leased space to make it feel warm and inviting. Her main color featured throughout the space is teal, and she's added some greenery and an antique mirror to make the office feel like home. There's a TV screen displaying scenery or a fireplace right in the entrance way and the exam room features some floating modern shelving. "I want it to be as aesthetically pleasing as possible," she says.
Dr. Whitesell added her own phone line and internet services, as well as electronic medical records, and she invested in a Maestro 2, which offers her the capabilities of an OCT and fundus camera for retinal images. Within just about three weeks, she was ready to see patients.
SPREADING THE WORD
The sublease office that Dr. Whitesell took over had been vacant without a doctor for more than a year, so it was essentially a start from scratch. Dr. Whitesell has found a few marketing efforts have brought patients into her new office. First, she's been working with a local news channel for several years, and she provides an eye health segment twice per year. The most recent live interview was on diabetes awareness month, and they shared her office name on the bottom of the screen during the piece.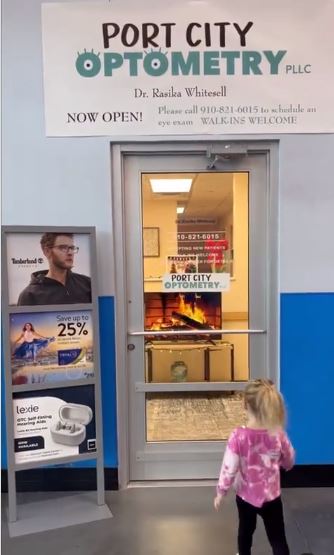 She's also been active on her own personal and Port City Optometry social media, particularly on Instagram, and she's made some beneficial connections by joining the Port City Young Professionals club. Dr. Whitesell invited local mom influencer, @wilmingtonmom, who covers family-related content in the Wilmington, North Carolina, area, to come in with her child for a free eye exam. The page featured a video of the entire experience, and the video had lots of views. Dr. Whitesell says she continues to schedule about 10 appointments per month as a result. During the holiday season, she hosted a Toys for Tots drive and drew in patients who donated a toy for an eye exam.
Two A-frame boards have been helpful to capture walk ins in the Walmart store, and she's brainstorming creative, interactive ways to use the space each time she updates the signage. When she hands out her business card to potential patients or those who have come, it's easy for them to schedule a family member appointment by scanning the QR code on the card.
REWARDS AND CHALLENGES
Dr. Whitesell is working at Port City Optometry three full days a week, and she's seeing about 8 patients per day. She plans to add to her team once she reaches a consistent 10 patients per day. She continues to work as an independent contractor at other practices 2 days a week and hopes to drop those within the next year.
She's enjoying the flexibility of making her own schedule at Port City Optometry. "That's the beauty of being an owner; I can block my schedule as I want when my kids are off," she says. "It's so helpful not having to get permission months ahead of time."
Setting goals for how many patients to see each day is just as important. "I can set my own pace and not stress about how many people I'm seeing in a day," she says. She doesn't want to see 30 per day, and instead, she says that 15 would be a perfect number. The schedule has a mix of appointments and walk-in patients, who appreciate that they can be seen on the spot or set a time to come back.
Of course, there have been some challenges, especially in the area of insurance credentialing. She hired a company to help get that process moving. She also hit a bump in the road when her credit card machine stopped working about two weeks after opening. A replacement was shipped overnight, but that didn't work either. "It was a process figuring out how to get paid," and thankfully, she figured out a temporary workaround with Venmo. As the only staff member, she says it's been a growing and learning experience being the sole problem solver.
The rewards outweigh the challenges, though, and Dr. Whitesell is happy to be back serving the hometown community where she grew up. She's thankful that some loyal patients from over the years have taken the time to find her in her new location, as she is limited in what is allowed regarding outreach to former patients. She looks forward to implementing a medical focus and following her passion to help others, such as through working with the North Carolina Disability Services. "I've always been about putting patients first, and my patients here have been kind. Now, I'm reaping what I sow, and the effort I put in, I get back."
You can make a practice space your own with a focus on the details. See more practice design inspiration from Women In Optometry.