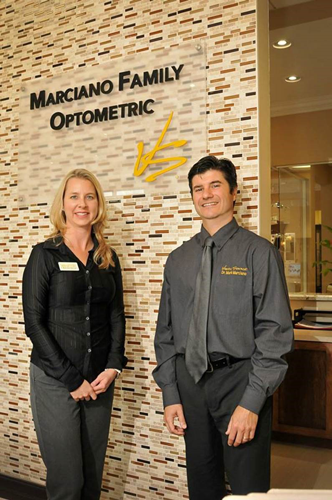 After 10 years in the same space, Brandee Marciano, OD, and Mark Marciano, OD, were feeling cramped in their 1,400-square-foot office in West Palm Beach, Florida. "With both of us in the office, we couldn't grow anymore," Dr. Brandee Marciano says. The lease on the rented space was due for a new five-year term, and the owners offered them a larger space at the other end of the shopping plaza. But they quickly realized that a mortgage on a new building would be about the same as rent.
They didn't need to look far. They knew someone who owned some land, just 0.6 miles from where they were, off a newly constructed and much-used extension off one of the turnpikes. They were able to negotiate a price with him and started talking to banks. All told, the process took about three years from start to finish, says Dr. Marciano: the search and negotiations, six months for the permitting, six months to secure the loan, six months for construction and moving in. Now that the move is behind them, she can refocus on practice management and growth, but the process of moving is stressful. "It was always in the back of my mind. I'd get a call from a contractor or someone, and I'd have to run over. Luckily, we were close by."
The couple wanted to blend old and new. "We had designed the old space to make it feel like patients were walking into our living room. It's hard to duplicate that in a 4,200-square-foot space," she says. Plus, they wanted to showcase the state-of-the-art technology used.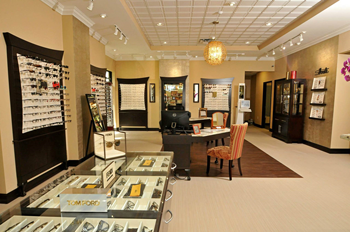 When Dr. Marciano found gold cork wallpaper on one of her shopping expeditions, it became the focal point of the office design. "I took a sample of it with me everywhere," she says. That came in handy when she was selecting the granite for countertops and other décor. The accent walls and nooks with that wallpaper are offset with a simple warm sand color and stone accents. Eye Designs designed the front optical showcase area with a modern, distinct, dark frame board displays.
The new space was built with six exam lanes. "I'm planning for the future," she says, noting that only four lanes are equipped now. The couple wants to bring on two more doctors, each with a specialty to expand the practice's reach. "I want our office to provide care to all patients with routine or special needs." I want the multimillion dollar business," she says. The office has also expanded hours. It's now open on Saturdays and does a much greater retail business than it ever did in its former location.
In fact, she's already been talking with Eye Designs on how to bring in more displays and dispensing tables. That's because the practice is busier than it was. "It feels like we moved into a higher-end optical because the Tom Ford, Fendi, Gucci and Montblanc frames are prominently displayed," she says. However, the practice carried many of those frames in the old space—but the optical was too cramped to show them as well.
The mentality of the optical staff has changed, too, she says. "They didn't think they could sell luxury eyewear, but now they know they can. We still carry frames at all price levels, including those that are covered by most vision insurers, but we wanted to showcase more luxury lines, which is what we place on most display units." One unanticipated staffing expense was that the doctors found that to provide the level of service to support the optical, they needed to have three optical staff on the floor at all times. "I hear optometrists say they can't afford to have staff on the floor when there's nothing going on, but the problem with that idea is that when you need the staff, you have to have them." Typically two of the optical staff members are actively helping patients while the third is available for adjustments or floats as tasks demand.
Dr. Marciano says she tracks per patient revenue and optical revenue by optician. "My per patient revenue is increasing. Clinical revenue increased by 52 percent and the optical revenue was up by almost 40 percent." Interestingly, the number of refractions has remained somewhat flat. "We're working smarter. We don't have to run through volume to increase our revenue," she says. That kind of growth couldn't have happened in the former location, she says. "Even though we were doing well, we couldn't fit another patient on the schedule." Now she can spend more time with patients, explaining the benefits of new lenses or even bringing them into the optical to lead them to some of her favorite frames. Dr. Mark Marciano has also been able to expand his specialty contact lens fits, focusing on scleral lenses and corneal refractive therapy.
Employees appreciate their commitment, she says. "They see that we could have gone on vacations or remodeled our house. They see that we chose to spend our money here." She also shares some budget information with the staff, so that everyone understands what it costs just to keep the doors open each year. "I don't want them to think that a $1,000 in gross sales represents $1,000 of net revenue. We want them to be aware of how hard we all have to work to make it profitable," she says. We engage our staff and incentivize them to help the practice grow, which is exciting and fun for all of us. The difference, though, is that the new location is a more pleasant place to spend their working days.