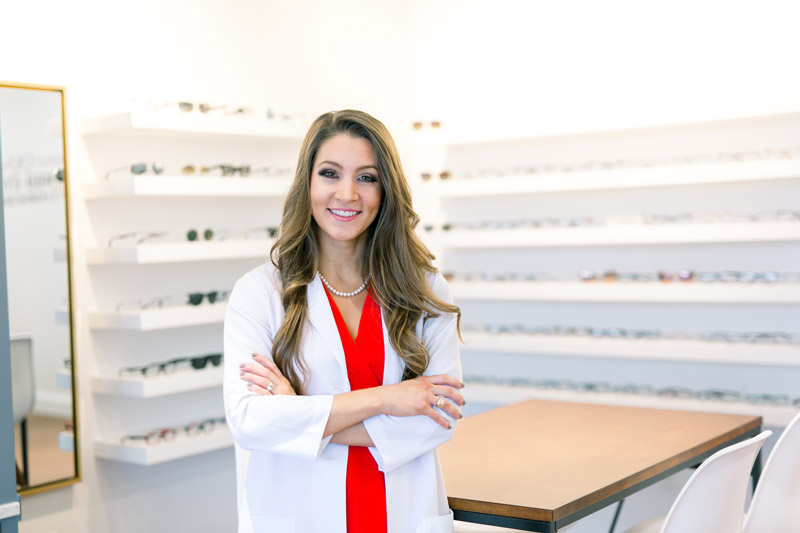 Audrey Raley, OD, cherishes many happy memories she has of being a child in New Braunfels, Texas, with her friends and her grandmother. The historic, German community often has fun, live music events going on and was adjacent to the town of Gruene, home of the oldest Texas dance hall. "It's very vivacious, and New Braunfels has the same 'support local' vibe as Austin," which is about an hour away. As Dr. Raley researched the best home for her new practice in April 2018, New Braunfels rose to become the top contender. "I knew it was somewhere I would be happy long-term," she says.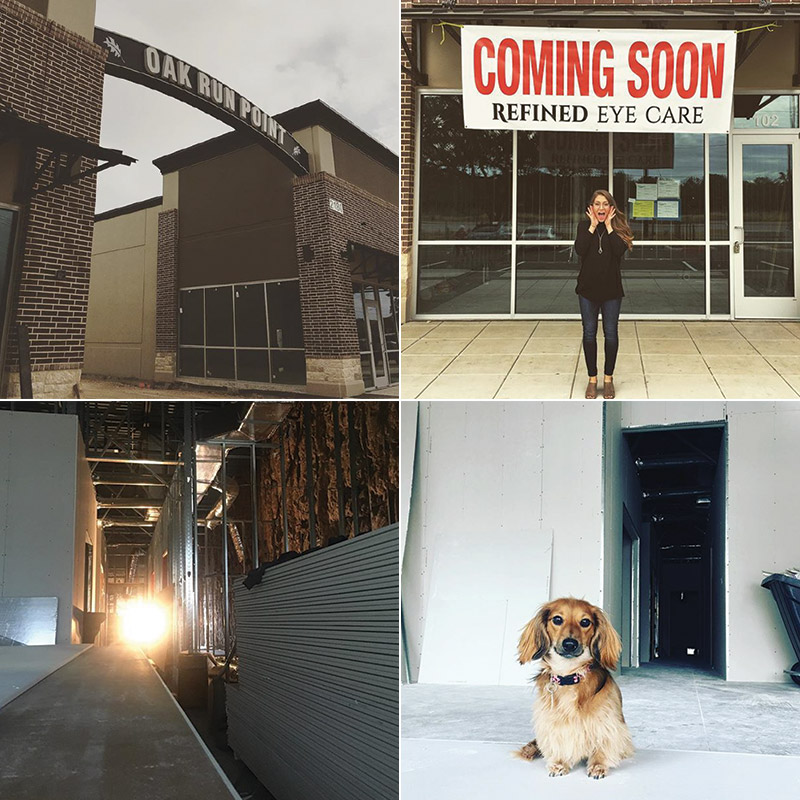 Dr. Raley was living in Austin following her 2017 graduation from University of Houston College of Optometry, and contacted Xite Realty, which specializes in medical leases and provided invaluable market research as she narrowed the search. Dr. Raley wanted a brand-new space to build out, and Xite helped her find the perfect spot. She negotiated her lease over May and June and signed the paperwork in July. Once the center is complete, it will have about 10 businesses including a dentist, pediatrician, burger joint, frozen yogurt shop, fine jeweler and a nail salon.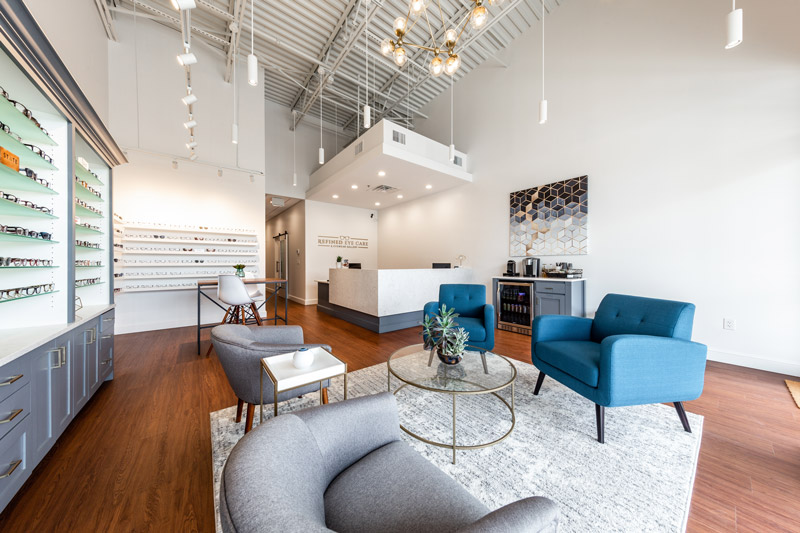 She wanted to bring something unique to New Braunfels in her design, so she decided to go with a modern, contemporary feel. The dark, mocha "wood" flooring is cozy, while bright white walls with touches of both light and dark gray help the space feel open and clean. This is complementary to the quartz, marble-like finish of the reception desk.
Accents of brushed gold can be seen in the logo behind the front desk and in the eye-catching light fixture. The modern chandelier she chose incorporates glass bowls. "It's a statement piece," she says. She was inspired by a fixture she saw at Restoration Hardware, and her designer was able to find found her a version for a fraction of the price. A coffee and beverage station adds a bit of luxury to the experience. "I want it to be cozy and comfortable, and for everyone to feel like the red carpet is being rolled out for them."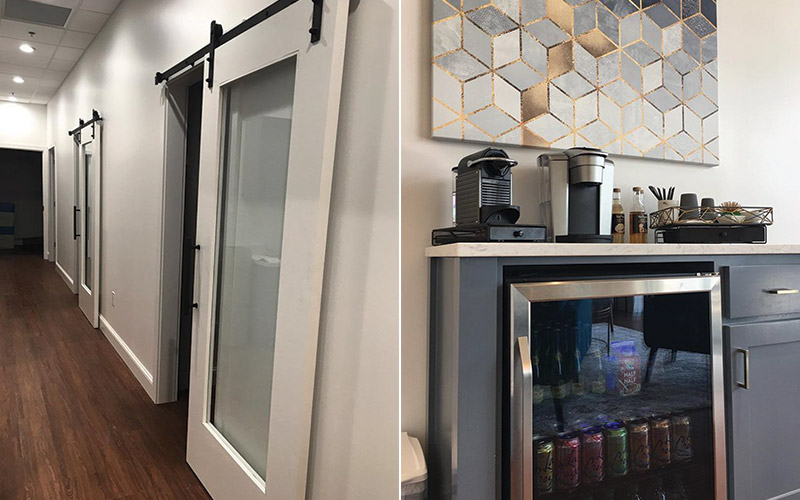 Dr. Raley maximized the layout in her 1,400-square-foot space to include an cozy optical area, specific pretesting space, lab, contact lens training nook, break room and two exam lanes. She can convert a private office to a third exam room down the road. To focus on medical care, optomap technology and an OCT were must-haves. Dr. Raley looking forward to investing in technology that will help her further pursue myopia management and early detection of macular degeneration.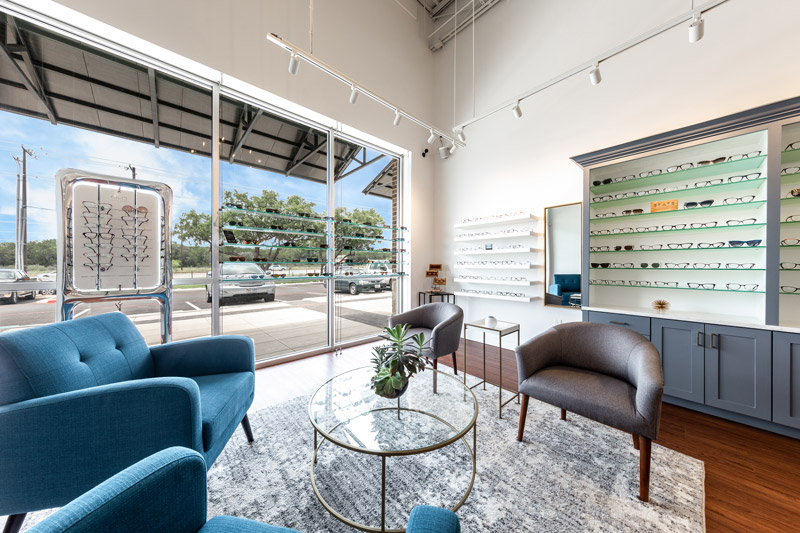 Social media has been a powerful marketing tool. Dr. Raley created business accounts for the practice as well as a professional Instagram page (@doc_raley_od) to document her journey as a business owner. While her friends and family were her first followers, it's ultimately allowed her to connect with local businesses for networking and community events.
Doors opened to Refined Eye Care & Eyewear Gallery in March 2019, and Dr. Raley celebrated her grand opening in June. "I like the word refined because its synonymous with precise and polished—taking something lacking shine and sharpness and perfecting it. This is what we are doing not only with patents' vision, but also their style." The words eyewear gallery spotlight that this is a destination optical and is different than what customers have seen before. She hopes that her patient base will enjoy her focus on fun and interesting frames from independent eyewear companies that are as unique as the community where she's planted her roots.
Photos courtesy of Dr. Raley