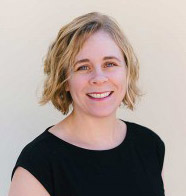 Vanessa Michel, OD, says that she was about halfway through her lease when she saw a new shopping center under construction a mile down the road from the original location for Redmond Ridge Eye Care in Redmond, Washington. "I knew it would be a good place to move," she says. The center had better visibility with a large grocery store as its anchor, the signage faced the street at a major stoplight and it was in front of a large golf course and active adult community.
Dr. Michel took the practice name when her lease expired and she made the move about 18 months ago, but the new office has an entirely different look. "I wanted my office to feel like a spa meets a jewelry store," Dr. Michel explains. LED lights illuminate the eyeglasses on display like they are pieces of jewelry. The color palette is calming by design with mostly white and cream walls and cabinetry with a pop of ombré color behind the reception desk. The paint there is white at the top fading into a deep Tiffany blue at the bottom and showcases the new logo featuring two Rs for Redmond Ridge.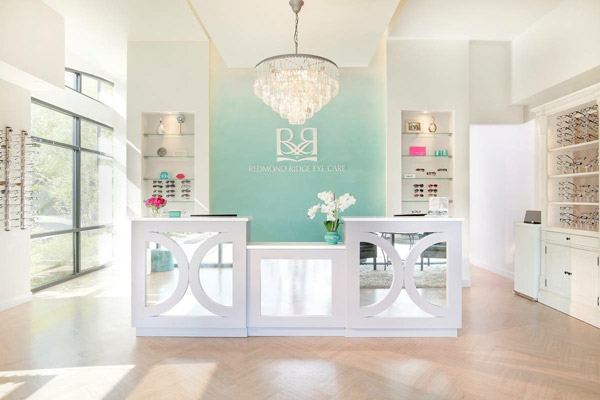 The high-class look fits well in the neighborhood, as the new office is about five miles up the hill from the home of Microsoft in downtown Redmond. "The people who live here don't want to drive into the hustle and bustle," she says. The atmosphere complements the relaxed feel that Dr. Michel wanted to achieve. "With the nearby 55+ community, patients often come in very worried that they are going to get bad news that they have macular degeneration or glaucoma or that they are going to have their license taken away," Dr. Michel says. In an effort to control the environment and keep patients feeling positive, she also made the decision not to display any posters of eye disease or anatomy on her walls.
Dr. Michel worked with a designer and architect for the project, which she advises is a good investment. "Hire someone who really knows the laws such as number of bathrooms needed for your square footage and little things you don't think about until you are in the space, like where outlets should go," she says. Dr. Michel says that she let her Pinterest board lead her to the designer whom she eventually hired. "I've been collecting things from optical ideas to flooring and lighting, and I needed someone who could translate my Pinterest board into reality," she says. It didn't take long for Dr. Michel to determine the best match. "She started following my board and sent me an idea for lighting right away, saying it would be perfect with my recessed walls. She understood my vision, and it was fun to get inspiration from the board."
From there, they sought décor that matched the vision and was within budget. Many pieces were found online including the eyeglasses mirror displayed over a dispensing table. Dr. Michel repurposed some items from her old office, such as the silver frame displays. Dr. Michel wanted to incorporate the gold tone she was using in her new office, and by chance, she found the perfect gold paint while stopping at an auto parts store with her husband. She and her optician used spare time to freshen up the displays with the new paint in preparation of the move.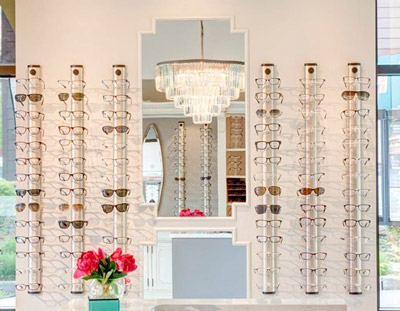 Dr. Michel's one splurge was her chandelier. "I saw it in a catalogue from Restoration Hardware, and I had to get it. I just blew my budget out of the water," she admits, laughing. She says that she appreciates how her husband encouraged her to go for it with this dream piece. "He told me I spend just as much time as the office as I do at home, so to pick the one I want." It fit perfectly with the design concept that was underway.
She designed her exam rooms to encourage conversation. In the old office, she had to sit with her back to the patient to enter data into the computer, but now she can sit side-by-side and look right at the patient for the entire exam. The new office has allowed for expanded services, as well. Dr. Michel brought in the tools to introduce orthokeratology and an OCT to offer more thorough glaucoma and retina disease care. She also recently hired a pediatric associate doctor to cover hours two days a week and aid with the launch of the practice's vision therapy clinic.
The construction process was quick—complete in just about eight weeks, and Dr. Michel was able to make the move over a three-day weekend. The practice has evolved in many ways since she purchased the existing business following several years working in a group office. "I was pregnant at the time, and I wanted to set my own schedule to be available for my family," she says. Redmond Ridge Eye Care was a great foundation, and she says that she looks forward to the potential for even more expansion in the future.