As Linh Ngo, OD, envisioned her future practice, she wanted to be sure she found a way to make her business stand out in Sacramento, California, where there already were many opticals, primary care offices and corporate locations. "I always thought I would have a more general private practice, but it seems our profession is moving more towards medical and specialty care," she says.
Dr. Ngo identified a need in the region for thorough dry eye treatment, as well as myopia management. In August 2021, she began developing a plan for her dry eye and aesthetics med spa, Sacramento Dry Eye Clinic.
FINDING AN IDEAL LOCATION
Dr. Ngo made a transition to working two days per week at Kaiser Permanente, a position that allows her to work 20 hours per week with full benefits. It was a nice security blanket in place as she began to prepare to open her own clinic. She says scouting out a space was fairly easy; she knew she wanted to be in downtown Sacramento for its proximity to the nearby communities of Davis and Arden. "It's a good middle ground in the region," she says. As a specialty clinic, she wanted a smaller space—just about 1,000 square feet—to start and access to close parking. "People can dread coming downtown because of parking," Dr. Ngo says, laughing. "You have to pay a meter or look for a garage, and there are a lot of one-way streets. We predict that we would get a lot of referrals, so I wanted a good location that made it not would not make it difficult for patients to get to us or find us."
And she found all she was looking for in a space that was formerly a classroom for students learning to become butchers in a meat apprenticeship program. There's a parking lot and very competitive rent, so it was a no-brainer to choose it, Dr. Ngo says, when she found the opening in August 2021. It was bare and outdated, but the landlord and her husband was helpful in the remodeling process, which involved replacing floors and painting walls and building out the exam rooms.
Getting up and running took a little longer than she expected, from delays on furnishings and materials to a slowdown of work around the holiday season. By January 2022, the space had finally come together, and she started hiring her staff in February to prepare for a March opening.
To achieve a feel of a med spa, Dr. Ngo chose simple, earthy tones with décor kept to a minimum and is focusing solely on care and treatment, so she doesn't have an optical. "It's a very small space, so I didn't want it to feel full or crowded by adding too much." The combination of beige walls, gray flooring and brown accent furniture is calming and modern, and the scripted fixture of the practice name is a simple detail that pops in the space. It's a welcoming environment, where one patient is scheduled per hour for the ultimate personalized care experience. "It's more relaxed, not like your typical doctor appointment where you're quickly in and out."
ONE-STOP SHOP FOR EVERYTHING PATIENTS NEED
With a focus on specialty care, Dr. Ngo chose to offer a wide range of the advanced treatment options that aren't readily available in her area. "By the time patients are referred to us, they have exhausted all options like over-the-counter and prescription eye drops," she explains. Dr. Ngo is determined to find a solution that will work for the patient from intense pulse light (IPL) therapy, platelet-rich plasma (PRP) eye drops, amniotic membranes and plugs, specialty contact lens fittings and more.
Her team includes a phlebotomist and an aesthetician, so everything the patient needs can be done right in the office. For example, with the PRP eye drops, the blood work can be done right in the office, making it easy for patients to have access without having to make another stop or appointment. Dr. Ngo is a big fan of this custom treatment; "We've seen it work on advanced dry eye patients who don't respond to other treatments."
On the aesthetic side, Dr. Ngo sees many patients with ocular rosacea who also have rosacea on their face, neck and chest. "When we see that the patient has facial rosacea, we can offer IPL to treat those areas, and I can hand that over to the aesthetician." They can also address anyone who has concerns of eye wrinkles, puffy or droopy eyelids and eye bags.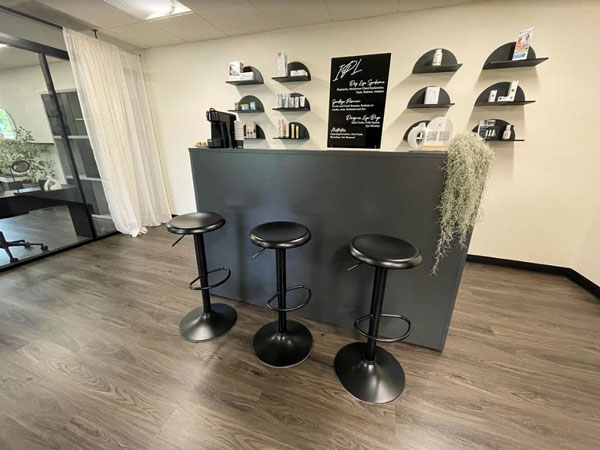 The office Dry Eye Bar displays recommended products so that patients can pick up what Dr. Ngo has suggested before they leave their visit, from non-toxic cosmetics made by or recommended by doctors to eye masks and skin care products with safe ingredients. In offices where she previously worked, she saw how sending a patient out to find a recommended product didn't always work out; in fact, picking the wrong product often escalated the issue with the use of toxic ingredients, she says. "Patients love convenience, and when I recommend a few things, they can test it out at the dry eye bar before they purchase. It's convenient for the patient and we know that they'll go home with products that they need, versus picking up the wrong product at the convenient store."
BUILDING A NETWORK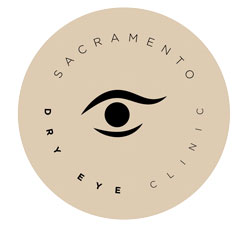 When Dr. Ngo relocated to the area from southern California in 2019, she didn't know any doctors in the area. She joined a few local groups—including the Young ODs of America, Sacramento Valley Optometric Society, Women of Sacramento—and held positions on their boards, often helping to host gatherings and events.
Dr. Ngo spent time working with pediatric and geriatric populations while working in ophthalmology offices after her 2017 graduation from Western University of Health Sciences College of Optometry, and through these experiences, Dr. Ngo says that she saw an opportunity to connect young ODs and MDs for easier collaboration and referral networks. She started an annual networking mixer to connect the two professions. "We often mingle with doctors with our same degree, but through this mixer, I was able to build a lot of close relationships with young ophthalmologists in Sacramento."
Dr. Ngo enjoys keeping in touch with her new colleagues, and when these MDs heard about her new practice, they were eager to refer their dry eye patients to her. "They realize how much the care is needed, but they don't have time for those patients because they are busy with surgery and their own specialty care. We are pretty busy with those referrals alone, and that's been great for us because we don't have to do a lot of outside marketing." Dr. Ngo spends four days per week at Sacramento Dry Eye Clinic and continues to work at Kaiser.
SPECIAL THANKS
Dr. Ngo is thankful to the many professional mentors who led her on this path through optometry. The first was in college, who told her to consider the medical field, including the optometry profession, when she was trying to determine how she would use her chemistry major in life after graduation. He advised her to change her major to business management and minor in chemistry. This gave her the advantage of learning what she needed to know about building her own practice. The second were the doctors and staff of Vision Max Optometry, who she shadowed during her college years, then joined the team as an intern and worked her way up over the course of six years.. "I learned about the office inside and out, and I'll never forget Scott Anderson, OD, saying that 'being a good business owner was just as important as being a good doctor.'" Dr. Ngo has also had so many incredible influencers around her throughout optometry school that helped pave the way to where she is now. She was especially inspired by her father, also a business owner, who worked hard six days per week but also had flexibility and a lifestyle that allowed him to make time for his family.
Read more stories about how doctors incorporate beauty and beauty services into their practices.