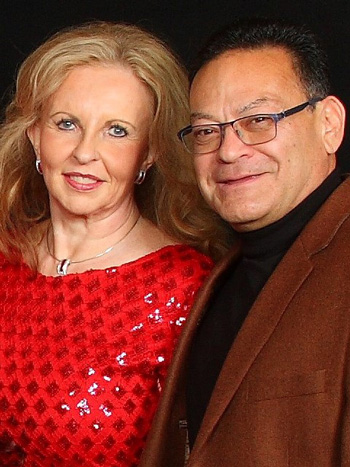 Jewell Ginter, OD, is no stranger to remodels, renovations and relocations for Ginter Eyecare Center in Lubbock, Texas. "Our old office was well-used," she says of her second office location. That space went through four remodels and expansions in the years since she moved there with her five employees in 1997 from her original location in a mall, which opened in 1982.
Early this year, Dr. Ginter and the team—now four full-time doctors and 20 staff members—moved five blocks away on the same street to a new, expansive location. "We actually purchased the vacant land 12 years ago with the intent of constructing the building to move our practice with also extra space for leasing," Dr. Ginter explains. "This area of Lubbock had not been expanded yet and was pretty vacant when we had built our office in 1997, so when this property was for sale 12 years ago, we jumped at the chance." Business was booming due to such great, loyal patients, and she knew that they would need to expand their space once again to better serve the community.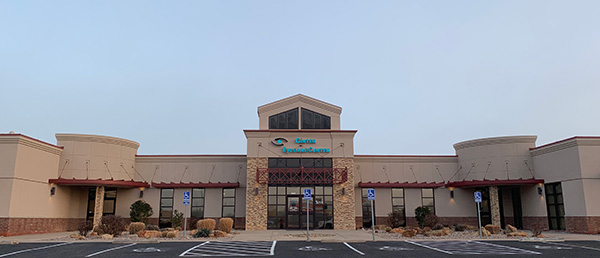 Dr. Ginter had the shell of the 17,000 square foot building constructed about ten years ago, and then she received an inquiry from MassMutual Life Insurance about leasing most of the space. "We decided to lease the building instead of moving into it ourselves, which helped us to pay for the building over the next 10 years," Dr. Ginter says.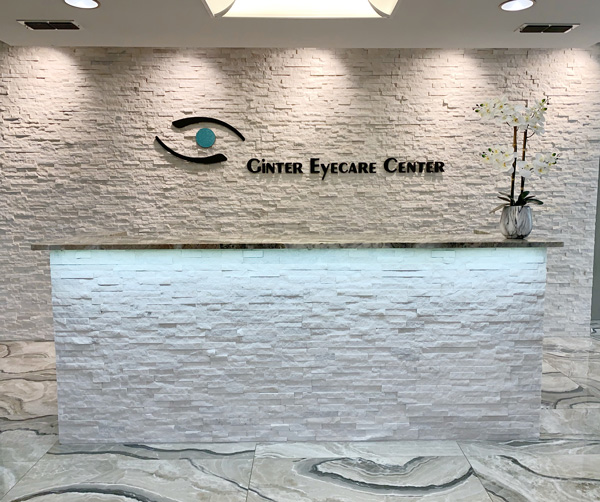 MassMutual's lease was up in July 2018, so Dr. Ginter began a remodel of the space to prepare to move Ginter Eyecare Center once again. The offices created for the insurance agents were the perfect size for exam rooms, and open spaces that were once cubicles became the pretesting area, contact lens fitting space, optical, conference room and employee breakroom. "We did not have to move any walls due to their previous layout," Dr. Ginter says.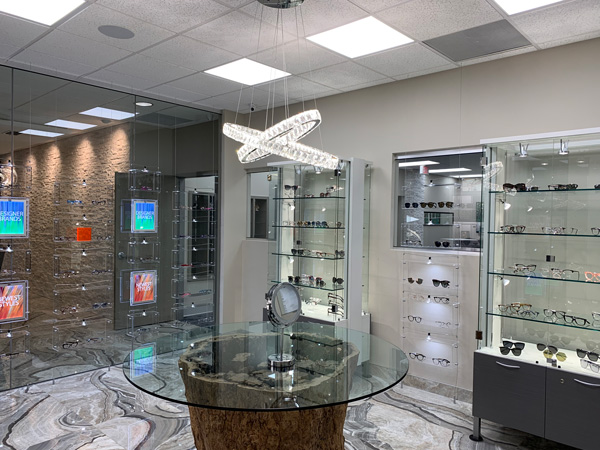 Dr. Ginter worked with Eye Designs to turn work with the existing layout into the optical. She already had a collection of ideas, which she had been gathering for about five years. She wanted to create a more private browsing experience for the mens' optical area with the use of doors. Her builder found a unique solution looking online when he stumbled across these beautiful glass and wooden doors by Rocky Alburtis with Texas Pecan Wood that still allow passersby to look in—they were constructed for a restaurant that never opened and Dr. Ginter reaped the benefits.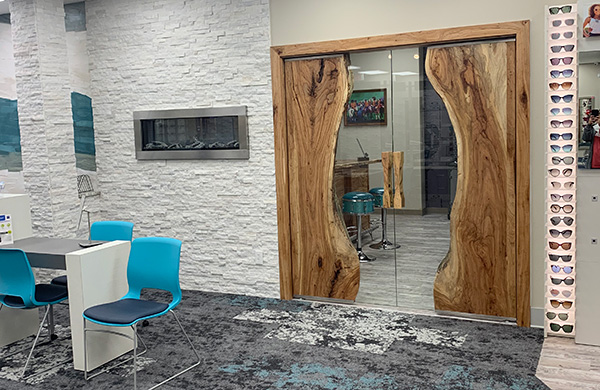 Alburtis also had built a table for the restaurant that Dr. Ginter purchased for the womens' high-end area. It's made of an old pecan tree that was struck by lightning with a glass table top. Because she was so pleased by his work, Dr. Ginter also contracted Alburtis to create her dispensing counter in the Vogue mens' optical area, which features a turquoise inlay.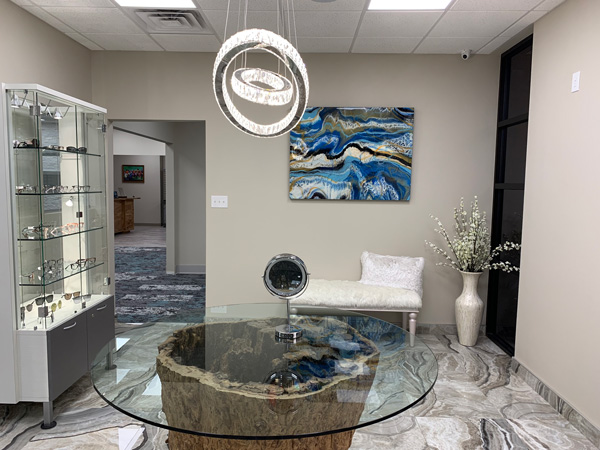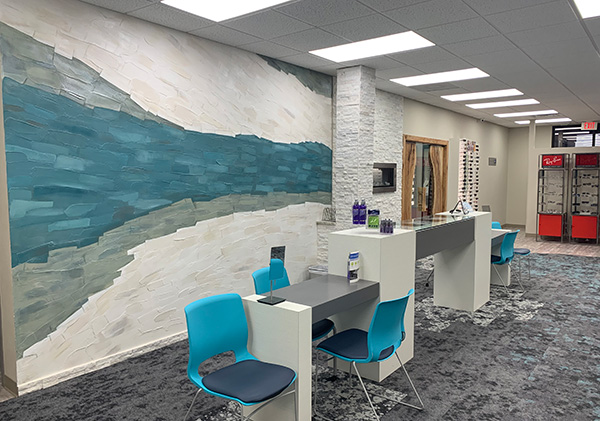 There's interesting artwork all around the office. Dr. Ginter snapped a photo of a cascading waterfall art piece she had seen through a store window, and Jaime Alcorta, a local artist with Walls of Art, recreated it and also painted the eyes that are in the windows in the exam rooms and the trees on the walls for the pre-teen optical area. Dr. Ginter's husband Job Fitz, who is also practice CFO, found the idea to incorporate ceiling tiles of Nemo and other fish for the pre-teen optical area.

One of her employees, Travis Hughlett, found the blue and black artwork by Janelle Barrington Spivey, which is on display in the womens' high-end optical area. There is also a painting of Buddy Holly with his famous eyeglasses. Buddy Holly, who is ranked by Rolling Stones magazine as #13 in its list of the top 100 greatest artists, was born in Lubbock and was a pioneer in the 1950s of rock & roll music.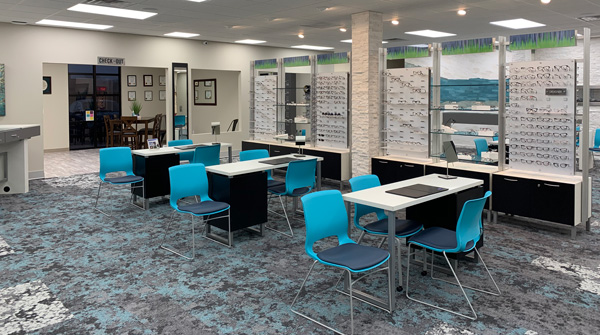 The flooring of the practice entrance and the womens' high-end optical has been an eye-catcher among patients and clients with tiles that are two by three feet. The carpeting incorporates Southwestern colors with a splash of turquoise, which has been in her logo for years and has now also been integrated throughout the office in chairs and other elements.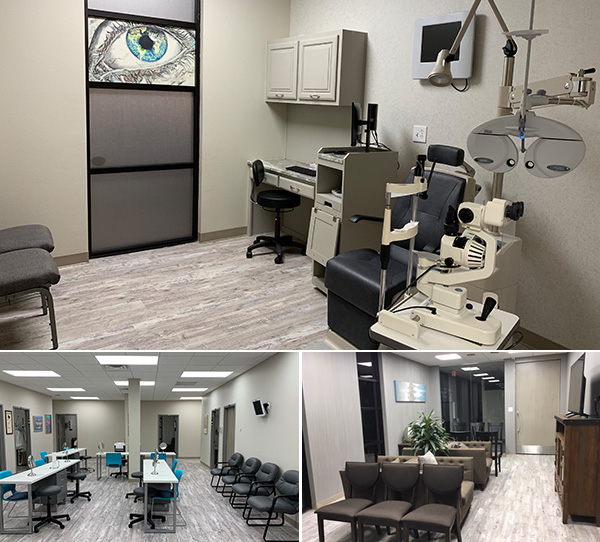 A decade after its building was constructed, Dr. Ginter continues to benefit from tenants in her building—an endodontist is in one spot with another available for leasing—and Ginter Eyecare Center is finally in its new home with greater visibility than ever before. The lighted sign on the building of new space can be seen by anyone who drives by day or night, and those who stop inside are sure to be impressed by what they see in the 12,500 square foot office. "I have been told there is not another optical like this for miles and that is what I was looking for in the design," Dr. Ginter says. "Patients also comment that this is a far cry from the other location."