For Michele Montalbano, OD, the decision to move her practice was years in the making.
She started a solo practice in 2000 in the small town of Elburn, Illinois. Back then, the community was expecting a wave of growth from the spreading Chicago suburbs to the east. "Then the recession came, and everything came to a complete halt," she says.
Her practice space in Elburn was in a small strip mall building and had just 2,300 square feet.
"I just outgrew the confines of that office," she says. "It was getting dated, and there wasn't any room to bring in new technology. You can't run a business if you're not growing. I knew I needed to move."
So she bought a building in nearby Geneva, seven miles east and closer to Chicago, where the rate of growth and the demographics were much better. She had builders tear everything out and start basically from scratch.
During her years in practice in Elburn she developed close relationships with her patients. Keeping that connection is important to her. "That was actually one of my biggest challenges: finding the real estate in the right place that was still accessible to my patients. I wanted to make sure I wasn't too far away from them."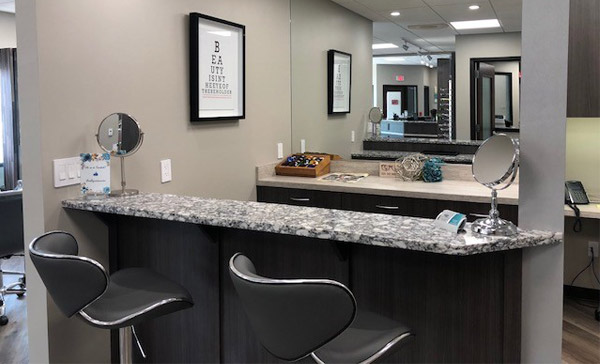 The new office in Geneva, called Valley Vision Center, has about 5,200 square feet, nearly twice the space in the previous location. Dr. Montalbano hired an architectural firm that had experience designing practice locations. "The architects understood how an office should flow and understood the footprint of every piece of equipment," she says. There is room to grow, too. There are six lanes, and one is set aside now just as a procedure room. "I wanted to have a room that was more spa-like" and that's where she does eye health and dry eye treatments.
Dr. Montalbano was prepared when the time came to design to interior. "I had it all figured out in my head, down to paint colors and flooring," she says. "We wanted to go with something that was kind of an urban chic spa that wasn't going to get dated," she says. There's plenty of natural light. "We've got lots of windows here. It's a nice, bright cheerful space." Plus, the roomier optical area lets people explore frame options without feeling crowded or rushed.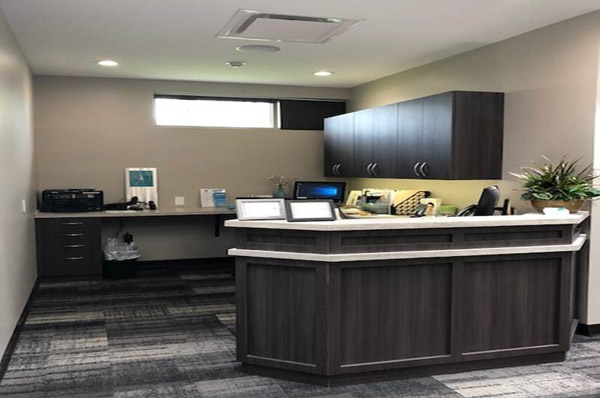 The practice is built with room to grow. There are two pretest rooms, a special testing room that houses the OCT and an Optos technology. "We even have an extra room that we're using as a conference room," she says. "We designed the space making sure we covered our bases and weren't going to become obsolete."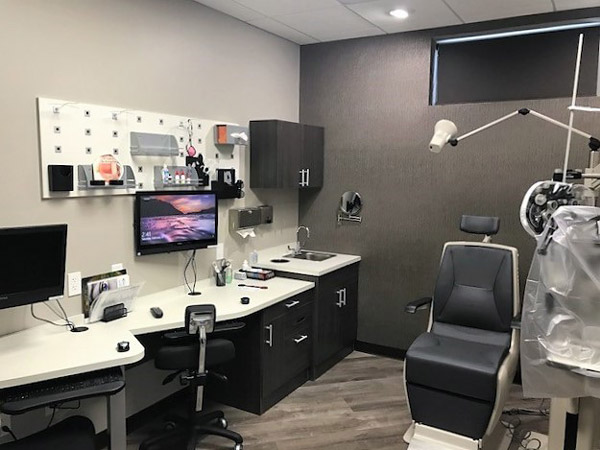 A valuable addition that a new building brings is the advanced wiring. "It's all wired and ready to go, and everything is networked properly," she says. That's a major upgrade for her practice. At her previous location, pretty much all technology upgrades were difficult. "It was a challenge just to put a computer monitor in a room, much less an OCT," she says. At the new location, she says, "I finally invested in the OCT I wanted," a Topcon 3D Maestro. The practice also has an electronic health records system.
The practice layout includes two designed spaces that help the practice run more smoothly. There is an optical dispensing "bar" where patients can go for product pickups or frame adjustments, and there is a dedicated tech station that organizes product samples and patient information materials. "This really helps with office flow and efficiency," she says.
A bigger space has meant adding more staff. She's got a much larger optical area and now she has more optical technicians. The optical has about 700 frames, about twice the number at the previous space. Returning patients praise the new practice space. "We've had nothing but compliments. They've been impressed with the technology, and how clean and modern it is. And we've been getting a lot of walk-ins. We're on a pretty busy street. People are driving by and see there's a new eye care facility, and they stop in to see what frames we have and make an appointment."