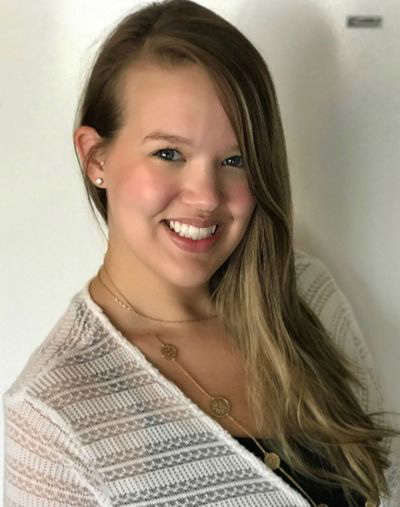 Maegan Sauer, OD, was a teenager waiting to get her driver's permit when she says that she came to the shocking realization that she couldn't see the eye chart at the Department of Motor Vehicles office. She went to the nearest Walmart, where she had her first eye exam. "The doctor put a pair of trial glasses on me, and I could read the signs of the different departments. When I went outside, I could see the individual leaves on the trees," a testimonial she often hears now from her own patients.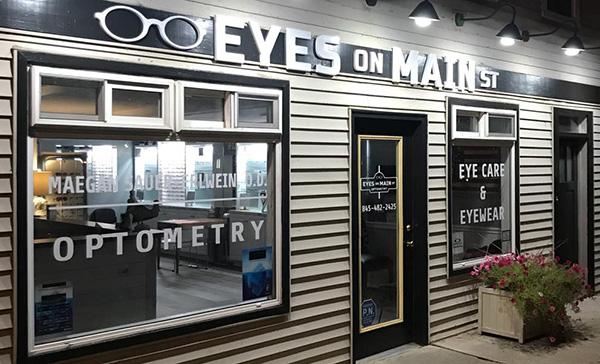 While she was always interested in health care, the experience led her to pursue optometry so she could pass on that moment of joy someone has when putting on a pair of eyeglasses for the first time. There were not many optometrists nearby Jeffersonville, New York, a small village upstate where Dr. Sauer grew up, and that remains true today with the nearest ODs are 30 minutes or an hour away. "I'm really passionate about rural health care," she says. "You have to be a specialist in everything."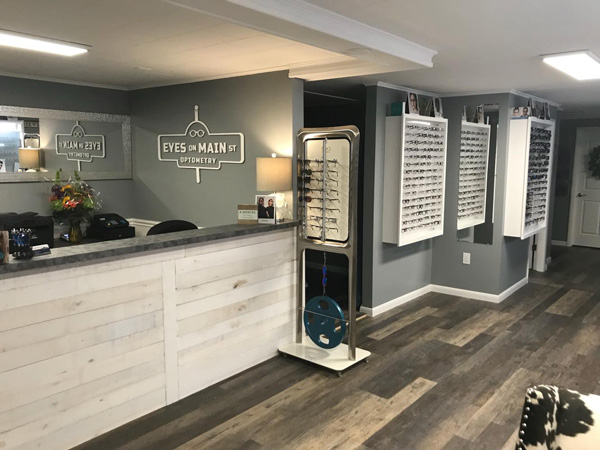 The timeline to a cold-start open moved faster than she anticipated after two years of working for others in as many settings as possible—a primary care residency, academia, a hospital-based setting, refractive surgery center, Walmart, an independent optometry office and an OD/MD office. "I had an epiphany, and during a soul-searching moment, I knew there was no better time than now," Dr. Sauer says. She found her space earlier this year in February right on Main Street and a mile from her home. The owner of the building is a chiropractor, who has a part-time office space in the back. "There are not a lot of employment opportunities in this small town, so he was thrilled to have someone coming back to the area who was a young health care professional," Dr. Sauer says.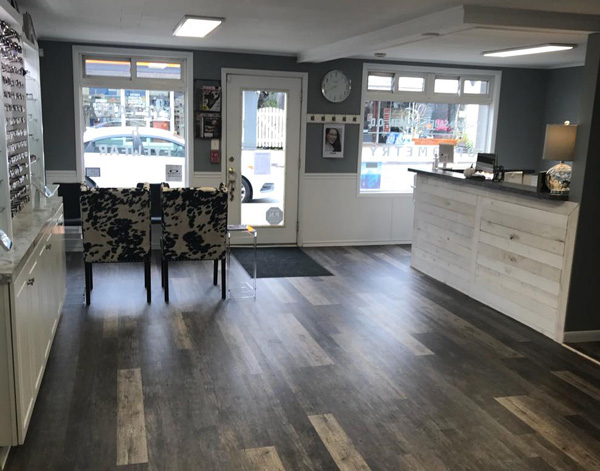 Across from the pharmacy and next to the only supermarket in town, the 800-square-foot space was a mostly empty shell with a few rooms. Dr. Sauer's father Steve, a contractor, was able to get started in the space in April, transforming the main open space into a lab, front desk area and optical and providing an overall fresh look with new floors and fresh paint.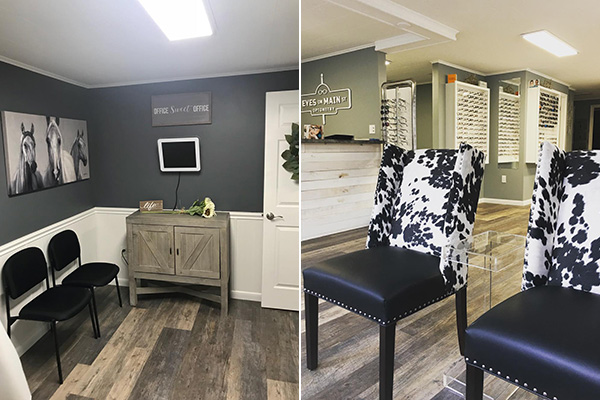 Her vision was to create a space that was neat, streamlined and clean but also welcoming. Her husband's family are dairy farmers in town, so she wanted to incorporate a country chic look and a rusting feeling with special décor and details such as cow print chairs. Dr. Sauer and her dad built their custom displays, which are white acrylic with lighting. There's barn wood on the floor and front reception area and white shiplap on the front desk.
To keep as much care as possible in-house, Dr. Sauer says that she knew that she needed an OCT from the start. She chose the Topcon Maestro combination OCT/fundus photography unit, and she also added a new visual field and in-office edger. She purchased some refurbished instrumentation: an autorefractor, keratometer and topographer. She's thankful to her consultants from iCare Advisors, who gave her advice along the way and the courage to move forward, she says. "They have been so helpful, making sure that I did everything right the first time so I wouldn't waste time or money." They also recommended that she join Vision Source®, which would provide her with a network of colleagues, even in her more remote location, as well as other incentive and discounts.
Over the summer as Dr. Sauer and her father put the finishing touches on the space, passersby regularly stopped in to say hello. From former teachers to her friends' parents and parents' friends, the community has been welcoming to her new business. "It's really been a positive reaction overall, and they are happy they won't have to travel anymore to get their eyes checked."
The creation of Eyes on Main St. Optometry has been a family affair, which will broaden now that Dr. Sauer's father is studying for his certification to be the office optician. Dr. Sauer's sister Cassidy recently started her second year at State University of New York College of Optometry. She hopes that her sister will come back and join her in the office, which has flexibility to add another exam lane and also expand further back in the building. Dr. Sauer plans to incorporate even more advanced technology and services, such as specialty contact lens fittings and myopia control as the business grows.