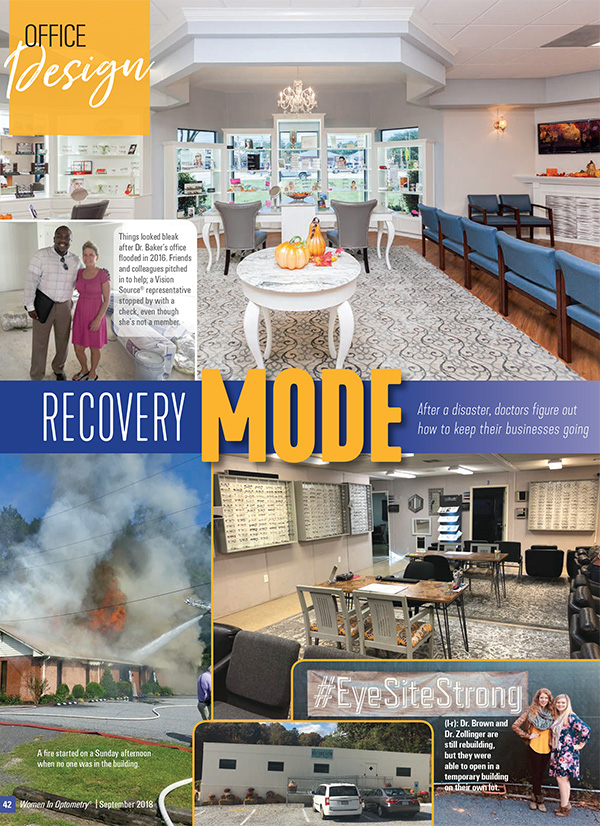 When disaster strikes, it can leave the most prepared business owner feeling vulnerable and worried about his or her business, employees and patients. These ODs have lived through it—and have rebuilt or are in the process of rebuilding. While these stories here
focus on the physical space they've rebuilt, these and other ODs have also provided these ideas for minimizing damage and the quickest possible recovery.
• Consider a cloud-based electronic health records (EHR) system. At a minimum, keep a backup of the EHR off-site. Wet, burned or wind-blown paper records are extremely difficult, if not impossible, to reconstruct.
• When hazardous conditions are predicted, take action early. Move equipment to higher places so flood waters don't damage it. Cover what can be covered in case the roof leaks. Bring a copy of the patient schedule home if your office doesn't have a patient engagement system to alert patients of changes in the schedule.
• Know where your important insurance papers are. At least know your policy numbers and carriers. Even if the office has to be closed, you can already start the process of calling your insurance carriers.
• Ask for help. These ODs all found that help was offered generously—with use of other ODs' offices or from those who volunteered to help patients. On the flip side, be ready to offer help if your practice escapes the damage.
Flood Levels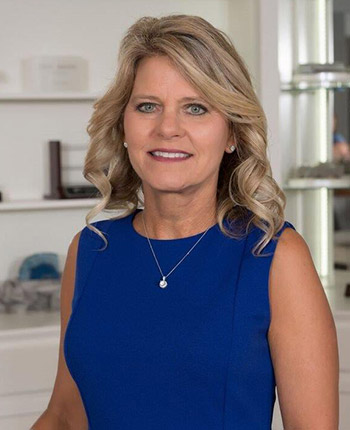 Cynthia Baker, OD, felt like it was time to update her practice a little—but Mother Nature had a different idea. In August 2016, the Amite River in Denham Springs, Louisiana, flooded and destroyed much of her office. Thanks to contributions from colleagues and professional organizations and a dedicated work crew, she was seeing patients again just seven weeks later. Read Dr. Baker's full story here.
---
Raging Fire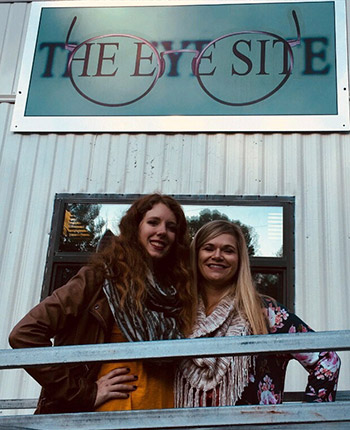 Julie Brown, OD, and her practice partner, Shannon Zollinger, OD, of Collinsville, Virginia, were called to the site of The Eye Site, the practice they created featuring salvaged furniture and displays when a fire engulfed it on a September 2017 Sunday afternoon. The building was destroyed, but their lot was huge. They moved a trailer in, made it as nice as possible and continued to see patients. Their new office is expected to open in December. Read Dr. Brown and Dr. Zollinger's story here.
---
Harvey's Wrath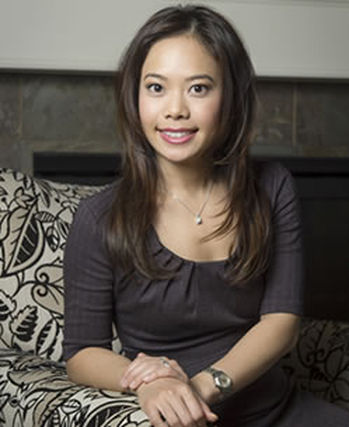 Jennifer Nguyen, OD, thought Hurricane Harvey would bring heavy rains, but she didn't expect it to ruin everything that wasn't raised high in her Houston, Texas, office. The process of tearing out soggy contents as soon as she and friends could reach the building was physically, emotionally and mentally exhausting, she says. Read Dr. Nguyen's story here.
---
Office Spared, but Trouble at Home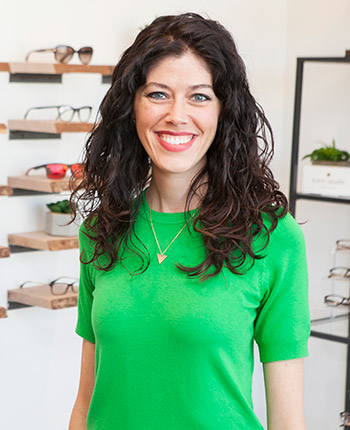 Erin Pitts, OD, was so excited about installing instruments and shelving in her new practice in Cypress, Texas, that she was barely listening to the weather reports as Hurricane Harvey was bearing down. The storm hit—and spared the office mostly. But the water rose 14 inches inside her family's home. So she spent her days preparing the office for opening and making sure the housing repairs were underway. Eventually, her family of four moved back, crowded onto the second floor, sharing one bathroom. "At least we were home," she says. Read Dr. Pitts's story here.