Sara Low, OD, says that a decade ago, she was perfectly happy being an employee. "If you had told me that I would own my own practice, I would have said it's a lot of work, stress and money," she says. She was working in an established practice in the Washington, D.C., area, where she gained valuable experiences. The seven years she worked there provided her with "a good opportunity to learn how a practice runs," she says. Dr. Low traveled to conferences and meetings with the office manager and owner and learned all about the business beyond the clinical side such as insurance, billing and practice management.
Dr. Low met her husband, an avid skier, while working there, and the two searched for a place to live where they could enjoy skiing every weekend. They settled on Seattle, Washington, where Dr. Low found a position at five-location practice and learned a new perspectives on running a practice.
She began to explore the options for her future, seriously considering having her own office. That's when she came across Duvall Advanced Family Eyecare in Duvall, Washington. "It was the first practice I looked at that was for sale, and it was kind of perfect," she recalls. The business had been set up to sell, and the former owners had been working with consultants to build it up. "It had a great staff, and the practice was growing every year," she says. The office already had robust technology, such as an OCT, retinal camera and visual field. She could tell that medical eye care was important to the former owners, as it was to her, which made the practice even more appealing.
She began the interview process in February 2015. "The previous owners have to like you and trust that you will take care of their patients, and you have to trust that they will help you. You need to get along." Dr. Low says that she hit it off with Brad Grimm, OD, and Suzan Grimm, OD, and shared philosophies about caring for and treating patients. "They were the only eye doctors in town, and they provided the best customer service to keep patients' business. People here like to shop locally in the community." There were a few offers on the table from interested doctors, and after a few months, Drs. Grimm selected Dr. Low to purchase the practice.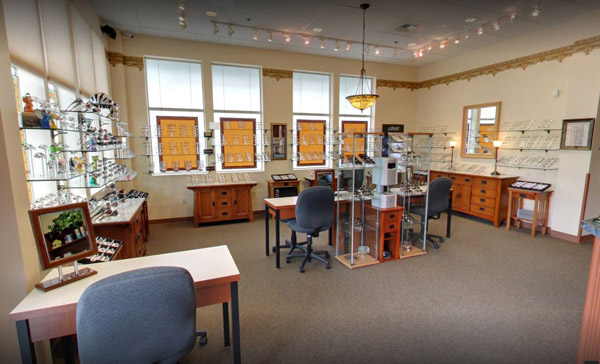 Dr. Low started spending time in the practice in June to get to know the staff and the ins-and-outs of the practice, and the former owners helped her transition into their procedures and protocols. They closed on the sale that September, and the other doctors stayed on board for another few months in a consultant role to provide advice and assist with the smooth transition. They held a special event in the office in October to allow patients to say good bye to the Grimms and get a chance to meet Dr. Low. They sent letters to patients to introduce the change in ownership as well. "I think keeping staff was critical to the transition and helping patients be comfortable," she says, as many had been there for years and the office manager had helped Drs. Grimm open the practice 15 years earlier.
Dr. Low had planned to make some changes in décor in the 2,400-square-foot space during her first few years of ownership, but a burst pipe from the residential units above the office accelerated those plans in May 2016. She lost 600 square feet for about a year. "It was stressful, but it worked out," she says. "We made lemonade out of lemons." The damaged area was primarily a staff space for edging lenses, a storage area and the wall to one of her exam lanes. She had four other exam rooms to work out of during the construction, and a curtain separated the area under construction.
To give the space a fresh look, Dr. Low changed the color scheme from yellow, beige and brown to gray tones with accents of sage green, and she modernized the office by removing wallpaper borders and switching out a light fixture with a chandelier that offers more light in the space, a request from the staff. "When it's raining or during particular times of day, they wanted more lighting for patients," she says. "There's a dramatic difference with a contemporary look." Dr. Low replaced fabric behind the frame displays with mirrors, which works well with the new lighting. With the change in decor she also decided to provide a unique venue for local artist to display their work on a few of the walls and rotates the art quarterly. Since construction crews were onsite, a much needed second bathroom for staff was added as well. "That upgrade was a huge improvement," she says.
When two of the original staff left, Dr. Low felt that she could replace them with just one new staff member, based on more efficient procedures implemented and cross-training. She has also since hired Lauren Hansen, OD, who works part-time and is a great addition to the team.
She's focused on continuing to grow the business with a manageable amount of volume for herself and Dr. Hansen. More recently, she moved closer to the office and lives just 10 minutes away. She's making local connections to build her network through the Chamber of Commerce and Rotary Club. She's also working with a local dentist on the beginning phases of a starting a medical professional group that would potentially cover a wide range of fields. "We can all learn about what we do and our strengths and weaknesses so we can build each other up and refer patients back and forth," Dr. Low says.
Looking back on her decision, Dr. Low is now certain that ownership was the right next step for her career. "I have had such an adventure."
Click here for a virtual tour of the entire renovated space.