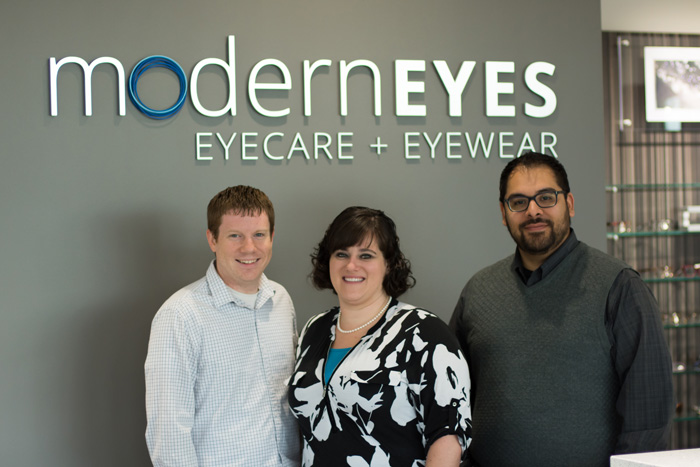 Since her 2013 graduation from the Southern College of Optometry, Kristin Reed, OD, had kept a goal of private practice ownership on her horizon. She became a Target Optical leaseholder, gaining valuable business experience without a huge overhead or the responsibility of managing staff. Dr. Reed was also talking with the team at Williams Group about if she was ready to take the leap to private practice. Then a conversation with a patient there in January 2016 kick-started the next phase of her career.
The patient was a former consultant with Williams Group, who asked Dr. Reed if she had ever considered private practice and told her that she showed great potential as a business owner. "That conversation gave me the confidence to pull the trigger," she says. "I never would have guessed I'd start that process just three years out of optometry school."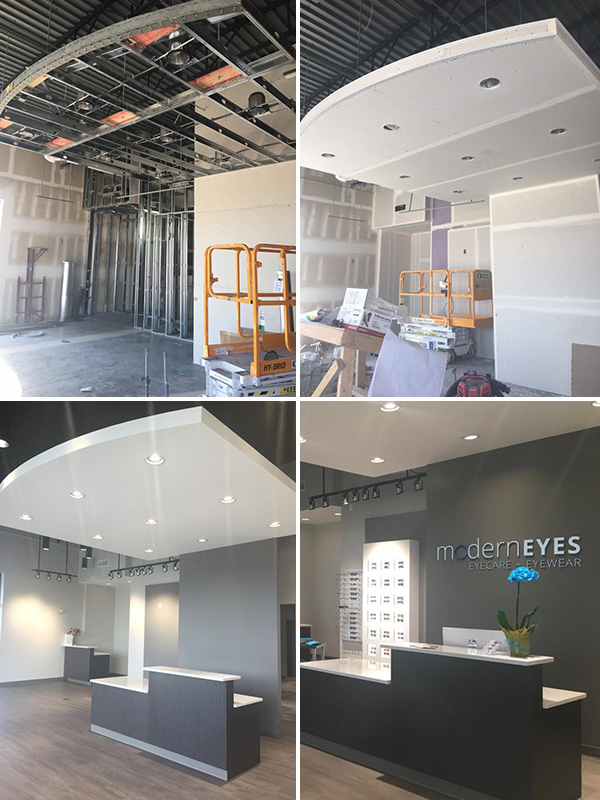 Dr. Reed and her husband Josh Reed had been scouting the area for potential office locations for a few years. The future home of ModernEyes Eyecare & Eyewear was just a half-mile from their home in Omaha, Nebraska. "We had been throwing around the idea of opening a practice, but kept feeling the timing wasn't right," she recalls. But after that conversation, she moved forward on acquiring a space they had been watching. The office faces a heavily traveled street in a growing part of town, and a dentist is next door and a chiropractor is around the corner of the building. Seeing the inside of the space sealed the deal. "I fell in love with the windows and high ceilings."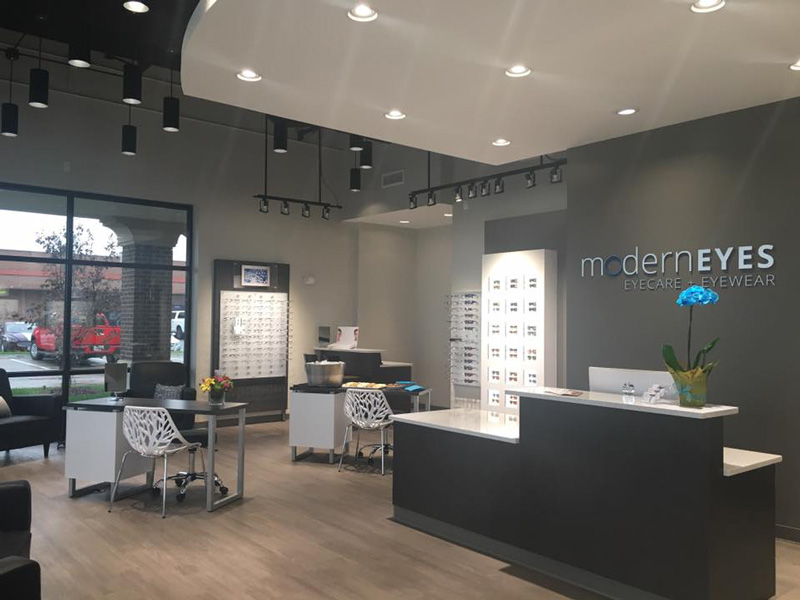 The lease was signed in April 2016 after some negotiation; originally, the landlord was hesitant about renting out 2,100 square feet to a start-up business owner who was only 27 years old. "At one point, he asked my realtors if my parents would co-sign," she says. "That was rough to hear as a young professional." But she persisted that the bank was willing to give her the money, and it was a fairly low-risk business. By May 2016, the plans were finalized, and construction took about eight weeks.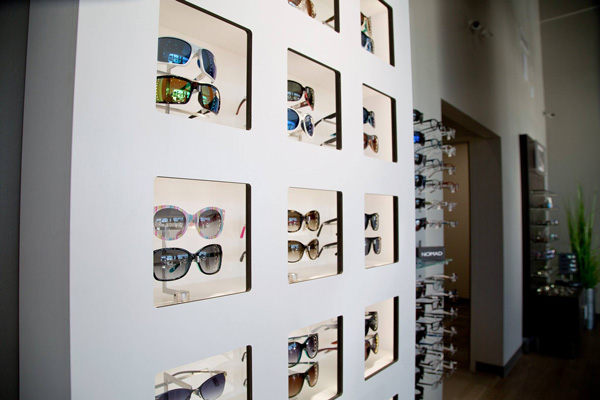 Dr. Reed and her husband share a similar taste when it comes to design, and they drew inspiration from their favorite HGTV and DIY network shows. Her husband also brought his expertise as a software engineer with a great eye for graphic design to the project. "We knew we wanted a modern style with clean lines," Dr. Reed says. "I wanted people to walk in the office and think it was beautiful yet comfortable. I wanted people's eye exam and glasses selection to be an experience, not just an in-and-out the door feeling."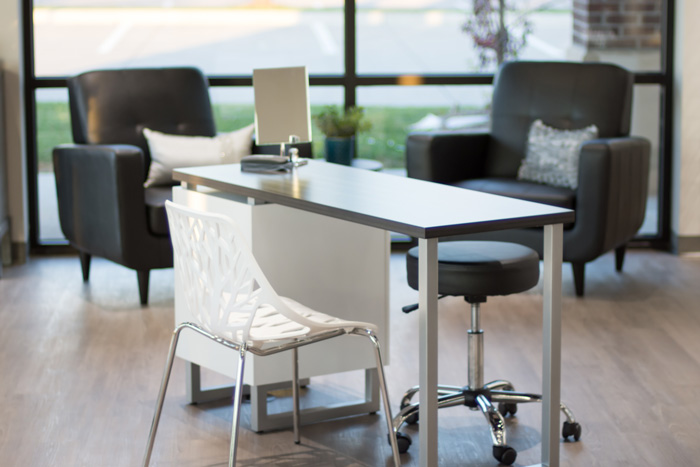 The space in the two-year-old building was empty and never occupied, so they got to lay out the office to their exact specifications. The front of the building has a beautiful set of windows that offers an open and airy feel in the optical space, as do the tall ceilings leading up to the cloud-style, floating ceiling element that hangs above and lights the reception area. There are two exam rooms—one finished for now—to allow for greater efficiency as the business grows, and finishing equipment on-site. "We cut and edge the majority of our glasses in the office, and my staff member Adam Martinez and I are really passionate about that attention to detail," she says. Dr. Reed was an ABO-certified optician before attending Southern College of Optometry, and during her studies, she spent time in the finishing lab, which led to her high standards of quality control for eyewear.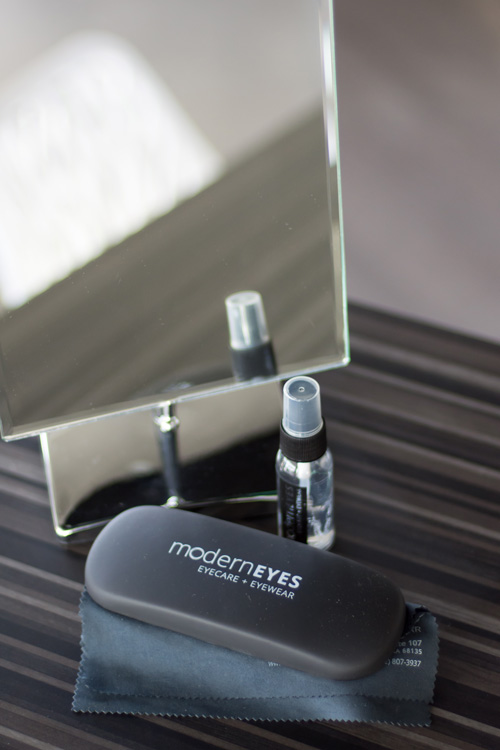 Growth has come quickly for the practice that recently celebrated its third anniversary. Some former patients sought her out after they learned she opened the practice, her family and friends and church community have become patients and her communications with other health care providers, in which she explains what she can do for their mutual patients, have contributed to enough growth that she needed to hire another optician Cassidy Budke, who is cross-trained as a paraoptometric, and an additional patient care coordinator Nan Garrison, who happens to be Dr. Reed's mom. "I'd love to be known in the area for exceptional customer service and for being a truly integral part of the community."