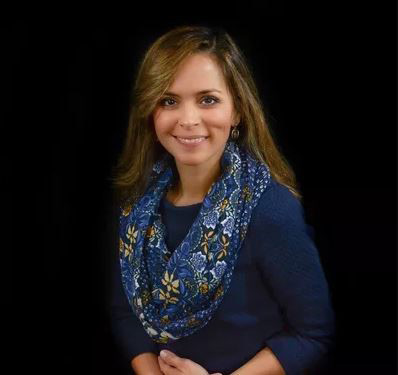 When Jennifer E. Davis, OD, first drove by the Waynesboro, Virginia, optometric practice that she would eventually own, she almost didn't stop to drop off her resume. "It had a concrete exterior with no windows, almost dungeon-like," she light-heartedly jokes. But she went in and was pleasantly surprised by how nice it was inside and how wonderful the doctor and staff were. She was hired, and after working there for 11 years, she began negotiations to purchase the practice.
One of her first goals was to get out of that 37-year-old building. "In 1981, when it was built, it was a great location and a great idea to open there. But as the years passed, the hospital that had been two blocks away moved to a new location and that area of town became less traveled and the surrounding medical offices began to move." In order to keep the practice vibrant, she wanted a more modern facility to attract younger patients. She also wanted to stay true to the practice's long-term motto of "Modern Eye Care, Old Fashion Caring," which she felt she couldn't fully exemplify in the current building or location. She began looking around town and found her best option was to build.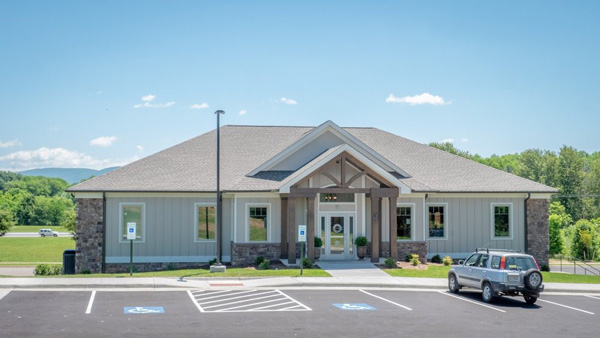 "Even before I bought the practice, I got a loan to build a building," she says. It complicated the underwriting, but it meant that she could start the process of moving as soon as she took ownership.
Administrative and construction hurdles foiled that plan, but she did move into the new building about six months after she became the owner. It's just 2.5 miles from the previous location. She kept the name, Vision Tech Optometry Center, because it highlights the continued dedication to bringing in advanced diagnostic instruments and services to the community. "Most patients love the open office spaces and are thrilled with the better parking and natural lighting inside."
Indeed, the lighting was key, at least for Dr. Davis's psyche and mood. After all those years of having no natural light, Dr. Davis insisted on windows in every exam room. She had plenty of ideas for the general design, and she worked with a local design team who took the floor plan she had developed and turned it into reality. "I had been planning this office in my head for years," she says. The outside has a Craftsman feel to it, which fits with the general ambiance of the town. "We have an elevated wood paneled ceiling in the optical because I wanted something a little more dramatic there. I was aiming for a professional atmosphere, yet inviting and comfortable."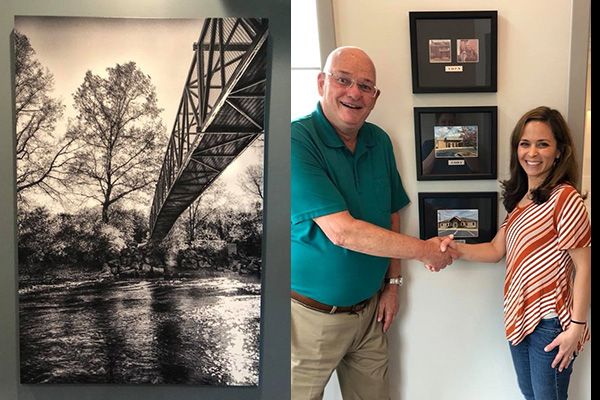 The practice pays homage to the community that has supported it for 45 years. In the entryway, she hung three photos—one of the practice's original location from when it first opened in 1973, a second of the spot that was home for more 37 years and a photo of the new building. She also features huge photos of local landmarks, such as the footbridge in a local park that is familiar to almost every Waynesboro resident.
One of the most comforting additions to the practice is Peter Pan, also known as Pete, a dog whose story pleading for a home snagged her heart and those of her family. She had invisible fencing installed at her office door, so Pete spends his days in her office. Some patients don't even see him, and others come looking or him or notice his sweet face when they're checking out. He's become an office mascot, and photos of him are a social media hit.
Although much of the earlier instrumentation and frame inventory came from the previous office, patients interact differently here. "Everything looks better," she says. With four exams—and room for a fifth—instead of the two that they had previously, the flow is more comfortable, too. Dr. Davis has two other doctors working in the practice—one comes in only one day per week, the day Dr. Davis doesn't see patients. But now that at least two doctors can work at the same time, the practice is poised for reasonable growth. The practice occupies the top level of the 8,000 square-foot building. She's looking for a health care-related tenant to lease the rest of the space downstairs.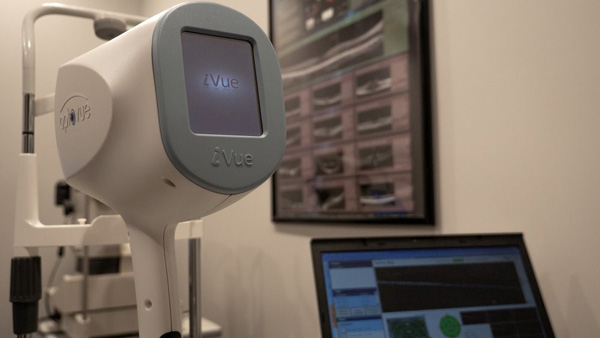 When the new location opened, Dr. Davis added a video on social media in which she tells the community that she moved because she wanted to be able to do more for patients, then talks about the importance of her diagnostic instrumentation in caring for patients.
Although the process took longer than Dr. Davis had hoped, she is completely pleased with the end result. "I'm never moving again," she says with a big smile.