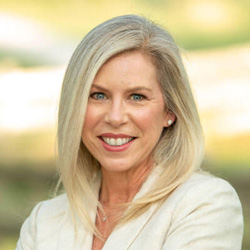 Denise Smith, OD, FCOVD, vision therapy specialist and founder and clinical director for The Center for Vision Development in Austin, Texas, has a unique understanding of what her patients are going through. She recalls that as a child she was an early reader who enjoyed books. Then, at 8 years old, she was hit by a car while riding her bike, knocking her unconscious. Dr. Smith says that she woke with a headache but was told she would be fine. And for the most part, she was, but one thing had dramatically changed—she now hated to read. "I was fully functional, and often these situations go undiagnosed or are overlooked because I could walk and talk," she says. "It had compromised my vision, but I still had 20/20 and didn't need glasses. I passed all of the screenings, but I had accommodative and binocular vision disorders." The way she learned and studied had drastically changed forever.
It wasn't until her time at Nova Southeastern University College of Optometry, where she graduated in May 2001, and her subsequent residency that she discovered that she had suffered from a traumatic brain injury (TBI). "I can see myself in my patients, and I realize how much easier my life would have been if someone had identified it. I know how I can change their trajectory," she says. Dr. Smith still did very well academically, and she was even valedictorian in high school. "But it's not like that for all kids. If they don't get these services, they may end up dropping out of schools, having self-esteem issues or depression."
FINDING A PASSION FOR PEDIATRICS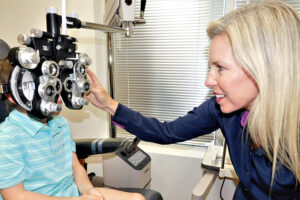 Dr. Smith says she always loved working with kids, from her very first babysitting job, paying her way through undergraduate as a nanny and working in a preschool. She approached her professor during her third year of optometry school to see if she could shadow the pediatrics department a little bit early; this was typically reserved for fourth-year students. To her surprise, the profession obliged, and she even had the opportunity to start seeing pediatric patients. "It revealed to me that it was my path to work with children in the field of optometry."
In the summer of 2001, she moved to New York for the only vision therapy (VT) residency in the country at the time. She had no VT experience at the time, "but I knew I liked kids, and VT would get me to them. The experience turned my world upside down."
BRINGING VISION THERAPY TO THE COMMUNITY
Dr. Smith returned to Texas after her residency and worked as an associate for about 1.5 years before searching for a place to open her own practice in Austin. She knew the area well from living there during her time at the University of Texas. She often drove by the Westlake Medical Center and thought it would be a perfect place to open her practice, surrounded by the many families who lived nearby as well other medical professionals in podiatry, dentistry, dermatology and more. "I wanted to do everything I could to validify my work in VT," she explains. "VT is becoming more accepted now, but 20 years ago, the medical community and even optometry didn't fully embrace it. I wanted to be seen as a true health care professional providing a true and valid medical service."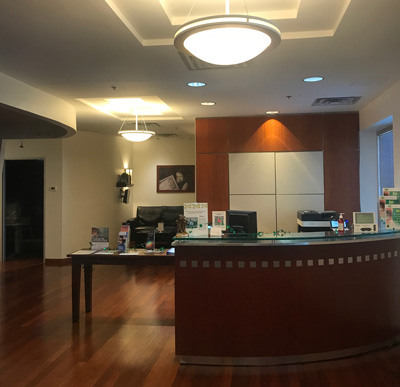 A medical group had just broken its lease when she inquired about any openings in the center. Yet the space available was 2,900 square feet—quite daunting for a cold-start practice. Dr. Smith told the owner that while she loved the space, it was just too big and not affordable as she started out on her own with one vision therapist. To her surprise, the owner was quite generous with his offer: she could pay for part of the space for the first year as she built up her patient base. "I had this mentality, 'if you build it, they will come,' so I took that leap of faith, and we built it out."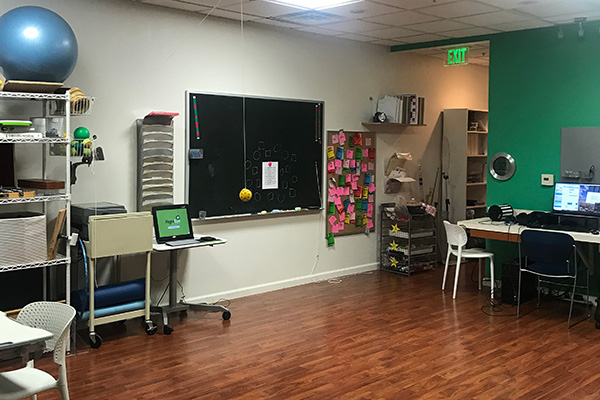 Dr. Smith opened The Center for Vision Development in 2004 with a 400 square foot vision therapy room. She reached out to occupational and physical therapists, rehab hospitals, a holistic pharmacy and private schools to make connections. She hosted CE sessions for primary care ODs to teach them what to look for and when to refer for VT. "I was really doing everything I could to get the word out because people didn't know VT existed," she says.
And within a year, they were fully utilizing the entire office as she had hoped. "We never looked back," she says. The basic footprint is still the same today with a few modifications made over the years, such as removing the optical after about seven years to focus more on VT services. During the COVID-19 shutdowns in 2020, she had the carpets removed and replaced furniture to make everything easier to disinfect. She also had the entire office repainted.
NECESSITY FOR CARE BUILDS BLOSSOMING BUSINESS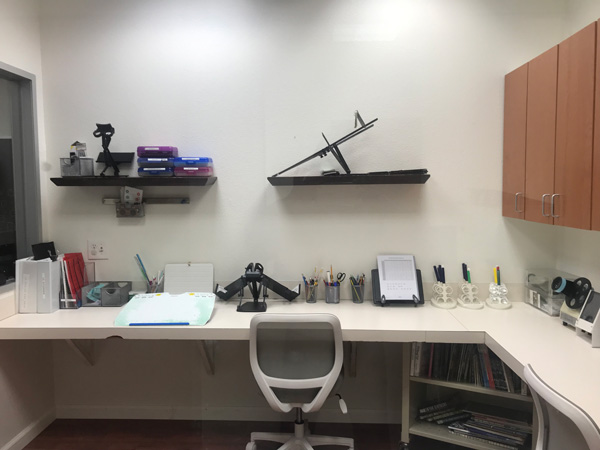 Dr. Smith's concept and leap of faith has paid off big time for the business and the community, through the number of lives she and her team have been able to impact. She currently has six vision therapists on the team as well as an associate OD. She currently divides her time between patient care and running the business. She spends her administrative work time focused on practice marketing and outreach, which has included hosting seminars, lecturing at conferences, providing CE for other optometrists, writing articles for local publications, utilizing TV commercials and guest speaking on local radio shows.
In 2018, she opened a satellite location in Waco, Texas. It happened quite organically, she says, and it was never her plan. A mother whose child was a patient was traveling to Austin weekly for VT, and she suggested that Dr. Smith connect with her OD who had a room available for these services. Dr. Smith says reached out, and Trey Gerdes, OD, indeed had a room where she could work on his day off. "I told the ambitious mom that I would need to have a full day of patients to warrant travelling to Waco, and before I knew it, we had a full day of therapy patients." Dr. Smith started there one day a week, and after a few months, she added more days to meet the demand. Five years later,  she's operating there three days per week.
Her patient base has evolved over the time since she started, when 80 percent of her patients were pediatric. She estimates that they see about 60 percent pediatrics now. The growing adult population has come from an increase in knowledge about concussions and TBI.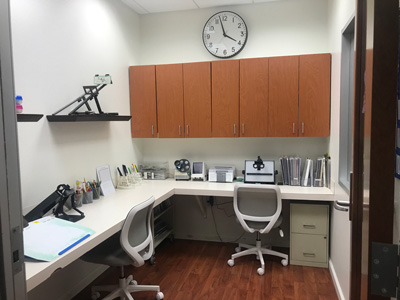 She's also seeing quite a few adults who are suffering from adult strabismus. "The cases of adult onset esotropia are coming out of the woodwork, while typically this is a childhood onset disorder," she says. Often it was a sign of a brain tumor in adults, but Dr. Smith started digging deeper when MRIs repeatedly revealed that wasn't the case. She hasn't conducted scientific research on the topic, but she's seeing a connection with these symptoms among those who spend a great deal of time on digital devices—software engineers, computer programmers and gamers—or doing excessive fine detailed up-close work like a jeweler. These patients are so grateful after their positive experiences that they are leaving raving reviews, which have led to many referrals.
The journey has been full of hard work and a juggle of her life at home and at work. She also appreciates that her patients and their parents put their trust in her programs and the intensive therapy, as well as the time and financial commitment required. But there are moments that show it's all been worth it, such as when she receives a college graduation invitation from parents who thought their child would never go to college. Or when she receives college admissions essays from former patients that detail how VT has helped them overcome a great challenge in their life. "When they share those essays, I cry. When I get that feedback, it allows me to reflect and say, 'I served people in a good way, and I surrounded myself with people who could help me do that.'"
Dr. Smith's Personal Vision Therapy Experience
Shortly after opening The Center for Vision Development, Dr. Smith personally went through vision therapy (VT) under the guidance of Robert Sanet, OD, FCOVD, who is the owner and director of the San Diego Center for Vision Care and has lectured extensively, nationally and internationally, on behavioral optometric care, vision training and practice management. She traveled to San Diego every other month over the course of 10 months after his initial evaluation. "It was the most humbling experience to do VT myself and to see my deficiencies and how they have shaped my life" she recalls.
The VT provided improvement and a greater insight to what her patients experience—she could read faster and reading didn't make her fall asleep—but in her case, it didn't alleviate all her symptoms since she had built up so many compensations used for many years. She believes had her functional visual disorders been identified and addressed early on, her journey would have been much easier and her life path may have been different. But they are part of the journey that led her to where she is today, and this is where she was meant to be.
Read more about practice designs and specialty services.